Ugh, it's Monday.  My daughter doesn't sleep (really, she doesn't) and kept me up until 2:30 last night. We did get in some Olympics watching while she was up – she was really psyched about downhill skiing, which is really a terrifying sport! She has zero desire to watch figure skating, and if you didn't see last night's you definitely have to schedule in the women's finals! The photos are always so terrible, you just have to watch. Julia Lipnitskaia is really terrifyingly amazing in those spins.
Did you see those crazy *official* photos of the Russian women Olympians? (They are super racy and yes they are official photos for their Olympic team).  I felt that they should let them get money endorsements for those kind of pictures if they want to – and keep them in their uniforms for official photos! But then again…
My daughter woke up at 7:30 (HOW?!). I'm seriously dragging today.  But it doesn't erase our weekend fun! We had some pre-Valentine's Day Warmup fun and made a little cake. They were super cute and shared mixing duties!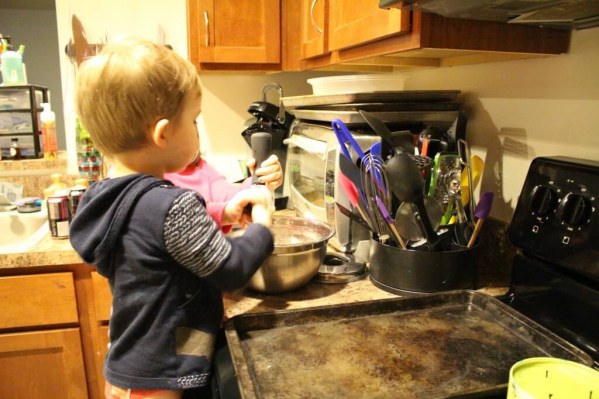 Tada! The mix/frosting came in the mail from my aunt. I guess she knows I would never buy this 🙂 It's also probably why my daughter was up until 2:30.
Here's my week in my washied up Erin Condren planner. Yes I have Bacon washi tape and yes we are making bacon on V-Day. It's kind of empty now but I fill it in as we go along!
The kids & I have a date for a BATH this morning. Woo. Exciting stuff. Have a great shiny Monday!