TGIF!! Seriously! I finally started to feel a bit better around 6pm last night. I still have major sinus issues and a terrible cough, and weirdness in my eardrums (um, I'm still pretty sick), but I am actually finally improving. Hooray! I still have some reviews to catch up on. USPS, UPS, and FedEx decided to give me a break – NONE OF THEM delivered yesterday. Even the Post Office! I was pretty shocked! I'm guessing the sidewalks here weren't clear when they came. I don't blame them and it was fine with me. I'm all obsessed with the Olympics all over again after watching the qualifying rounds for the Women's skeleton race. On the edge of my seat!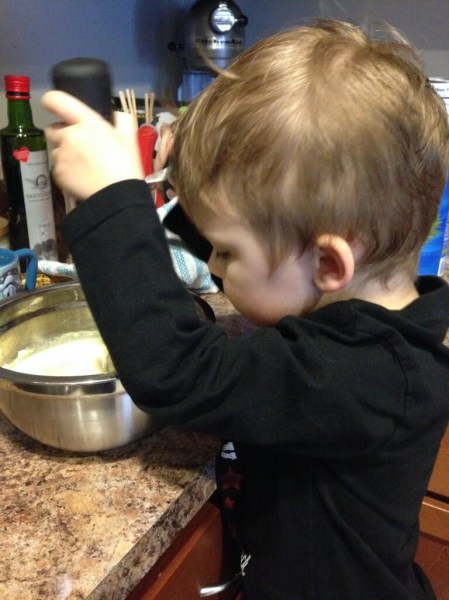 I tried not to be lame yesterday. Pudding was demanded, so pudding was made! (No this isn't the "recipe" – that's at the bottom!) Besides giving the kids a bath, that's about all we did.
My kids just don't wear pants, ok? 🙂 You can see my omnipresent cup o soup in my Donald Duck mug in the background.  That one's mine because it has pretend curse words on it. It's pretty funny!
Here's our V-Day surprise! The dogs are from Target's clearance last year (ummm, I'm guessing we may not get the chance to rock it this year!), the undies are from Gymboree, plus there's an Apple Seed Lane box! I'm making red velvet pancakes (I have a mix) and bacon – though I'll probably do it for lunch instead of breakfast. Anyways, here's your answer to what to get the child who has everything – fresh underwear! I know they'll both be excited about it.
As promised, my last minute Valentine's Day Snack – if you can go to the store, that is! Halved strawberries plus strawberry cream cheese. The kids were totally wild about it. It's totally easy. It's not a baked good.  For some reason they love them with pretzel stick toothpicks 🙂 No, I'm not really a Pinterest mom. I'm a whatever works mom! Those strawberries might be ugly as sin but they were delicious. Happy Friday, Happy Valentine's Day, stay safe and warm!