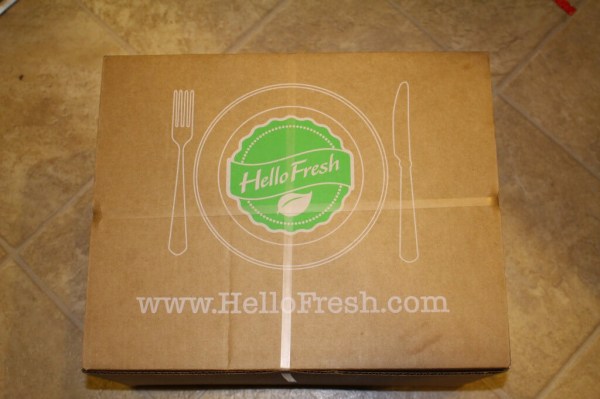 This week of Hello Fresh was one of my favorite weeks so far! I used it up a little faster this week because I didn't get a Plated delivery this week plus my husband was here this weekend and ate half my food. Hmmph. So perfect for when he's here though – I didn't have to stress about food or anything, we just cooked! Actually I cooked while he played with the kids. Hello Fresh is a meals/recipes subscription box and every week you get 3 meals for you to cook at home – the recipes & all the ingredients come in the box (usually you need olive oil, s&p, and sometimes butter). It is very well packaged and insulated and everything I get has always been fresh!
The Subscription
: 
Hello Fresh
The Description
: Each week Hello Fresh delivers beautifully photographed step-by-step recipe cards, with the exact fresh ingredients needed to create a selection of new recipes.
The Price
: $69/week (59 vegetarian)
The Coupon
: Save $25 on your first order. Use code 
SPLURGE2014 
 . Expires February 28, 2014.
Hello Fresh Classic Box 1/29/13 Delivery
Tomato Garlic Ragu with Spaghetti 
This was an amazing dish and it was super easy to make. I did end up cooking the sauce longer than the card said because I like my zucchini cooked more. I never actually cook beef with my pasta (because I am lazy) and this was so delicious.
This made a gigantic portion of food. The recipe included soy sauce for an umami flavor and I was skeptical but it was so so sooooo good. Stealing that trick the next time I make sauce. It's hard to tell but this was mounded so high! It was an incredible amount of food and totally hit the spot.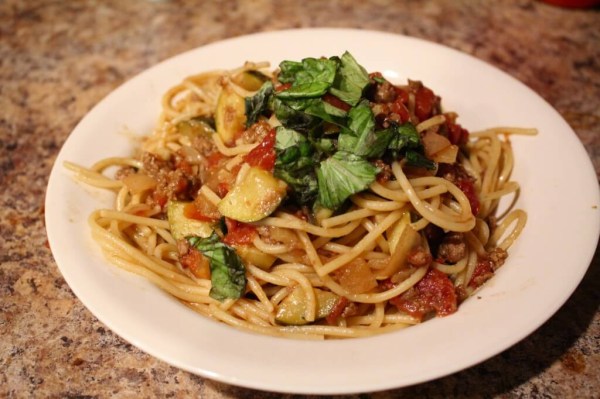 Roasted Pork Chops with Sauteed Apples and Kale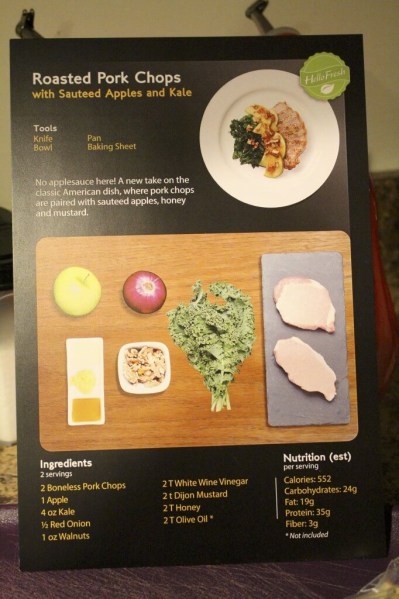 I've either made this one before or something almost exactly like it.  I love the sweet tangy apples (there is a bunch of vinegar on them) as a contrast with the kale and the pork. In our big kitchen reorganization I finally found our meat thermometer so I just put them in the oven until they were done. They took a bit longer because I failed to crust the pork properly on the stove, but it was delicious.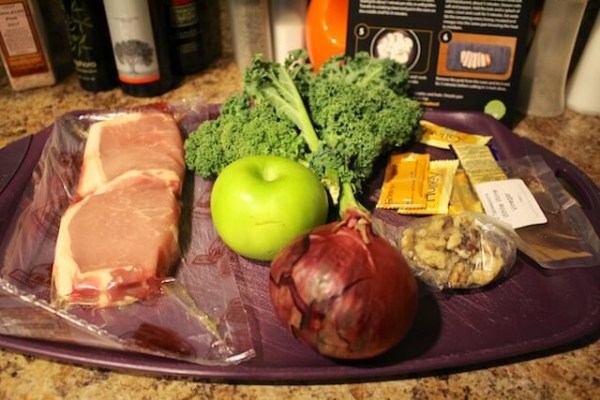 Love the contrast of the red onion against the other colors plus the crunchy walnuts!
Chicken Fajitas with Homemade Guacamole and Salsa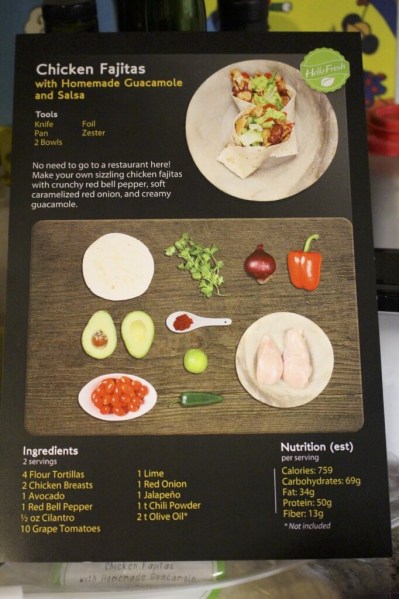 This was obviously our Super Bowl dinner! How could it not be? Even though there were a lot of parts to this meal it was super easy and quick. We ended up making quesadillas for the kids (there were tons of tortillas included – more than were necessary) and so we used the griddle to fry up the chicken & veggies instead of doing it in batches. And of course we used much more of the jalapeno than Hello Fresh suggested – we like it spicy!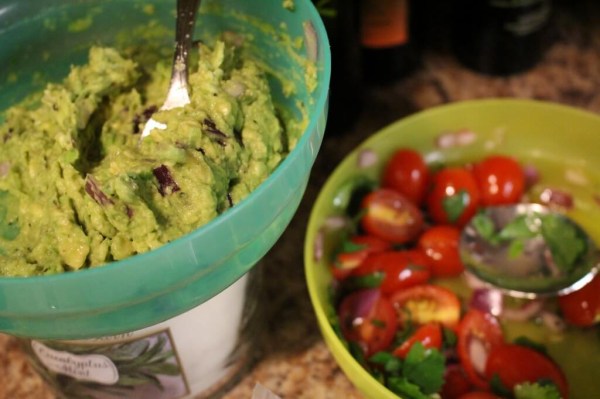 Each half of the dinner actually made FOUR of these – so this was half of my half of the food!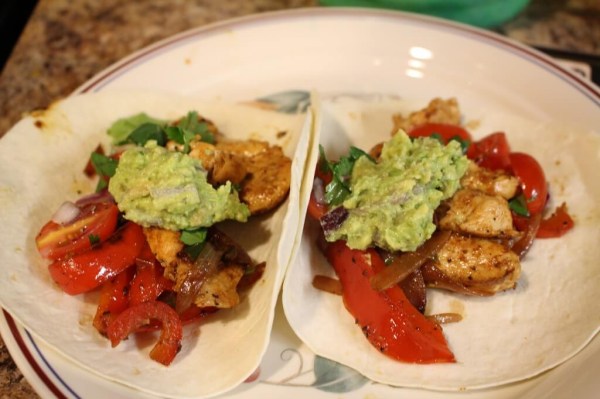 I would totally order or make anything out of this box again – it was all delicious & made this weekend super easy for me. Hello Fresh has really been on point with making sure that I use as few pots as possible, which is nice (and hint – use parchment and/or foil on your baking sheets so you don't have to wash them!).
Visit Hello Fresh to subscribe or check out upcoming meals and use promo code  SPLURGE2014 to save $25 on your first order! That works out to be less than $7.50 per person per meal. Hello Fresh kindly extended the code for my readers through 2/28!
The next menu available is for February 12 (new menus are available Thursday mornings) and is: Chicken Paillard with Rosemary Potatoes and Gremolata, Balsamic Beef with Sauteed Broccoli over Creamy Polenta, Mahi Mahi en Papillote with Sun-Dried Tomato Risotto. Or you can also choose: Sweet Italian Sausage with Fregula Sarda and Spinach or Gnocchi with Butternut Squash, Spinach, and Goat Cheese. I am getting the Chicken, the Mahi Mahi, and the Gnocchi. I'd get the sausage but it has mushrooms in it, so I'm skipping that one! 
Check out all my Hello Fresh Reviews! Don't forget to take a look at other Fresh Food Subscription Boxes.