The Fortune Cookie Soap Box is a quarterly subscription box from bath & body goods producer Fortune Cookie Soaps. It's $19.99 per quarter (and like every San Francisco company, they accept Bitcoin!) and comes with a bunch of mini size products plus a $10 coupon to their store! Every box is themed, and after the raves I heard about the previous quarter, I obviously had to sign up! As far as I understand, FCS is an internet cult fave. They do a major product launch 4 times a year and the subscription ships about 2 weeks prior to that so you can try out everything before deciding what to order. I understand there may be shipping and other deals on the actual release day, so stay tuned if you got this box!
The Subscription
:
Fortune Cookie Soaps – The Soap Box
The Description
: Get a seasonal surprise box of soaps and body goodies. Past boxes have included shimmer sticks, bath salts, fizzies, hand sanitizer, body cream, and more. 8-9 exclusive Fortune Cookie Soaps products.
The Price
: $19.99 per quarter
Spring Box Review
The theme for this quarter is "The Goods & The Evils" (there wasn't a vs. in there!). The information card is conveniently online, as well as in the box.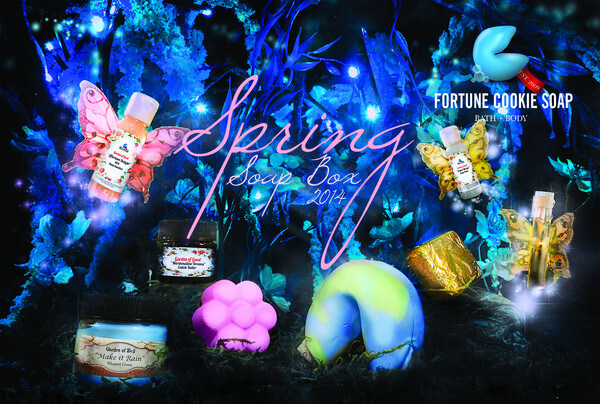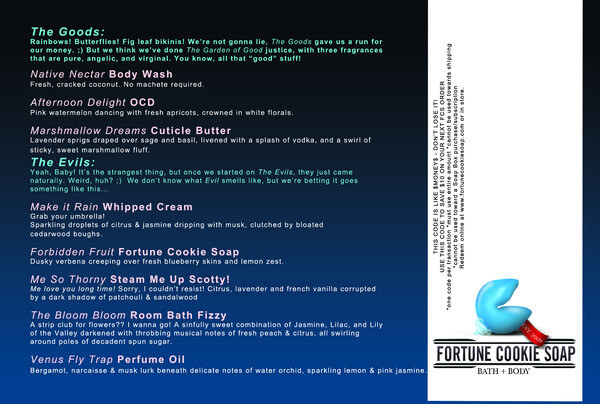 This box was a lot smaller than I'd realized, so FYI, everything is teensy weensy! These are handmade soap/body products plus you get a $10 code to the store, so I think it's a pretty swell deal.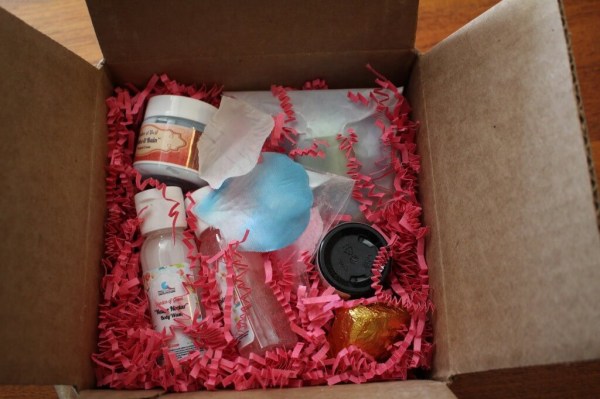 As you can tell by the first photo way up top, the box is slightly larger than a postcard. I loved the presentation and waited until I had time to sniff everything before I dug in.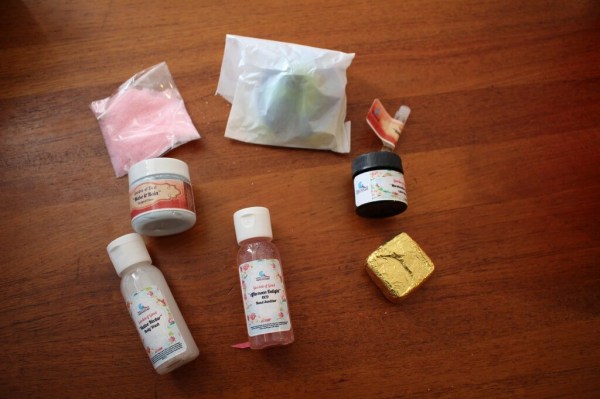 Unfortunately I also took the worst photo ever, but that's ok, I'm going to tell you all about the items anyways! We're going to go from upper left to bottom right in three separate rows. A lot of the assigned values are totally guesses on the sizes, it's really just to get a general idea to help you decide if this box is a good value for you. Please don't take the values as set in stone.
The Bloom Bloom Room Bath Fizzy (Evil) – This was originally in the shape of a flower, but didn't make it. I think it's a smaller version of the FCS bath bomb. Described as a sinfully sweet combo!
Make It Rain Whipped Cream (Evil) ($3.25) Citrus, jasmine, and musk, with cedarwood. Love this scent, which is also unisex.
Native Nectar Body Wash (Good) ($1.85) Fresh, cracked coconut. Yum.
Forbidden Fruit Fortune Cookie Soap (Evil) ($3.69) My fortune says "You will have a long happy bath." Love this scent – verbena with blueberry and lemon – and this is adorable!!! Photo below.
Afternoon Delight OCD [Hand Sanitizer] (Good) ($2.89) This is floral-y, sparkly, watermelony fun! Scented, moisturizing hand sanitizer always gets used up quickly around here!
Venus Fly Trap Perfume Oil (Evil) Bergamot, narcaisse, musk with notes of water orchid, sparkling lemon, and pink jasmine. This was a fun scent and it's kind of like dark lemonade.
Marshmallow Dreams Cuticle Butter (Good) This is a new FCS product and I love the scent and the product!
Me So Thorny Steam Me Up Scotty! (Evil) ($2) This is a shower steamer, which I prefer over actual bath things!
There's already a hint for the summer box – it's Candy Land inspired! I'm keeping this subscription so I can check that out too! I thought this was a fun box and it is an awesome way to sample a bunch of products in a bunch of scents.
Visit Fortune Cookie Soaps to subscribe to their soap box or find out more about past boxes. A huge FYI, this box totally sells out before their cut off date. Go ahead and order it (you'll be charged right away) so you don't miss out on the next one. You can also check out all the soapscriptions in my subscription box directory!