Taste Trunk has a new look for February.  The white boxes are gone and custom Taste Trunk boxes are in their place. Only one seal on the inside this month! That's ok, this was one of my favorites so far!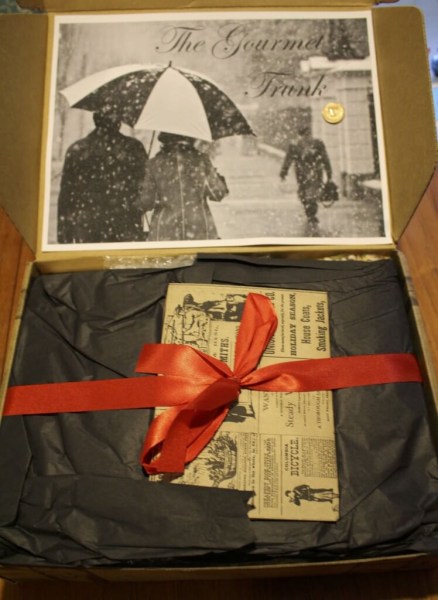 The Subscription
:
Taste Trunk
The Description
: Taste Trunk offers 4 different monthly trunks: Gourmet, Sweet, Health, and BBQ. Each trunk has 5-10 products.
The Price
: $29 per month + $5.99 shipping
The Coupon
: Put my name in the "special instructions" box at checkout (Brandy O'Grady) and use coupon code
Splurge25
for 25% off!
February 2014 Taste Trunk Gourmet Box Review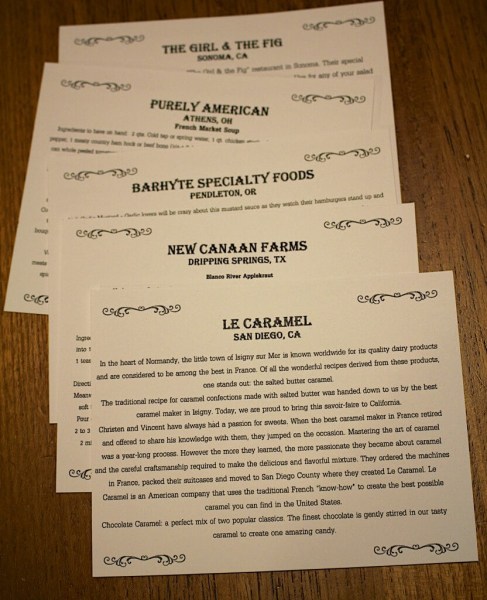 I never actually do, but I love having the separate information cards so I can split this box up for hostess gifts if I want. I keep everything for myself!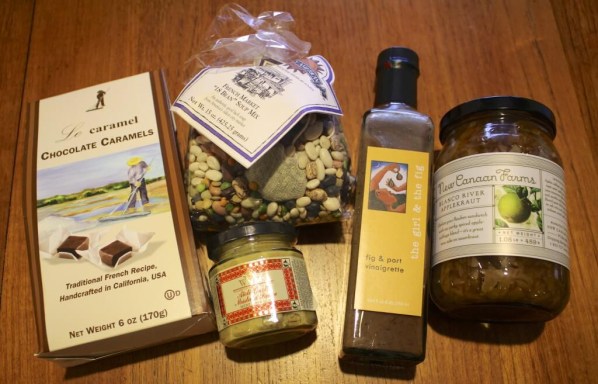 Le Caramel Chocolate Caramels ($9.25) This is a huge bag! I was happy to see the chocolate caramel version of this french-style caramel, but I would have been happy with both. These are made in small batches following a traditional recipe from Normandy.
Purely American French Market Soup ($6.50) I was totally thrilled to get this because I just baked a ham this week (found it on clearance, score!). And I need something to do with the amazing amount of leftovers we have. But I was also thrilled to see this company's regional soup mixes! I am really considering getting a 6 pack sampler – I want to try the Hawaiian one!
Barhyte Specialty Foods Aioli Garlic Mustard ($2.75 – I think that's a wholesale price – prob $4.50 actual)  Oooh, something for my ham! We have about 8 mustards in the fridge and we love trying them, can't wait to dig into this one!
The Girl & The Fig – Fig & Port Vinaigrette ($10) This is for making a grilled fig salad using pancetta, figs, arugula, pecan, and goat cheese. You'd better believe when figs are at Costco I'm buying them to make this! I am taping the recipe card to the bottle so I remember what I'm saving it for.
New Canaan Farms Blanco River AppleKraut ($8) I think cabbage and apples together are one of the highest simple food art forms and this product looks amazing for me! Suggested with a Reuben, I'll serve with kielbasa or brats. This will be a huge hit!
I was really more than happy with my February Taste Trunk box! It had an approximate value of around $38 and I will use every single thing in it! It's so nice to have something fun and different to cook every month without doing nearly any work! I've never seen most of these items anywhere.
Visit Taste Trunk to find out more and if you would like to subscribe, you can save 25 percent off your first Taste Trunk by using code and putting my name (Brandy O'Grady) into the special instructions box!