Orange Glad sends 5 deluxe gourmet desserts every month – anything from chocolate to confections to baked treats! I was super thrilled when they sent the February box along for me to review. This box arrived in time for Valentine's Day and I was totally pleased that it was shipped in time for such an important sugar holiday.
I'm not sure if the inside tissue is normally pink, or if it was just for Valentine's Day!
The Subscription
:
Orange Glad
The Description
: Get a box of treats and confections from bakeries and sweet shops around the nation
The Price
: $15 per month (down to $13 on a 6 month plan) + $6.95 shipping. Double your treats for $12 on any subscription!
February 2014 Review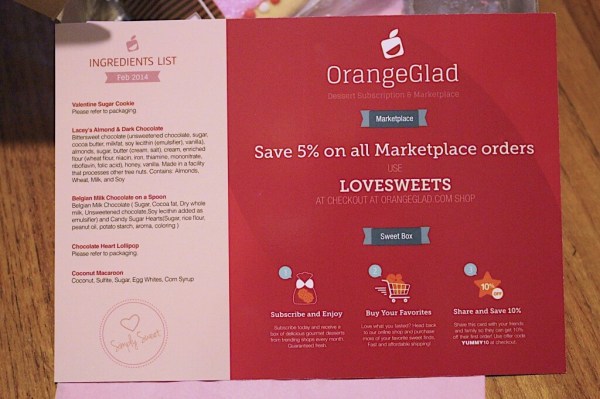 The information card gives the basic information on the box (I bet a lot of these are gifted!) plus the ingredients! I found that super valuable that Orange Glad puts the information right on the card so you don't have to hunt for it.
My Menu had two little pieces of toast all snuggled up. I thought that was cute. I loved that there were photos of each item, making them easy to identify, as well as the information, and how long I had to eat them!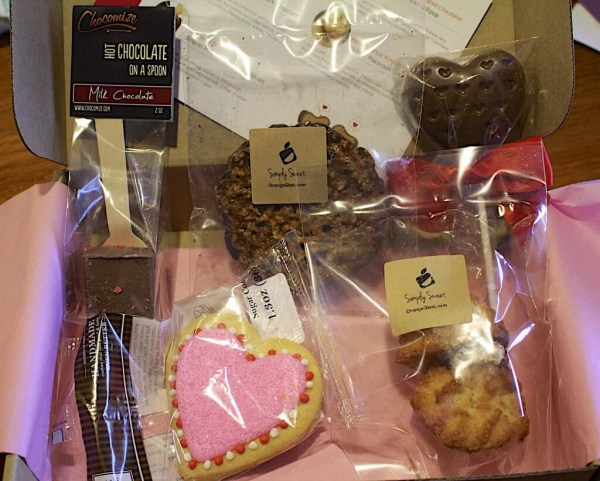 I thought this was a great assortment as was excited to dig in!
A Couple of Squares Pink Heart Decorated Cookie This was adorable and delicious too. The kids and I shared an excellent cup of hot chocolate (see below) and this cookie for a Valentine's Day treat. It was a hit all around. It makes it exciting for big and little kids to have something pink and frilly to eat!
Bissinger's Chocolate Heart Lollipop This was delicious and I'm totally fascinated by this company – which I've never heard of before! Bissinger's is a premium handcrafted chocolatier with roots dating back to the 17th century. Unlike many high-end chocolate companies, their selections are still made in small batches, using traditional methods passed down from generation to generation by the Bissinger family. They focus on minimal processing of the chocolate to retain flavor and antioxidant levels.
Renaissance Kosher Foods Coconut Macaroons – Helpfully I assisted my husband on staying on his diet by eating both of these prior to his arrival. They're one of his favorite things and I typically will get some and give them all to him, I'm not a huge fan, but these were amazingly moist and coconutty. I would buy more of these. It was hard to stretch them to two sittings, but I did it. (Patting self on back)
Desserts on Us Chocolate Almond Laceys Can't argue with dark chocolate surrounded by toffee wafers! I was surprised that my children wanted a piece of this action. Specifically my son decided it should be eaten with whipped frosting. And who am I to argue with that?  He's quite the sweets fiend! These were some of the best Laceys I've ever eaten.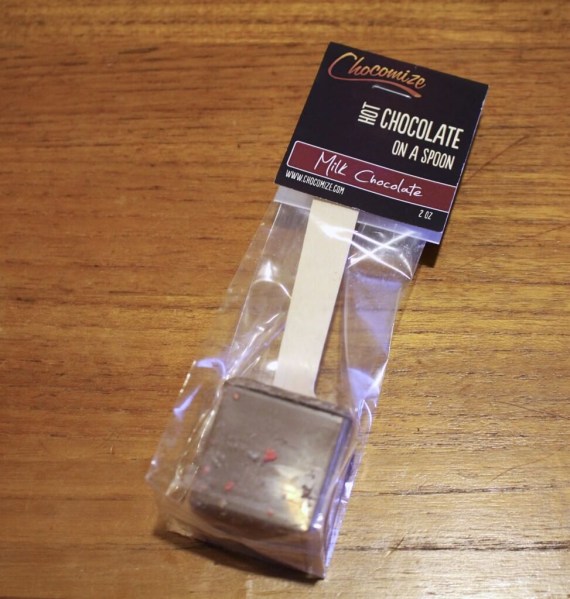 Chocomize Hot Chocolate On A Spoon Milk Chocolate This was the pair to our cookie! It's a huge brick of chocolate and I loved that it was decorated with cute red hearts! We melted this beautiful Belgian chocolate in warm milk and it was really creamy and delicious. You can also stick these in coffee or water – though I don't know about that, I think I'd rather do it in milk!
I thought this was an excellent discovery box that gave me an opportunity to sample desserts from quality artisans all around the country. I loved that I didn't have to eat everything right away – I didn't realize that some of these treats had a bit of a shelf-life (though none of them would last 6 months in my house!
Visit Orange Glad to subscribe or find out more about the Sweet Box! It's $15 per month (you can save a buck or two on each box with a longer subscription) plus $6.95 shipping. You can also check out more Sweets & Treats boxes in the subscription box directory.