I got my February POPSUGAR Must Have Box and it made me super happy because 1) I have a cold and it's Popsugar and 2) I thought it was a great box! I really liked it! It was a huge improvement on past months for me. Fortunately I picked up an extra box to send one of y'all! Enter at the bottom!
The Subscription
: 
POPSUGAR Must Have Box
The Description
: Seasonally themed must-haves selected by the POPSUGAR editors. Beauty, Home, Treats, Accessories, Jewelry, and Personal Care. Occasional luxury boxes for women, men, and home.
The Price
: $39.95 per month, less than $36 per box on a 1 year subscription.
The Coupon
: Save $10 on your first box! Use code 
BOX10
. Expires 2/25 (while supplies last)
February 2014 POPSUGAR Must Have Box
Sugarwish Cinnamon Hearts ($7.50) I weighed this bag o' candy and it was nearly 5 ounces, so it's a hefty 1/4 pound! Although massively overpriced ($25 for 1 pound of candy – though it does prevent you from going nuts and buying a 5 pound bag for the bulk pricing), I think this gift service is kinda neat – buy a sugarwish (tax & shipping totally included) and your recipient gets to pick her sugarwish (the candy). The licorice pieces identified in the spoilers are actually a coupon for 20% off. I don't think I'd buy these just to get some candy, but they would be a nice gift – and totally a step up from conversation hearts! I was surprised that my daughter enjoyed these!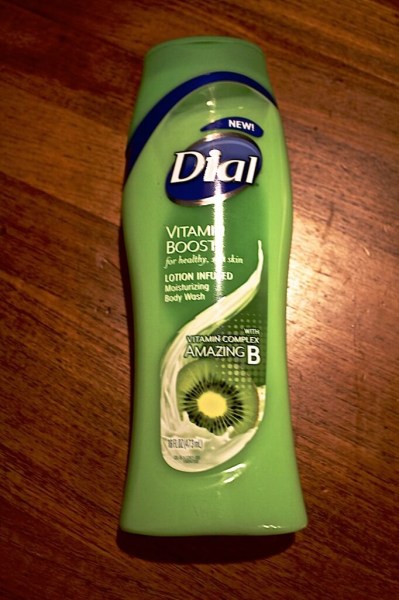 Dial Vitamin Boost Body Wash ($2-3) Ok, look, this doesn't belong in POPSUGAR Must Have Box. I am the first to remind you that I do occasional sponsored posts on my blog for stuff that I like, think is awesome, and am willing to take more time on (and yes, I make a little cash for doing it). I wouldn't do that for this. That's right, you couldn't pay me to review this. Perhaps because I'm so fortunate to have a deluge of product in my house, this is not something I need or want. If you liked it in your box – GREAT! I am putting ours in the donate bin for someone who will use and appreciate it.  I was totally willing to eat my words but after reading the ingredients – the second one is a sulfate – I didn't think it was anything to crow about! (I actually searched this when writing the spoilers and did not find anyone else lauding the ingredients and I expected it to have something hinky). I sure hope Dial paid its way with all the shipping required for such a heavy product! Birchbox rocks the special extras – Popsugar, let's stick with luxury mmmkay?
I am forgetting that this product was in this box and I do sincerely hope its ride was prepaid!
k. hall Designs Peony Candle Tin ($11) I absolutely love this scent and I love it when POPSUGAR adds a candle to the box! I think it's so much fun to have a well-scented home.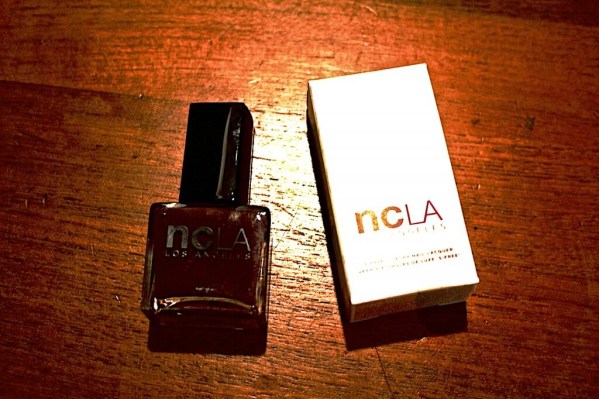 NCLA Nail Polish ($16) See this polish – Rodeo Drive Royalty – in my Poshly Polished review. Because this is a craptastic photo! This is really a gorgeous color and a perfect pick.
Nourish Organic Argan Face Serum ($24) I was somewhat devastated to find that this has orange oil in it – I just cannot use it on my face, it burns! I am going to have the most moisturized neck in the world! It's quite moisturizing and I think it's great – but would be better without the orange!
Model Co Lip Pops Duo Lip Gloss and Lipstick ($12.50) I hate this doesn't come in a box and I can't find it online except here, but I love it! I love the color of the lipstick! I would hate the gloss by itself, but together, perfection!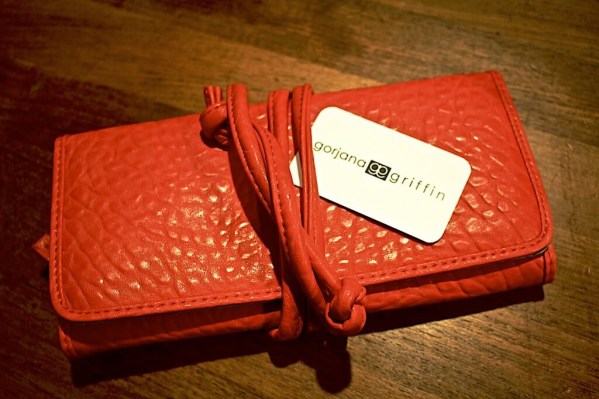 Gorjana & Griffin "Brooks" Jewelry Roll ($45) It's not orange, I swear! But it is kind of a coral pink color.  I'm not sure of the utility as a jewelry roll in the traditional sense, but I love the three separate pockets. I will absolutely use this for travel or organizing a bag! I may actually use it to organize my nail tools for travel!  I was thrilled to get this item, and happy with the $25 gift code. I didn't use my last one – maybe I'll use this one? The shipping on G&G is pretty hefty but I love their pieces.
There's no other box like it, that's for sure! By my count, this box had a retail value of around $120 – 3 times (or more depending on your subscription) of the purchase price. I think there is always enough value in my PSMH to justify my continued subscription, even if I don't love everything. I am, however, anxiously awaiting the Spring Style special edition! I can't wait!
Visit POPSUGAR Must Have Box to subscribe or find out more about this box! You can save $10 on your first box with coupon  BOX10. Expires 2/25 (while supplies last). Check out all my POPSUGAR Must Have Box Reviews! Don't forget to take a look at other Lifestyle & Combo Subscription Boxes.
Oh yeah, I have a box to give away! Ends 2/24 at 3am Eastern. Giveaway not associated with PSMH, it's from moi!