For my February Fabletics pick, I selected Tendu! It's a 2 piece outfit and I really liked the idea of having a relaxed pant. I also wanted to give the shirt with the thumbholes a shot, even though I'm super short!  I think Fabletics is a great subscription and it's definitely one of my favorites!
The Subscription
: 
Fabletics
The Description
: Workout musts delivered to your door. Kate Hudson's new line in collaboration with the JustFab family. Buy suggested looks, your own picks, or skip the month.
The Price
: $50-80 per month, depending on selections
The Coupon
: Get your first outfit half off when you
sign up with this link
!
February 2014 Fabletics Review
The Tendu Fabletics outfit was $59.95 and part of the "Move It" February collection. It included the Merida V-neck ($27.95 VIP) and the Calama Pant ($39.95 VIP).  As I have been before, I was surprised by a subtle pattern on the shirt, which I liked (I like it when my colors aren't totally "flat").  I tried on the top and was happy that I could use the thumbholes even though I have short arms. I may not always do so but when I'm out pushing the stroller in the spring, it will be nice to cover up my paws a bit!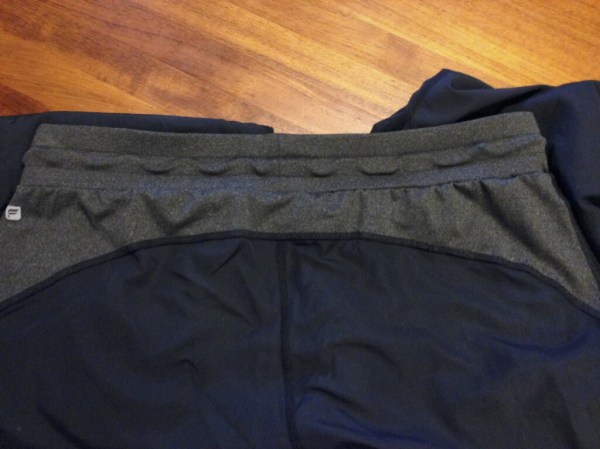 The back of the pants have a nice knit inset to catch sweat. At first I thought it was weird but then I realized what it was for. In the same vein the whole waistband was knit. This is a really great detail!
The other reason I went for this outfit – you can use the drawstrings to hike these puppies up, either to make crops or just because you are short! The inseam was only 32″ – which is normal instead of insanely long. Loved this outfit, it's perfect for me.
Visit Fabletics to subscribe and pick up your first outfit at 50% off. Which is a total steal! All you need to do is skip by the fifth of the month if you don't want the outfit for that month, but if you buy workout wear, I think it's such a great price and really high quality.
Check out all my Fabletics Reviews! Don't forget to take a look at other Fitness & Health Subscription Boxes & Women's Clothing & Fashion Subscription Boxes.