Dottiebox is a box curated every month for women. It features high quality handmade items, small businesses, and indie brands. They pay a ton of attention to detail in their boxes and it shows! Dottiebox offers two sizes of boxes – the classic box ($26) and the mini ($13).  They sent me the February Dottiebox Mini to review, plus they're giving 2 March boxes to 2 readers! Enter the giveaway at the bottom of this review.
Dottiebox Mini comes USPS first class in the cutest little box! Seriously this box just put tons of smiles on my face. Love it.
The Subscription
:
Dottiebox
The Description
: Get handmade items from a variety of independent producers in one box. Art, beauty, bath, paper products, and other unique finds. Mini box also available.
The Price
: $26 (classic) or $13 (mini) per month
February 2014 Review – Mini Box!
I have seen reviews for both boxes and I was really tickled to be asked to review, I think this is the cutest little box, and I think the Mini box is a fantastic way to discover a few new sweet products monthly without a huge cost.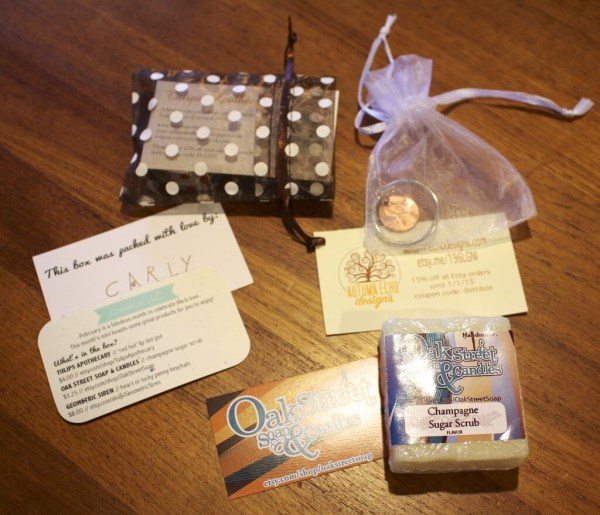 I loved how everything in Dottiebox Mini was all wrapped up nicely. There was even a card telling me that Carly packed it with love.  Carly is actually the owner of Dottiebox and I think it's awesome how much love and attention goes into the box.
February is a fabulous month to celebrate life & love! This is true!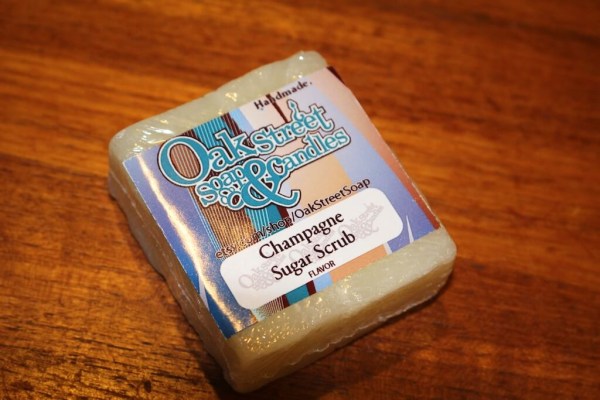 Oak Street Soap & Candles Champagne Sugar Scrub ($3.25) I'm pretty sure I've had this brand before and enoyed it! This is a soap and not a candle (obviously) and smells like cham-pagny! This is great, and it came with a code for their shop. Actually all the items in this box did!!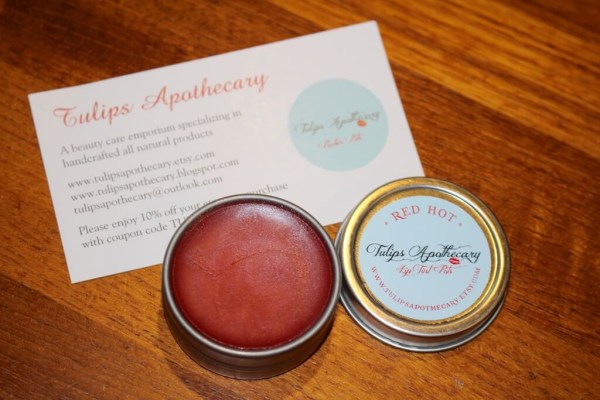 Tulips Apothecary Red Hot Lip Tint ($4) I love lip tint in a tin because you can put it in your pocket. This smells just like red hots and has a great color!
Geometric Siren Lucky Penny Keychain ($8) Love this! It's easily my favorite item in the box because it just strikes my fancy. I can also always use an extra keychain. And it has a heart. It totally made me smile!
Dottiebox Mini is $10 per month plus $3 shipping, so this is a great bargain for handmade finds – over $15 in value, plus Etsy shipping really does add up. These boxes usually include 2 or 3 products plus coupons. If you are super into Dottiebox you can subscribe to both the classic and mini to make sure you do not miss out – because even if there is an overlap on artisan producers, the items in the boxes are totally different! And if you need this box right now, it's still in stock!
Visit Dottiebox to subscribe to the mini or the classic box, or find out more about Dottiebox! You can also check out more Indie/Lifestyle subscription boxes in the directory!
Giveaway ends on 2/27 at 9pm eastern! This one is a quickie! US only, 18+ etc.