Toothbrush Subscriptions is totally simple – Pick a brush, or as many brushes as you want for your family, and get them shipped free each month. Or every 2 months. Or every three months. You can choose from anything from newborn to kids brushes, economy toothbrushes, as well as an ADA approved toothbrush!  Toothbrush Subscriptions ships from Canada, which totally surprised me!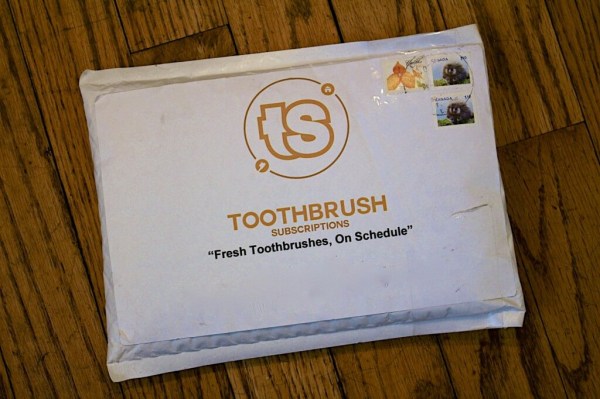 The Subscription
:
Toothbrush Subscriptions
The Description
: Choose from a selection of high quality toothbrushes or your favorite brand name electric toothbrush head. Your toothbrush will be conveniently mailed to you every 1, 2, or 3 months. You set the schedule.
The Price
: Brushes start at $1
Toothbrush Subscriptions Review
I love the idea of getting my toothbrushes delivered on schedule. They deliver, you replace. No more "stretching it out." Because that's pretty icky.

The Luxury Toothbrush ($3) This was my favorite! I didn't really capture it but I love the swoop on the handle. It felt great in my hands and reached everything nicely without rubbing all over my lips.  It has .007" soft bristles, and I think all the brushes are soft brushes, which I believe is best for your enamel.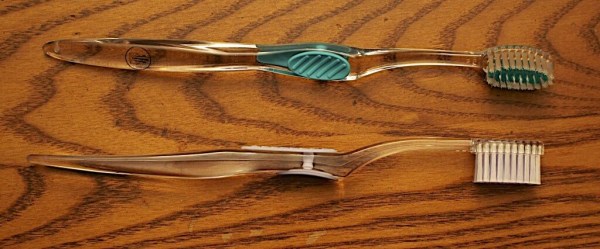 American Dental Association Approved Advantage Toothbrush ($5) Only 30 brushes are approved by the ADA. This one has .007" soft bristles surrounded by .006" extra soft bristles and I don't know why it's better than the luxury brush, but it is approved so if that's important to you, get it delivered as frequently as every month. Toothbrushes are nasty. You really should replace them frequently.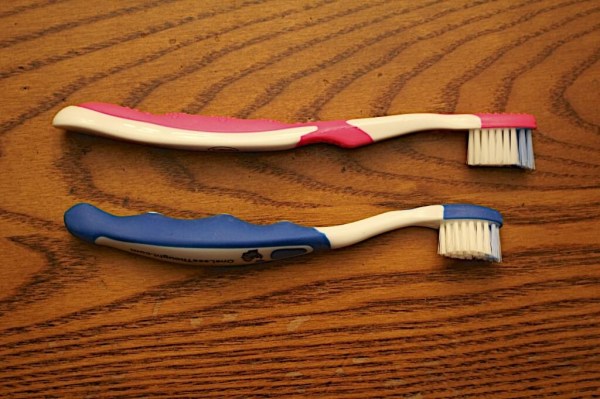 I admit, I don't change the kids' brushes as often as I should. They get attached to certain brushes. I know, it's gross.  I tossed a bunch of them before we left. I have a hard time finding reasonably priced brushes that my kids will use, but they loved these! Both these brushes have extra soft bristles, which is why I suspect they liked them so much.  I love that you can select the colors so the kids aren't sharing brushes (though it totally happens) and they can have their own special color.
The Junior Toothbrush ($1) this is just the right size for younger kids. It has 29 tufts of bristly goodness and a power tip.
The Baby Toothbrush ($1) This is actually for ages 2-5. Toothbrush Subscriptions also has a newborn toothbrush, which I wish I'd had when my kids were babies. It has 23 tufts and is more compact.
Children's Flossers ($1.50) Six of these are shipped with every kid's toothbrush. My daughter loves flossers and these are even cuter! I want to get my son into flossing and this will be absolutely perfect. Kids cannot operate floss. I don't know when I learned how to floss, but certainly it wasn't when I was 3.  You can also get adult flossers.
Dental Floss ($1.50) Speaking of floss… You can get separate floss, but the website says floss is shipped with each brush. This should be enough for the month and it's minty.
And finally… The $1 toothbrush!
Economy Toothbrush ($1) You can only get it shipped every three months (hey, there's free shipping), but if you just want a toothbrush every 3 months (which is the minimum of how often they should be replaced), you can get one for a dollar! For me, this is a travel brush – take and toss – but despite its low price, it still even has an indented thumb area on the front. Impressed!
If you want to subscribe to Toothbrush Subscriptions or find out more about their extended offerings, including electric toothbrush heads, check them out here. I think this is a great subscription service and I totally dig getting forced to change my toothbrush. Toothbrush in, toothbrush out. Done.
You can see more Health & Fitness Subscription Boxes in the directory too!