I think, maybe, that I declare a strike on boxes.  These came on Monday and contain all our crap from Vermont.  There's one more box (a large flat rate priority mail box that weighs upwards of 35 pounds!).  I just don't want to open them. But I do want to open the last box because it has all my new polish. Maybe on Wednesday. I'm super busy for the next week. However I think one of them has some of my clothes. I should probably open it.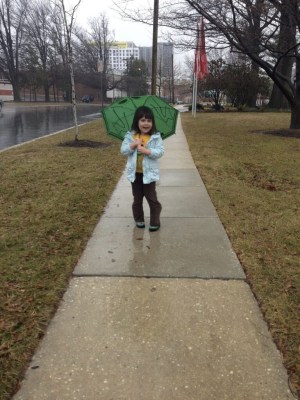 I took this photo in the pouring rain waiting to get E from his bus on Tuesday… and promptly lost my phone. I didn't realize it until Tuesday night around 10pm. I went outside with a flashlight, no dice. I went outside in the morning, didn't find it. I checked one more time, and it was right on the curb! An iPhone miracle! I happily paid Apple my $49 "incident" fee and my new one will be here tomorrow. The old one – it's like a ghost possessed it, but replacing a broken phone = so much cheaper than replacing a lost one! I put a $5 + ice cream bounty on my phone and I guess since I found it, I get to pick the ice cream. Let me tell you, it is not going to be birthday cake ice cream.
Do you know how boring it is to take the subway without a phone? I forgot to put a book on my laptop. I took a nap on the way in. I tried reading my camera manual, but, well…
It was the first week of classes for me too and everything went swimmingly! I do have one thing to wrap up from last semester but pleasingly, it's exactly the same work I need to do for my (one) class next week. #winning.
FedEx says all my packages are arriving Friday or Saturday but since they hit USPS already, I suspect I may be getting Citrus Lane & Popsugar tomorrow! I know I'm getting Golden Tote for sure. I might be getting Ipsy too? What I'm trying to say is that it's going to be a subscription box smorgasbord over here and I'm thankful because meh, mail has been sad this week. (Yes, I know this makes no sense given the first photo!)
Today while E is in school A & I are wrapping up 2 craft boxes and playing checkers. We'll be ready for more next week! One of my friends is having a Valentine making party on Saturday evening, and I've been gathering supplies for that – I twisted her arm into letting us (as in me + the kids) come. There'll be champagne, so I think we'll show up early, let the kids get hopped up on cupcakes, I'll make a "You're my favorite husband" card, and we'll head home!
What's going on with your Thursday?
I'm linking up with Thursday Thoughts with Jennifer!