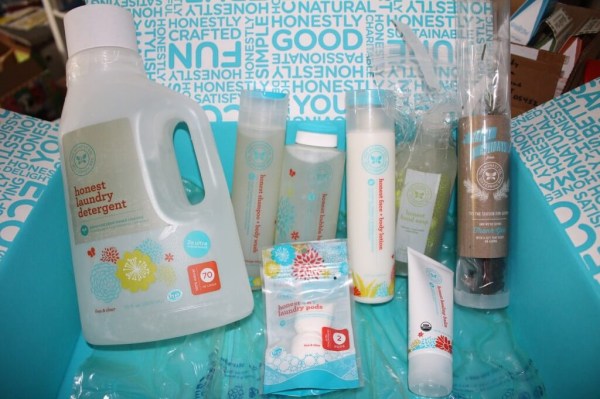 We got an Honest Company Essentials Bundle box yesterday – it was delivered on Saturday but we didn't realize it so it was outside freezing all night. Did just fine! Even the tree. But… what the heck do we do with this baby tree? Did you see the weather for today? WE ARE IN VERMONT PEOPLE! I got a bonus bubble bath from a coupon code last month plus they sent a sample of the laundry pods. I thought that was nice! I don't usually review each box but we get them all the time – and I send them to where we're going to be on vacation too. This time we got laundry detergent, shampoo/body wash, face/body lotion, hand soap (lemongrass) and the healing balm. This one is for my husband's use – except for the bubble bath! He has really dry scratchy hands and the healing balm really helps. We love how everything is great for the whole family.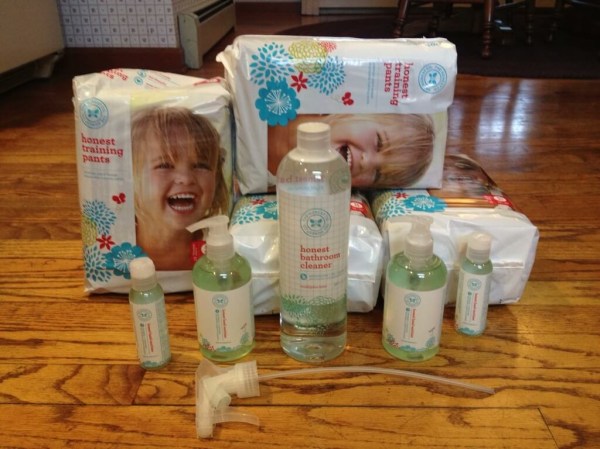 This is the order I sent for vacation. And um, I think I got enough hand sanitizer? All the smaller bottles are hand sanitizer. I was afraid of the flu! My husband is also kind of a hand sanitizer addict, but even he was like I think you got enough sweetheart! I'm taking a travel sized hand sanitizer back with me for the plane. Also, I hope my child potty trains soon. I'm so over the cleanup!
I love the Honest Bathroom Cleaner, it's the best smelling cleaner I've ever used – eucalyptus mint.
At Thanksgiving I sent up some hair conditioning spray with my husband, and I love how it makes my kids smell like little angels.
You can check out all my Honest Company reviews and if you're not a member and you want to sign up, you can use code INVITED10 to save $10 on your first $50 order.
You can also get a free trial for $5.95 shipping. I do really love the travel sized Honest Company stuff and I collect the mini healing balm tubes (was so excited to snag one in my Birchbox!) to stick absolutely everywhere! This is a photo of each of the trial sizes for all of the bundles – Essentials, Diapers, and Wellness.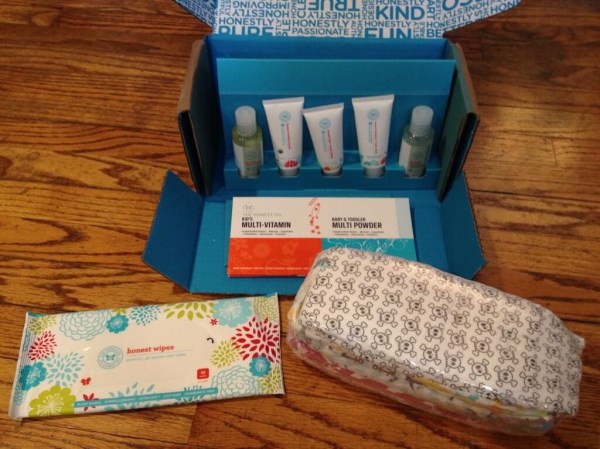 You pay $5.95 for each of the samples, but watch out, once you get them if you don't call to cancel (and you must call, and it's only Mon-Fri during Pacific Time business hours) you'll get signed up for each of those bundles! I think the $5.95 shipping for these items is a good deal, but make sure to put it in your planner to cancel! I admit that my children don't care for the Honest Company multi-vitamins. It's probably the only one of their products where we choose to seek out an alternative.
If you have questions about a specific Honest Company product before you order, just drop a note in the comments, I am happy to tell you my thoughts – we've used nearly everything!