I finally got my Socialbliss Style Box! It's a brand new fashion subscription box – this is the very first one. I had put myself on the waitlist as soon as I'd heard about it and as soon as I was eligible I'd ordered. So I was a little bummed that everyone else got their box before me.  I was hoping for a bit more of a Popsugar competitor, but this one is pretty much strictly fashion and accessories. One of the pluses – there's always at least $100 in every Socialbliss Style Box and they are returnable if you don't love them.
The Subscription
:
Socialbliss Style Box
The Description
: Each month get a curated product experience hand-picked for you. A variety of on-trend items are in each Style Box, some of which you'll see on the Socialbliss site, others are emerging hot items not yet available to the public. Each box will contain an assortment of popular one size fits all fashion accessories and lifestyle products.
The Price
: $47.90 per month including shipping. Save $15 with a 3 month subscription.
January 2014 Socialbliss Style Box Review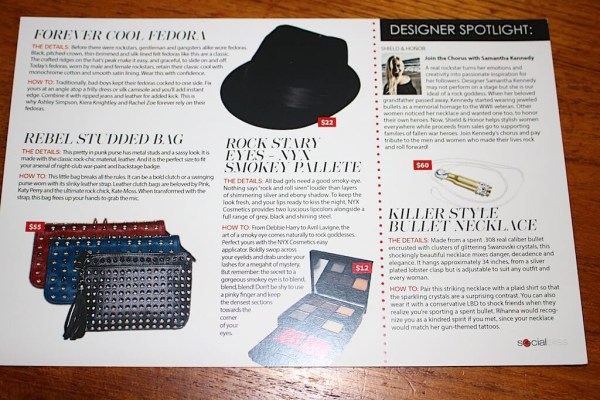 Every box comes with a card with all the information on each of the products. I do kind of like that it's all on one sheet. The big information cards can get a little unwieldy. The theme for the inaugural Style Box is "Rockstar!"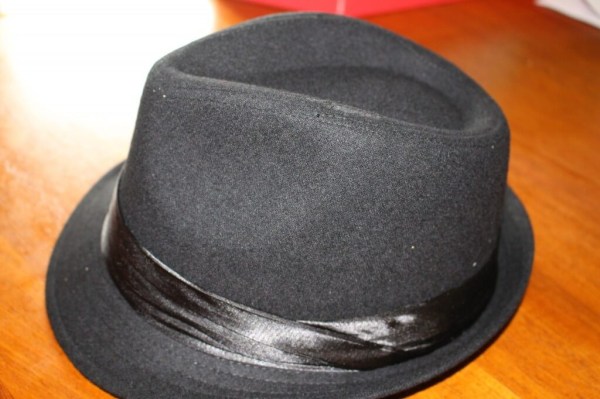 The Hatter Company Forever Cool Fedora ($22) This is a cool hat and it actually looked pretty good on me. I could totally pull it off – but I would totally never wear it.
Black Rebel Studded Bag ($55) This is a zip top leather clutch covered with round spikes on both sides. It came with a long crossbody strap as well as a wristlet strap. Also undeniably cool and I love it, but… I would probably never use it (I may be a little old for this box!).
NYX The Smokey Look Kit ($12) I admit, I'm NYXed out! However, this is probably the cutest NYX I've gotten in a subscription box. I love that there are a lot of options for making your smokey eye plus two glosses!
Shield and Honor Killer Style Bullet Necklace ($60) This is the best item in the box (but I'd have to cut the chain – it's way too long for me!). I love the super delicate chain contrasting with the big chunky crystal-encrusted bullet casing! A portion of the proceeds from each bullet necklace are donated to the Intrepid Fallen Heroes Fund.
I liked this box and want to see more, but I'm not in love with this particular box. I was on the fence about returning it, and then noticed something that pretty much made my decision for me:
Unfortunately, a huge chunk of the top of the fedora is missing.  I contacted Socialbliss Style Box about it and I'm awaiting their response. I think I'll probably get another box because I want to see how this subscription develops! I'm just not sure that I can pull off this edgy of a look as a stay at home mom/grad student!  What do you think about it?
I do think Socialbliss Style Box needs to step up its game on the website and email process – no shipping confirmations, no notes when billing will occur, etc. I am afraid that the returns are going to sink Socialbliss, but this box is so new probably relatively few ordered it. My wishlist: a theme preview (or multiple themes to choose from), shipping confirmations, and an easy skip button!
Visit Socialbliss to find out more about the brand new Style Box or to subscribe. You can also check out more lifestyle & combo (aka mixed boxes, boxes of everything, and boxes for women) in the subscription box directory.