It's basically food week here on MommySplurge! All the food boxes came at once! I was excited to see Taste Trunk because it's fun to work all the items into my meal planning for the month. Taste Trunk is a food subscription box with all natural items inside and you can get gourmet, sweet, health, and BBQ. I've only ever gotten gourmet, because that's what I prefer.  It ships in an outer flat rate Priority Mail box, which is good, because it's often quite heavy. Today's was sooo heavy I was curious to get inside to see what was so heavy!
The Subscription
:
Taste Trunk
The Description
: Taste Trunk offers 4 different monthly trunks: Gourmet, Sweet, Health, and BBQ. Each trunk has 5-10 products.
The Price
: $29 per month + $5.99 shipping
The Coupon
: Put my name in the "special instructions" box at checkout (Brandy O'Grady) and use coupon code
Splurge25
for 25% off!
January 2014 Taste Trunk Gourmet Box Review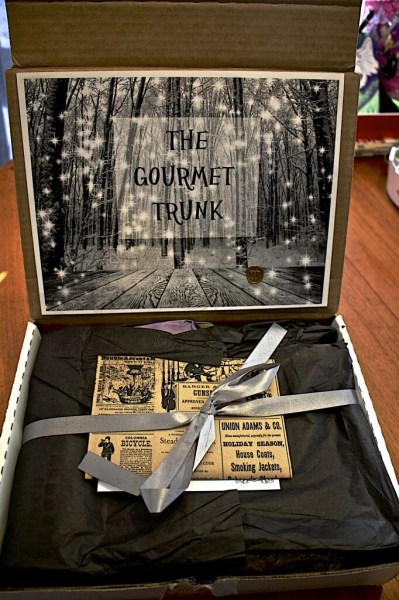 I like the little Taste Trunk seals and the packaging. The photo is different every month.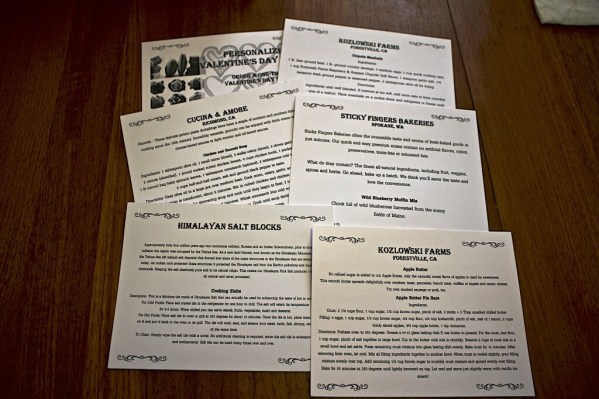 As soon as I saw the information cards I knew what made the box so heavy this month!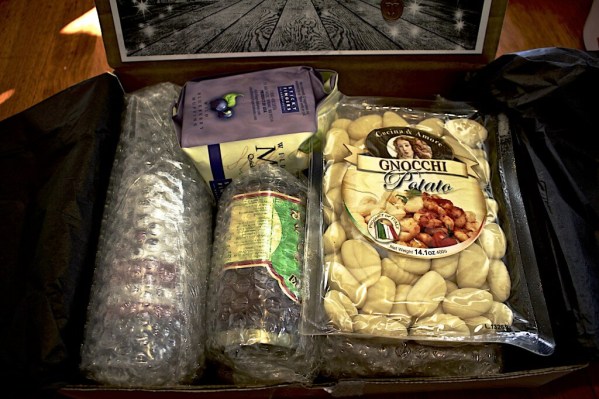 Taste Trunk packages its box very well. All glass items are bubblewrapped. And I love that there are no squigglies (usually, I think maybe sometimes there are). I do get tired of too many squiggles.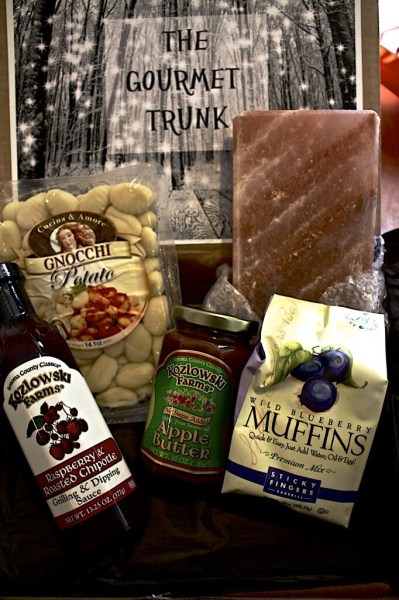 Yummy! I was excited to rip everything open and see each item. I will use everything.
Kozlowski Farms Raspberry & Roasted Chipotle Grilling & Dipping Sauce ($6.95) This will be so great to fancy up some chicken! I might follow the suggestion and swirl it with some cream cheese. I love a little sweet heat.
Kozlowski Farms Apple Butter ($6.25) I love apple butter and I was excited to see this is a no sugar added variety!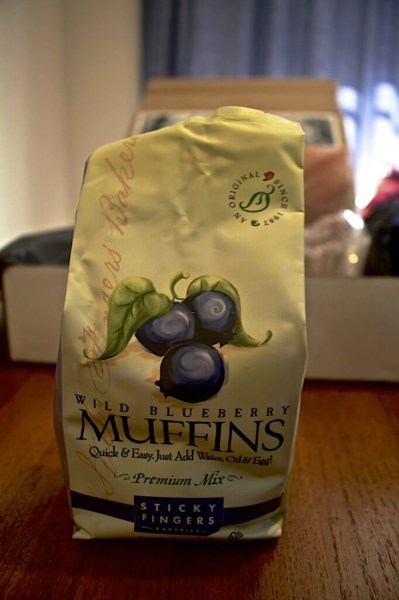 Sticky Fingers Muffin Mix – Wild Blueberry ($6) Psyched would be an understatement. I saw this mix the other week and wanted it. Now it is mine! I may make muffins with my daughter as one of our craft projects while my son is in preschool!
Cuchina & Amore Potato Gnocchi ($5) We've seen this brand before in Taste Trunk and I was happy to see it again – all the items from them have been high quality. This one is for OMG WHAT DO I MAKE FOR DINNER night 🙂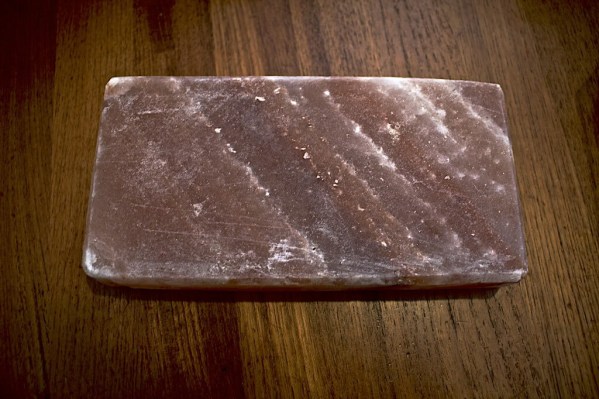 Himalayan Salt Block ($17) So excited to see this! I love Himalayan Salt and I'm excited to try it. I still haven't tried mine from Bespoke Post but I kind of want to do it when my husband is around. I even bought the burner ring for it, so we will be ready to go to test these puppies out next week. I was impressed that this was in the box.
I came up with a $35 value for my January Taste Trunk! I could be a little off on the salt – I didn't weigh it and that price was for a 5 pound brick, but I'm pretty sure it's the same thing. We will absolutely use up everything in this box and I love having some ideas delivered straight to me that I have to use up!
Visit Taste Trunk to find out more and if you would like to subscribe, you can save 25 percent off your first Taste Trunk by using code and putting my name (Brandy O'Grady) into the special instructions box!