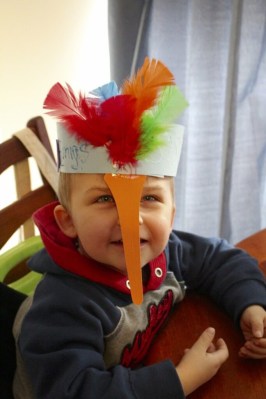 Here's the deal with January subscription boxes. Subscription box companies have loads of new subscribers that were gifted subscriptions – they didn't pay for them and don't have any sense of what boxes normally are.  In addition, all the regular subscribers have been completely overloaded by Christmas expenditures, and either cancel or pause their subscriptions. After reviewing for most of the month of January, I think I'm on pretty strong footing when I say that many January boxes are just… off their game. Everyone's trying to keep costs as low as possible in January because their subscriber base is probably the smallest it will be all year. This is mostly true of the big companies, not the smaller ones trying to compete in this huge market! As a result we got boxes with juicing books & off-brand gloves and our children get old boxes from Kiwi Crate.
Yes, I said it, an old box.  For January, instead of doing a sneak peek at the monthly theme, Kiwi Crate just randomly sent everyone an old box – except for the lucky kids who got a new box. The bizarre thing is that they tried to pretend they always do this – they don't! We used to get monthly emails with the next month's theme to get everyone excited about the box. Feathered Friends was originally from May 2013.
My kids were not lucky kids and did not get the Mad Scientist.  Fortunately they still loved the box, and we'll take a look at it, but this is something new for Kiwi Crate. They're clearly clearing out their inventory. I'd prefer they put their old crates on sale and stick with the regular deal of everyone getting the same box. The biggest issue I had was that Kiwi Crate has improved so much, that old crates just seem… old! They also don't contain the new Explore! Magazine, which is really spot on for age-based activities.  Our box contained an "Explore More" pamphlet.  The activities in the pamphlet consisted about facts about different birds and writing prompts to draw something.  I read the prompt to my daughter – to draw a gosling coming out of its shell in the nest – and she looked at me with quizzical eyes and a great deal of doubt. She said… "Um mom, I don't know about that."
Kiwi Crate says: Crate shipments are now a surprise each month – customers will receive a fresh, engaging crate each month. My kids would never ever let me not subscribe to Kiwi Crate (and they did love this box). My best advice to you is – subscribe, but do not mess around with different deals (like picking up a Plum District deal for a new account) and different subscriptions. You will end up wasting your money because you will get duplicate crates. I am hoping we do get Mad Scientist in the future – but I'm not holding my breath! I sincerely hope that Kiwi Crate introduces some new crates, because as a mom, I'm not happy with the age-inappropriate activities in the pamphlet, even if we did have fun with the rest of the box.
The Subscription
: 
Kiwi Crate
The Description
: Arts, crafts, and science activities subscription for kids ages 3-7.. Each box is organized around a theme!If you are a busy mom that needs to spend your extra time with your kids instead of hunting down a craft, a subscription craft and activity box is the way to go.
The Price
: $20/month
The Coupon
:
Save $10 off your first box by signing up with this link
.
Kiwi Crate Review – Feathered Friends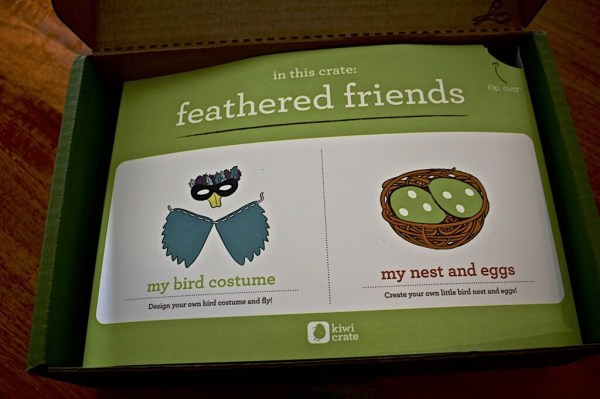 Kiwi Crate's Feathered Friends box has two crafts: the My Bird Costume & My Nest & Eggs Craft.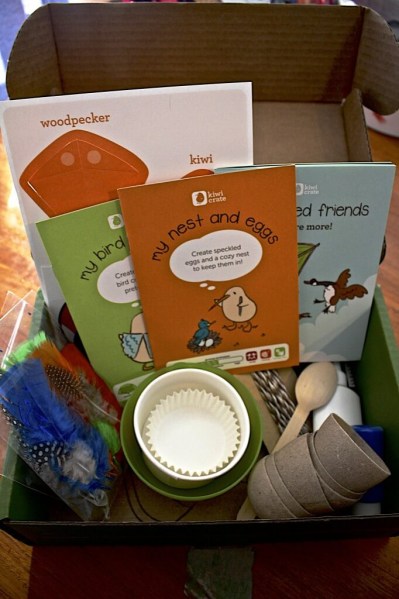 All the supplies are included in the box, down to the glue & containers.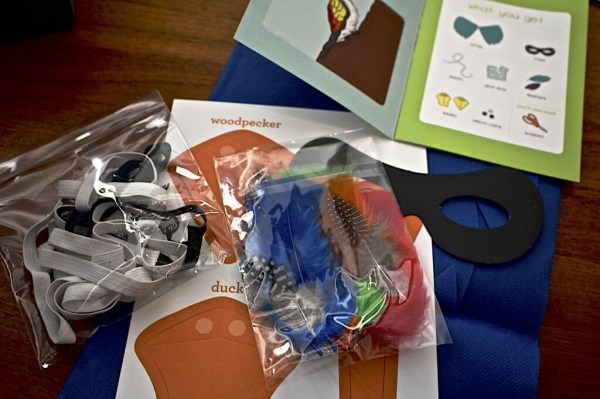 My daughter asked to do this first. In fact, whenever she sees a Kiwi Crate box, she demands to do it immediately. This was pretty quick to put together and the kids have played with it on and off for a few days. We do not get the sibling add-on. I make them share!  So we used the extra feathers and made E a hat!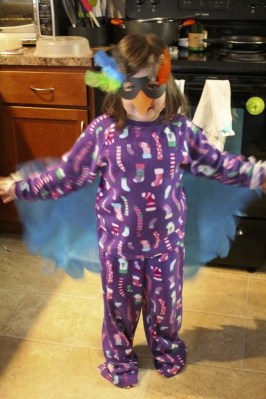 She loves playing dress-up!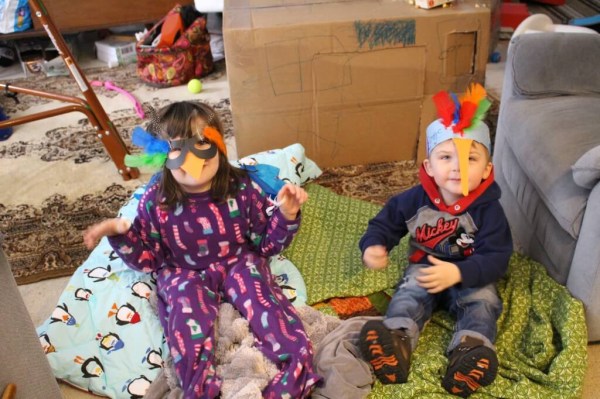 The instructions suggested pretending to be birds in a nest, so we got some blankets and created one. They loved it!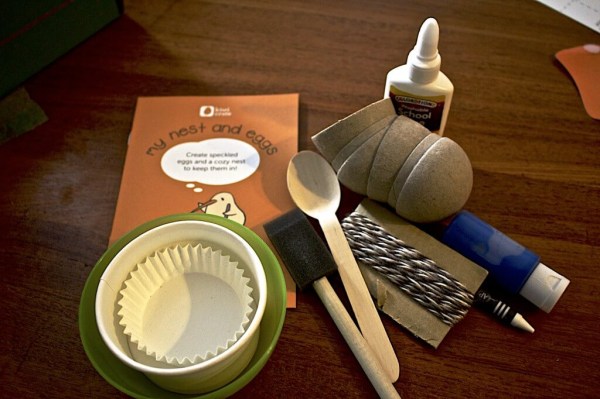 This activity was to make a nest out of yarn and glue and paint some eggs.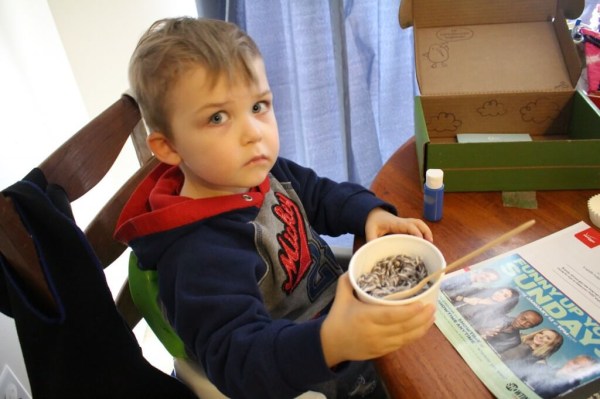 You dump all the yarn into the glue, get it sticky, and spread it out on a bowl. One of the things I didn't care for about this box is that *I* did most of the crafting. E doesn't like sticky things, so this was a negatory from him!
The instructions suggested an egg & spoon race, but the kids came up with it on their own!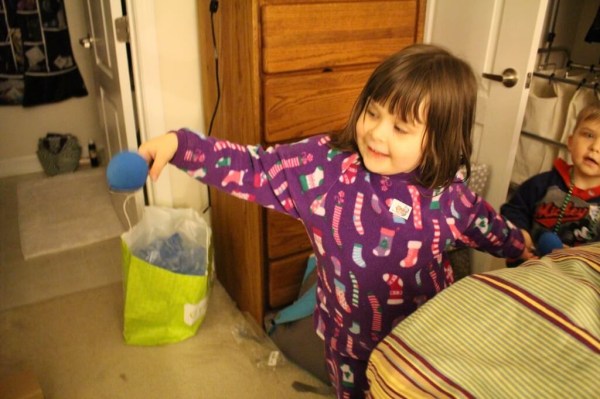 They raced all over the house!
The night before I peeled off the nest and let it rest on the bowl (it was mostly dry). In the morning I found this. It's cute, but it's not really large enough for both eggs.  The kids had fun with the projects, but I don't really think this box was Kiwi Crate's best effort.
If you'd like to subscribe to Kiwi Crate, you can use this link to save $10 off your first box. Or you can wait a month or two to see if they can clear out their inventory. Check out all my Kiwi Crate Reviews to see more. Don't forget to take a look at the list of Subscription Boxes for Kids for more great subscriptions!