I enjoyed last month's Flicker Box so much that I decided to go for another month! I like smelly things in my house, so why not! Winter is the perfect time for candles.  The box is $32 per month (the shipping on this guy, included in the price, is $7!) . You can drop the price down to $25 per month with a longer subscription, which is great if you are a candle addict. It's also a nice way to budget your candle addiction if you have one!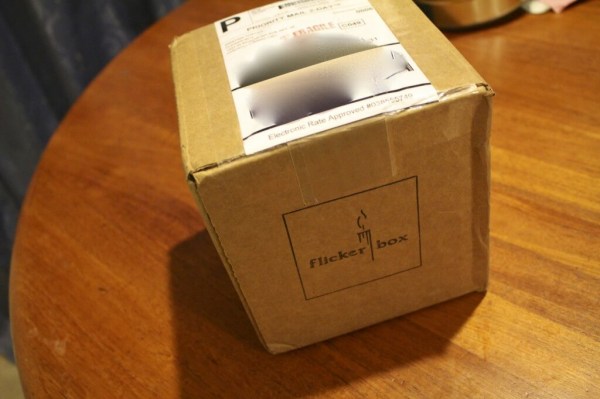 The Subscription
:
Flicker Box
The Description
: Each Flicker Box contains a variety of artisanal candles made from candle artists from around the United States. We share their story and ship subscribers a delightfully curated box right to their doorstep
The Price
: $32 per month
The Coupon
: New monthly subscribers get their first box for $25.
January 2014 Flicker Box Review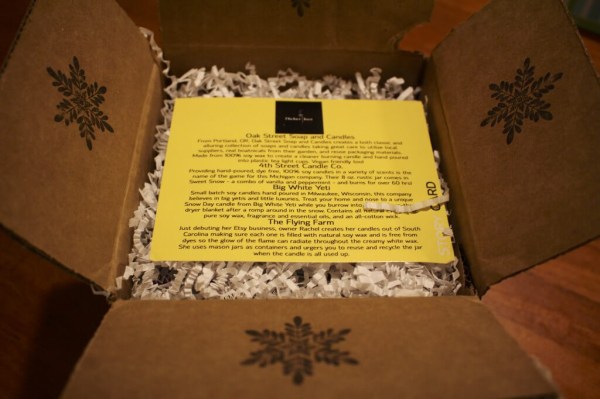 The decorations were a quick hint as to the contents!
Each Flicker Box contains a story card about the candles' producers and a book of matches.
January's Flicker Box had kind of a clean smelling wintry theme going on. I rather liked it!
Starting from 12 o'clock, going clockwise:
4th Street Candle Co. – Sweet Snow ($12) 1) I want all the things from 4th street and 2) this is an amazing smell! Just like last month my fave scent is a peppermint/vanilla mix. I guess it really gets me going! It's refreshing and soft all at the same time and it's supposed to have a 60 hour burn time. I'm so excited.
The Flying Farm – 45 Frosty Windows ($10.50) This was in a hexagonal jar but I think it's probably a medium sized candle! "Frosty Windows is an icy and refreshing blend of cool citron and ozone with subtle note of peppermint, currants, eucalyptus and winter greens with just a whisper of vanilla." Soy candle, no dyes.
Oak Street Soap & Candles – Fresh Snow Votives ($4) My nose might be off, but these smell like Downy to me. Did anyone else get this box? Tell me what they smell like to you!
Big White Yeti – Snow Day travel tin ($10) I don't think I'm crazy because this is similar to the votive candles, and it smells like a "fresh-from-the-dryer-blanket." LOL they also have a "kitten toots" scent (what you want them to smell like?
I think Flicker Box is a great value for all soy artisan candles made by independent businesses! I received $36.50 in candles for $32 including shipping a hefty box of candles to me!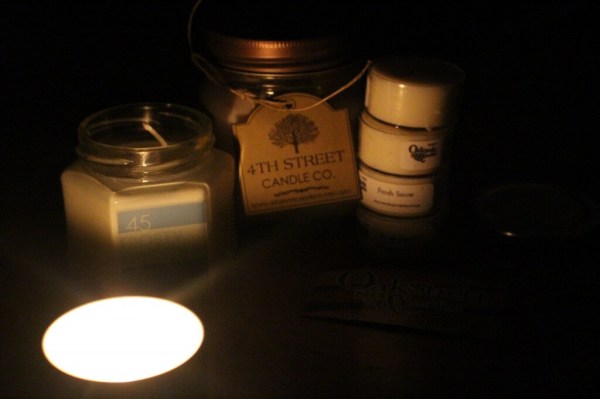 See all my Flicker Box Reviews and more Home & Household Subscription Boxes!