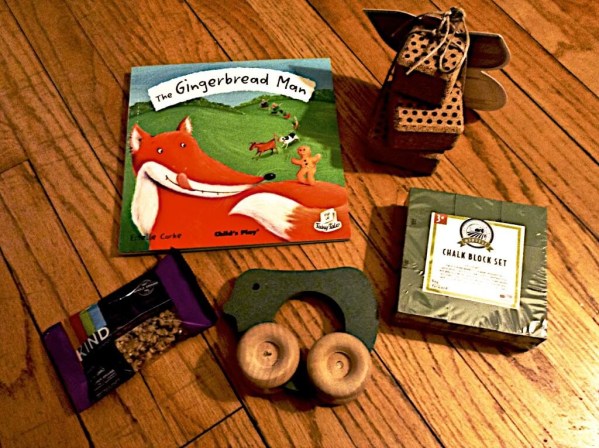 For January Stork Stack tried something new: a box full of items from a brand new company. If it had gone well it would have been fantastic. Instead it was a massive train wreck full of recalls and finger pointing. I received a $15 refund (or I am supposed to) for this box and Harvest Company – the toy manufacturer – is offering a $15 discount on a future purchase. I doubt I will take advantage of it. The toys included with the box were either unsafe, unfinished, or both. A Harvest Company has indicated that they are sending emails to all subscribers, but I have not yet received one.
The Subscription: 
Stork Stack
The Description: 5 curated deluxe items shipped out for babies still in their third trimester to 3 years old.
The Price: $28/month
The Coupon: Save $10 off your first Stack. Use code
208CDC00
.
January 2014 Stork Stack Review
The Good
The Gingerbread Man This box ended up in Vermont and my husband has been reading this book to the kids on FaceTime. It's a super cute popup and the kids love it. They love the story and even on on the iPad they understand it's a popup. (If you didn't realize or aren't a regular reader, my husband works out of state and we spend about 2 hours a day on the iPad – we try to make our lives as normal as possible! Thankfully after a year and a half daddy is coming home permanently at the end of March!)
Kind Healthy Grains bar – Maple Pumpkin Seeds. This looks great. I am sure daddy enjoyed it. Made with oats, millet , quinoa, amaranth and buckwheat, the maple pumpkin seed bar is yummy and healthful.  Claims to have ingredients you can pronounce; I'm not sure if they should say that when quinoa is a featured ingredient, but I know what they were getting at – it's all natural, non-gmo.
A Harvest Company Chalk Blocks – I think these blocks are probably fine. I haven't had the opportunity to examine them in person.
The Bad (really really bad)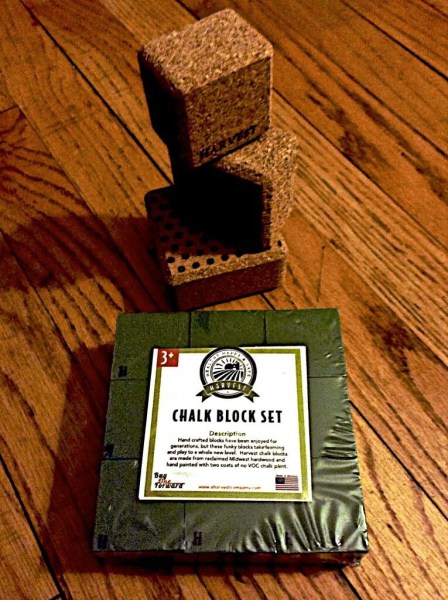 Harvest Company Cork Blocks I would never give my baby a block of cork. Ever. Harvest claims that it was mislabeled and should have been only for 3 year olds (they were labeled for 6+ months). I don't think that holds water – Why would a *baby* subscription box company purchase so many toys for 3 year+ old kids? Stork Stack only goes up to 3 years old.  This item was immediately called out by watchful parents as unsafe and has been recalled. Even for a 3 year old this toy wouldn't be very durable. If you have a dog in the house it would be quickly destroyed! Let me be 100% clear – these blocks should not be used with children. They should be disposed of.
The Ugly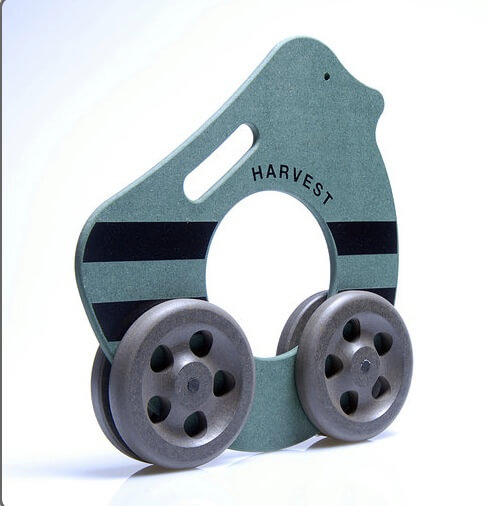 This is a pretty and finished toy. The toy below… Was not. It's actually not too bad looking but A Harvest Company clearly couldn't deliver. I cannot fathom the thought process that led them to provide a bunch of terrible toys instead of failing to deliver. Some similar toys in other boxes were clearly made of splintering wood chips (and I personally saw reports on Facebook regarding actual splinters). I cannot imagine giving one of these toys to a baby. Others reported that the wheels fell off the toy. This might look cute on a shelf but I'm afraid it would be too attractive to a child.
I am not doing a breakdown for this box. It was a total failure. I am sure that this fiasco will never ever happen again, so I am going to check out next month's box. As my son has reached the age limit of Stork Stack I decided to reset my subscription to newborn. I am continuing to subscribe mostly out of curiosity to see what they do next month and I do have a few Stork Bills to use up). There were also reports of items that were grossly inappropriate for children's ages (baby items for toddlers). Stork Stack's response was to "age up" your kids. I do not think this should be necessary with any subscription box! Frankly I expect baby subscription boxes to do the work for me – to find age and developmental stage appropriate items, to test them for interest and durability, and then pick the best items for my box.
If you are looking for a baby and toddler subscription box, I suggest you start with the directory. I am looking forward to seeing what happens with next month's stack. It had better be amazing.