Sales I am excited about today/this weekend! RueLaLa is doing CharmIt! Charm bracelets starting at 11am. I missed them in other places and I want one (for my daughter). And ummmm they also have Walter the Farting Dog doll. Okay.  Living Social has 20% off through 1/20 with code LSJAN20.  And Plum District has 20% off sitewide tomorrow (use code LongWeekend20 and on Sunday LongWeekend15).
 And Fab.com is having a buy $100 get $25 and buy $150 and get $50 off.
Yesterday was a big day but we still managed to get a ton done. I even opened one of the boxes of Christmas toys! I'm not saying I got them put away, but I opened it!  The kids were all excited. I may have also opened the box with all my polish in it, but I didn't really dig in – I opened the box to fish out an item for a swap.  I shipped a large flat rate box (about $15) and it weighed over 35 pounds. It had all the densest items in it!
Of course my son was most excited about the box of POTATO HEAD parts that Alena sent him! And I was so excited about the Target haul she sent me!! Alena is the queen of Target hauls and she found all these Mickey Mouse Christmas wrapping things! Indulging my children in their disney dreams is one of my greatest joys. Thank you!!!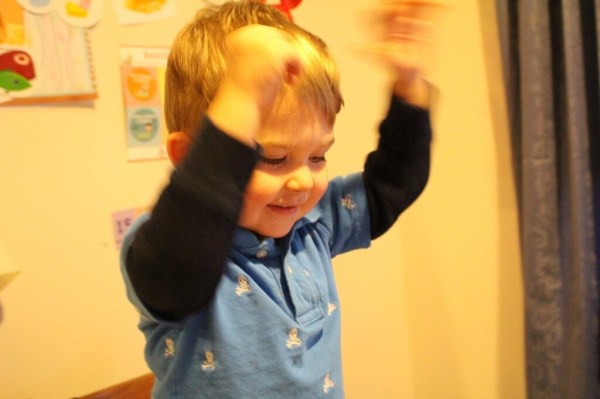 What's going on with you guys today? I was hoping to get out of the house but I'm not sure yet. So far I managed to actually bathe my children (always a win). I want to go to Target or Safeway or Costco but my replacement phone is getting delivered and I don't want to deal with it not getting delivered because I wasn't here. Tomorrow night we are going to a Valentine card making party and the kids are psyched about that.
Have you tried Pinch Me yet? It's a freebie sample thing. I was pretty psyched about the purse size Puffs Ultra Soft. And it's so pretty too! You can join up here if you haven't yet!
Even though it was busy, I fulfilled my maternal duty as provider of honey mustard.
I use equal parts mayo, dijon mustard, and honey, with a squirt of regular mustard (like half a tablespoon). I think to make this much it was like 1/2 cup of each. It makes a lot. I prefer to make my own over buying the other. The kids like it too.
The kids suckered me into these guys (the mini corn dogs). They were so cute, I couldn't say no!