This is the second of my two Hello Fresh boxes this week! Hello Fresh is a meal kit subscription service and it's a great subscription box! You get 3 meals for 2 people for $69 per week. FYI, meal choice for Hello Fresh for the following week ends on Wednesday nights at 11:59pm. If you want a January 22 delivery, make sure to pick one up by Wednesday night. Use promo code  SPLURGE2014 to save $25 on your first order!
The meals for next week are: Teriyaki Chicken with Coconut Rice and Baby Bok Choy, Seared Steak with Dijon Tomato Salad and Marble Potatoes, Lemon Roasted Mahi Mahi with Roasted Vegetable Ratatouille, and you can also choose to get Tuscan Ribollita with Pancetta and Garlic Croutons or Creamy Super Greens Penne with Fresh Basil (this one is from the vegetarian box) instead of the chef choices.
The Subscription
: 
Hello Fresh
The Description
: Each week Hello Fresh delivers beautifully photographed step-by-step recipe cards, with the exact fresh ingredients needed to create a selection of new recipes.
The Price
: $69/week (59 vegetarian)
The Coupon
: Save $25 on your first order. Use code 
SPLURGE2014 
 . Expires January 31, 2013.
Hello Fresh Classic Box 1/18/13 Delivery
This week I skipped the fish entree – actually a spicy shrimp dish – in favor of the pasta dish (no way was I eating it and it's not something the kids would be into either). I am making myself get this fish this week and next, mostly for my daughter's sake, she is wild about fish! Hello Fresh is delivered by FedEx on Wednesdays and it always has tons of ice and insulation and is over nighted, so it's not a box I worry about in terms of freshness.
Chicken Skewers with Creamy Leek Risotto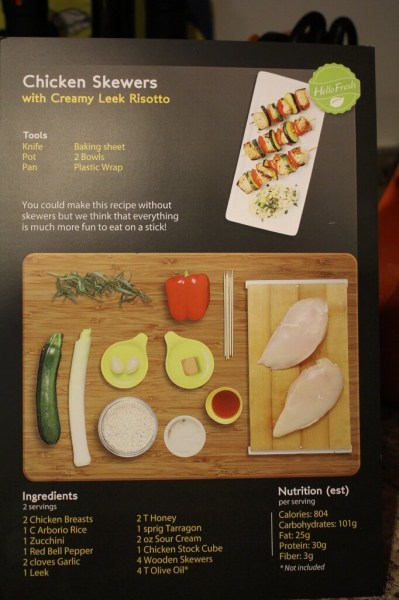 This was really delicious. However, I had an issue with the directions. It had me slice up everything and it said add the vegetables to the marinade, so I did. I was actually thinking how stupid it was to put leeks on skewers. Yeah, they were for the risotto. I really don't read the recipes in advance, I do expect them to be step by step, so I was slightly miffed. I picked out the leeks and threw them in the pan for the risotto, which was delicious.  If I had to do this again, I wouldn't make skewers. It was time consuming and annoying – I should have just sauteed it.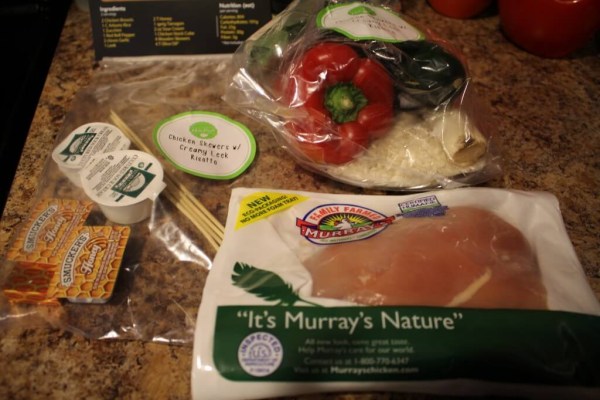 The chicken & rice in this dish were very high quality! I had to cut off the skewers to fit in them in my pan. Then I didn't have enough room on my skewers.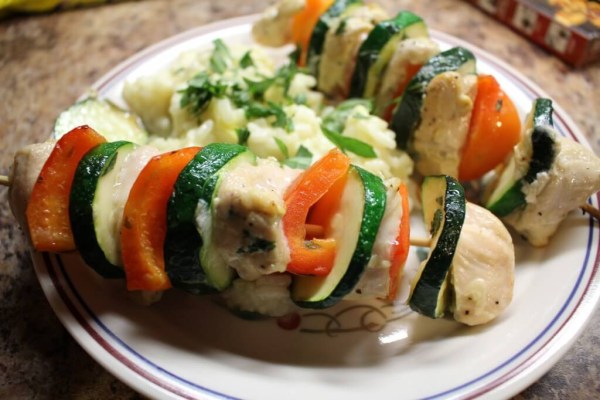 It was yummy, but too much honey for me.
Classic Beef Stroganoff with Broccoli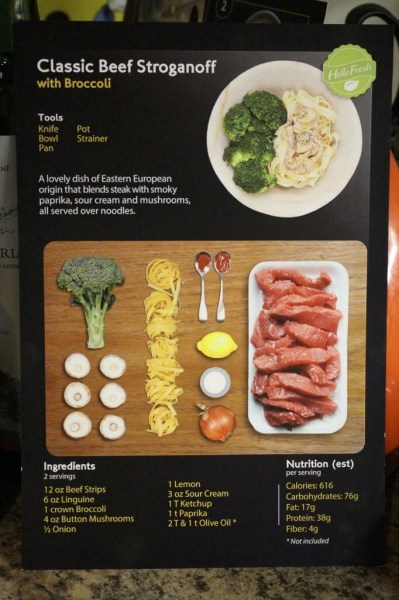 I also found the preparation of this fiddly. I skipped the mushrooms and instead of browning all the meat pieces individually, reserving them, then cooking the onions, then adding the meat back in, I bet you can figure out what I did. I cooked the onions. and then I added the meat. I doubt the final product was any different than farting around with taking things in and out of a pan. That being said, I liked throwing the broccoli on top of my noodles! This was yummy and I'm eating the leftovers for dinner.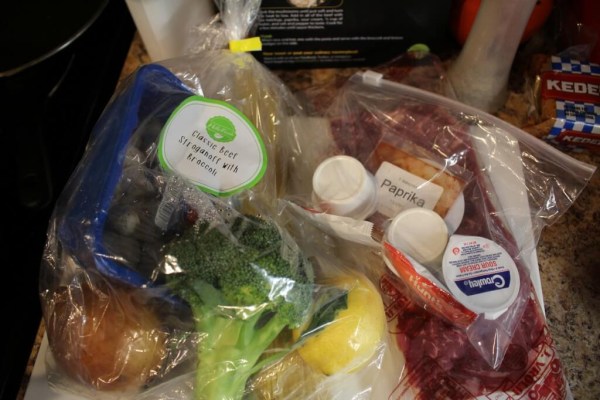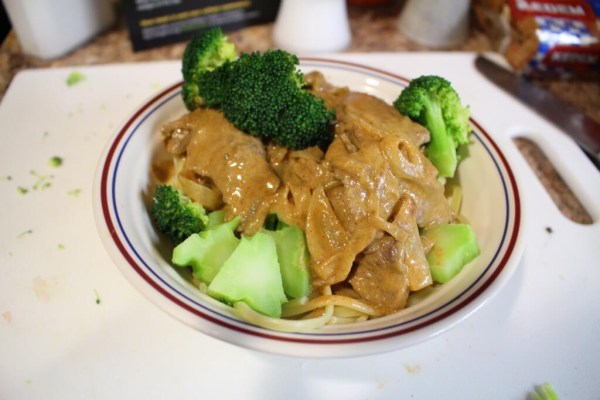 Spiced Tomato Penne with Chorizo and Garlic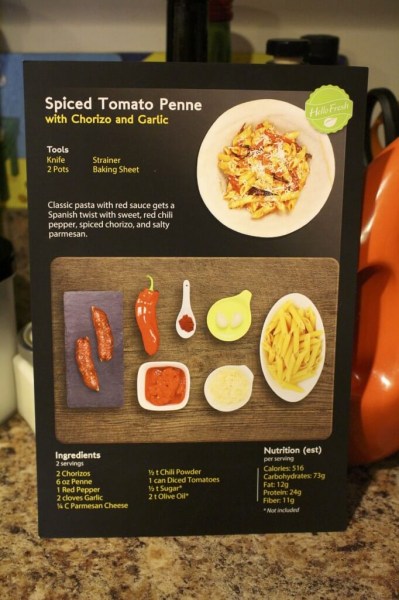 Just FYI, I added spinach leftover from my veggie box to this recipe, this recipe did not contain spinach!  It was delicious. Even though I "blackened" my chorizo inadvertently. No really, I thought I ruined it but I didn't! I had to roast the red pepper, and I drizzled some smoked olive oil along with some regular to enhance the flavor. I wished this included grated parmesan like the photo. I don't like it when they show different things than the picture!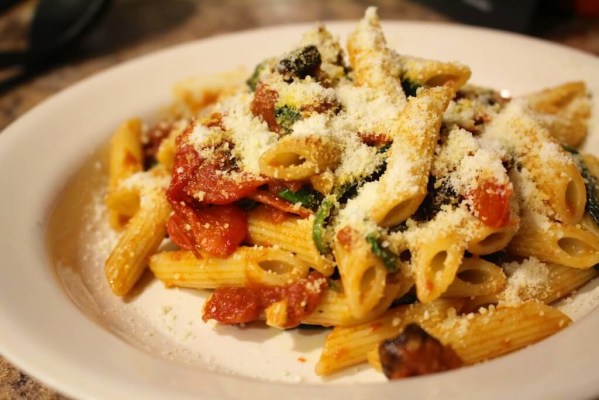 So that was my Hello Fresh box for the week! I thought it was healthy and delicious, but y'all, I don't think I've mentioned this – I never use as much oil or salt as they call for. Because it's a lot. I'm all for using it for making life easy but you can fit it in with the way you cook. Obviously sometimes I do something different, as I did a few times this week! I have leftovers for dinner tonight and lunch tomorrow and then I'm getting my next box!
Check out all my Hello Fresh Reviews! Don't forget to take a look at other Fresh Food Subscription Boxes.