I had to pick up this Fabletics outfit from the January collection as soon as I saw it! A comfy cozy cardigan? I am all over that! This outfit is part of the Take Command Collection and is called "Renew". It costs $69.95 for Fabletics members. The retail on this outfit is $114.85. I think this is an excellent value for three pieces. Plus, you can get your first outfit half off, which is just totally a great deal.
The Subscription
: 
Fabletics
The Description
: Workout musts delivered to your door. Kate Hudson's new line in collaboration with the JustFab family. Buy suggested looks, your own picks, or skip the month.
The Price
: $50-80 per month, depending on selections
The Coupon
: Get your first outfit half off when you
sign up with this link
!
January 2014 Fabletics Review
It's impossible to take pictures of these outfits and I don't have a full length mirror so I dressed up my chair! The cardigan has tons of material at the neck, which I liked to help keep me warm. If you threw this on after a workout it would probably soak up all your sweat.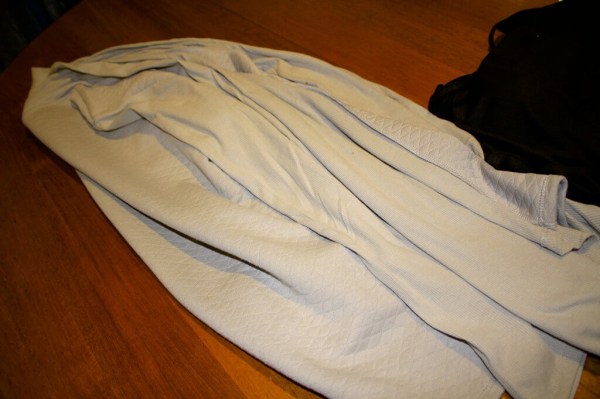 The sleeves and entire front of the cardigan are made of a ribbed stretchy material. I think the color in person is much nicer than the website! The back and shoulders are made of non ribbed diamond stitched material. You can tie it at the bottom and the sleeves are nice and long. This is technically the "Astoria Shrug." But it's a cardigan.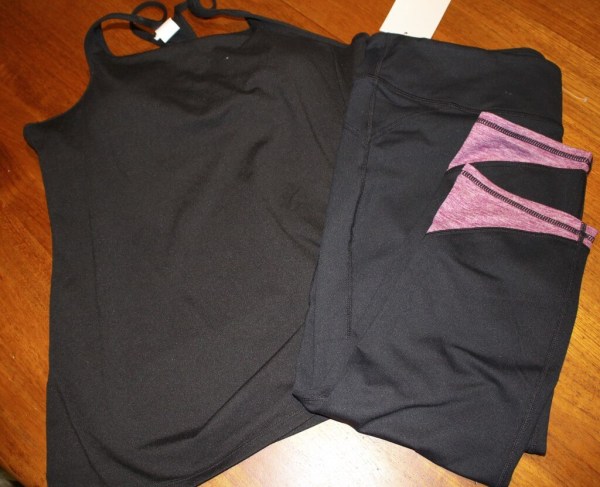 I changed the color of the top to be black. I prefer the dark color tops. I wear my Fabletics all over town – my stroller is my vehicle so I get quite a workout and warm up even in the winter. We have lots of hills! I love the cute pink detail at the bottom of these pants. I ordered up a size this month. Too many holiday treats and we have been away so I haven't been getting my walking in! I need to wear my Fabletics for some heavy duty child free workouts.  The Coro tank has removable cups and has a great silky feel. It isn't double lined in the front, which I prefer. The Mari Capri has maximum support (another reason I sized up – the maximum support pants fit more snugly).
Shortly after I purchased this outfit, Ellie came out with a cardigan as well (January fitness clothing trend?). I didn't purchase that one, though I desperately wanted to as well. I'm all about comfy cozy this month!
Check out all my Fabletics Reviews! Don't forget to take a look at other Fitness & Health Subscription Boxes & Women's Clothing & Fashion Subscription Boxes.