Elizabeth & Clarke just totally blows me away! They sent me a box last quarter and graciously sent me another box while I was away. I had a chance to open it last night and it's just perfect for any woman. Every quarter Elizabeth & Clarke sends up to 3 designer-quality blouses – in both construction and style. They are the perfect basics with a little edge for the modern woman. I classify this box as a Must Have (and why aren't you subscribing?). The shirts are effortless, chic foundation pieces for a professional wardrobe. This remains one of my favorite subscriptions – ever! It doesn't hurt that it's extraordinarily budget friendly. Get 3 shirts per quarter for just $20 per shirt – and everything can be washed in the washer!
The Subscription
: 
Elizabeth & Clarke
The Description
: Shirts by subscription. Designer-quality blouses delivered to your doorstep each season, without hassle or the department store pricetag.
The Price
: $30-60/quarter
The Coupon
: Use promo code
INSTYLE20
to save 20% on your first box!
Winter 2013-14 Elizabeth & Clarke Review
I do not have a fancy dress form. For each shirt I'll show you the product shot plus some great details about each item!
This box was pretty hefty for 3 shirts! It arrives Priority mail.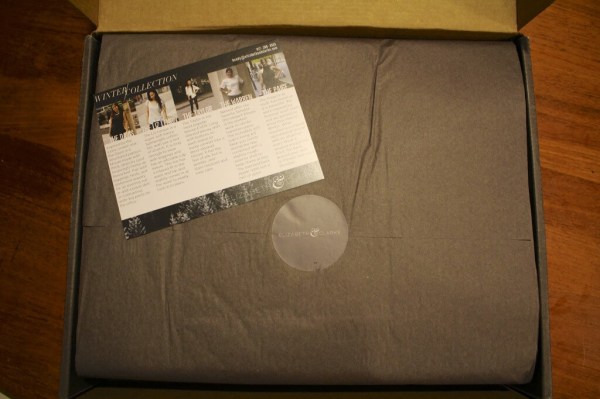 Elizabeth & Clarke packages its box perfectly. Each shirt also has a thin cardboard liner to help the shirts keep folded.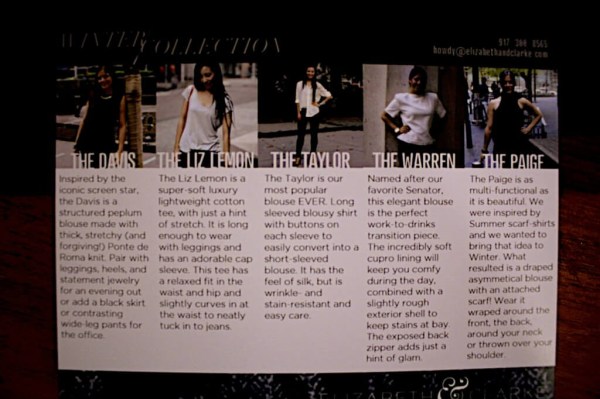 The information card provides details on all the shirts in that quarter's box. You'll get up to three – you pick!
I appreciate how nicely these shirts are folded. Lots of attention to detail!
The Paige: 100% microfiber poly. machine-washable, dryer-safe.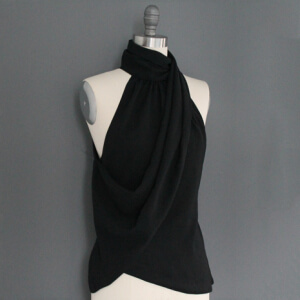 This has a fun wraparound scarf. I would personally wear this under a shrug because I'm self-conscious, but you could show off your guns! I'm thinking date night at a warm pub, slip off your wool coat to reveal this stunner!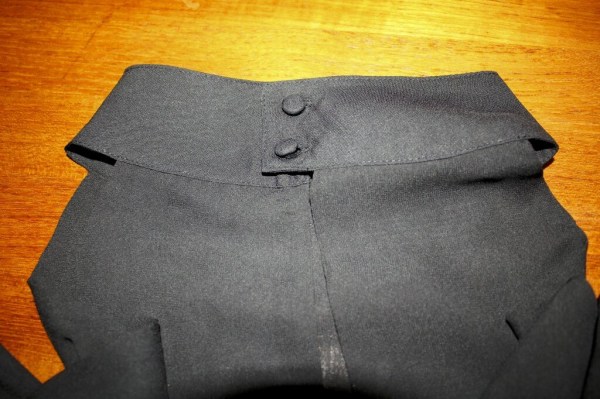 The back collar secures with two fabric-covered buttons and has a keyhole detail.
The scarf is generous and can be styled a couple diffferent ways.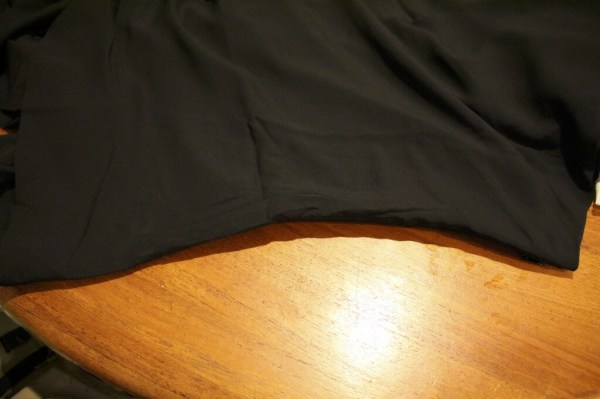 This shirt could have been a bag but is nicely shaped for a woman's body.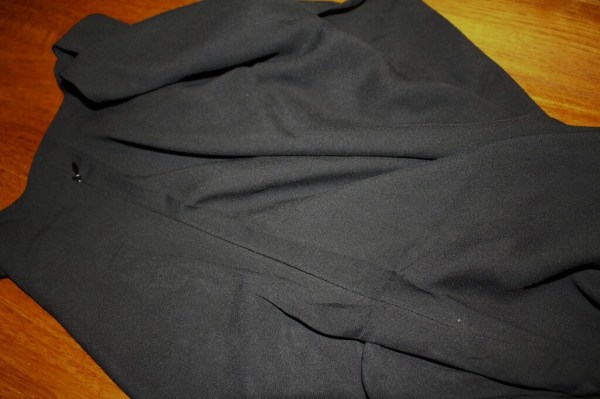 The side zipper allows you to actually get into this slinky number. I also wanted to note that the bottom edge of the shirt could have been just pressed, but it is also topstitched.  I was frankly surprised with all the sewing details in these shirts, because this sort of detail finishing (and getting it right) is expensive to produce.
The Warren: 100% microfiber poly, lining: 100% cupro. machine-washable, dryer-safe. This is a lined shell with shoulder pads.
As someone with small sad shoulders, I liked this "power shirt!" I can see how it wouldn't be everyone's cup of tea, but I think it's a modern update on an 80s silhouette that works for a lot of women, myself included. I would wear this with a long locket necklace.
Each item from Elizabeth & Clarke is shaped. They are definitely not men's shirts in disguise. I appreciate that.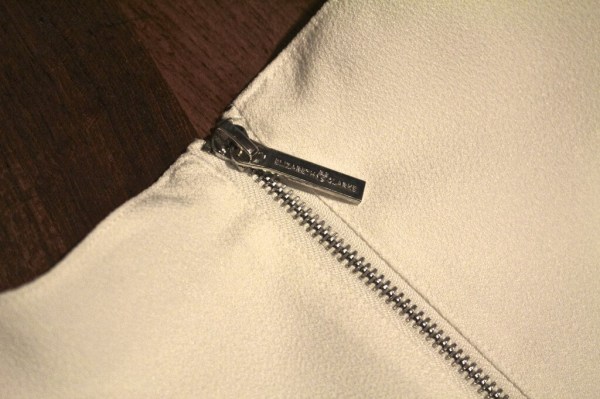 This is a fun edgy detail. I probably wouldn't wear this one under a suit jacket because of the shoulder pads, it would be great by itself paired with a skirt or slacks and would really showcase my accessories.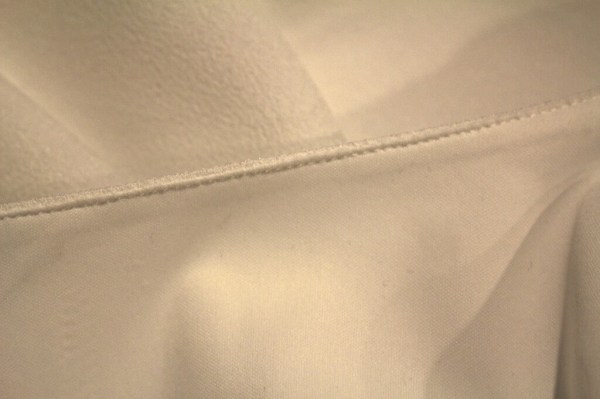 I was impressed by Elizabeth & Clarke's attention to detail in the construction of the blouses. This is the inside neck – it's topstitched all around.
The zipper on this blouse unzips all the way. This is where the side of the blouse meets the armpit. You can see that the cupro lining even has a bust dart.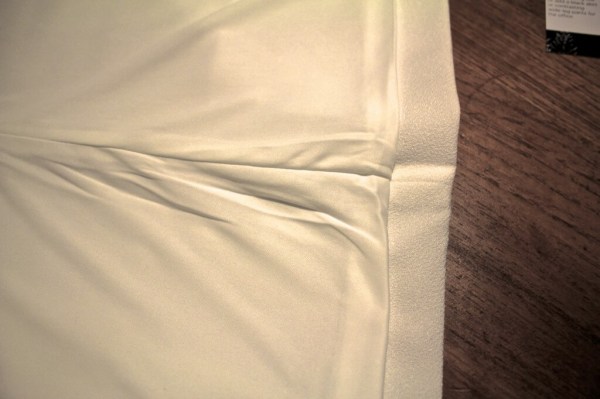 I was impressed by the construction. Really really. The seams match up perfectly, and the finishing is exquisite.
This shirt is highly textured so my coke zero would roll right off!
The Davis: 100% Ponte de Roma knit, lining: 100% cupro. machine-washable, dryer-safe.  This is a highly structured Ponte peplum top.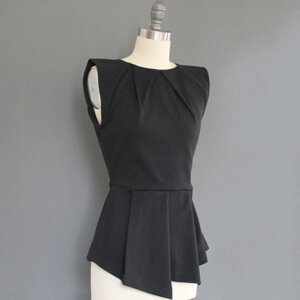 Like the Warren above, The Davis is lined with Cupro. It's formed from basically recycled cotton and is slinky and breathable. I really liked the texture on my body.  It is obvious that this garment is well-shaped!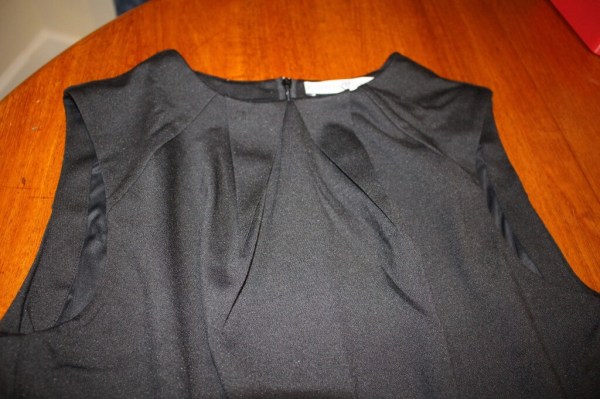 The fabric on The Davis is quite substantial and would help keep you warm. This would be a top to wear with dangly earrings for sure, and you could accentuate the waist with a sparkly belt. The back zipper goes to the waist seam.
I absolutely love this detail! It makes it my favorite shirt out of the bunch!
Elizabeth & Clarke allows you to return (with a prepaid label) any shirts that don't fit properly. They guarantee your satisfaction! Although this box was received for review, it pleases me greatly to know that there is no risk except loving some inexpensive extremely high-quality shirts. A lot of boxes tout "designer" this and that – and Elizabeth & Clarke lives up to it.
Visit Elizabeth & Clarke to subscribe or find out more! The spring shirts are already up: you can select from the seasonal pieces or the shirts in the always-available "Forever Collection."
Check out all my Elizabeth & Clarke Reviews and don't forget to take a look at other Women's Clothing & Fashion Subscription Boxes.