Taste Trunk came all prettied up for the holidays! I love how this subscription is always seasonally appropriate! Everything in the box is always gourmet and always all natural. A huge plus for me! Taste Trunk always has plenty of goodies to dig in to!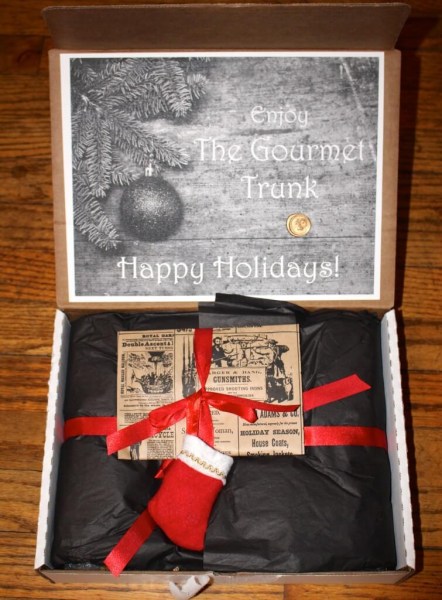 Isn't the little stocking the sweetest? I put it under the kids' Kiwi Crate tree for Santa to fill up!
The Subscription
:
Taste Trunk
The Description
: Taste Trunk offers 4 different monthly trunks: Gourmet, Sweet, Health, and BBQ. Each trunk has 5-10 products.
The Price
: $36/month
The Coupon
: Put my name in the "special instructions" box at checkout (Brandy O'Grady) and use coupon code
Splurge25
for 25% off!
December 2013 Taste Trunk Gourmet Box Review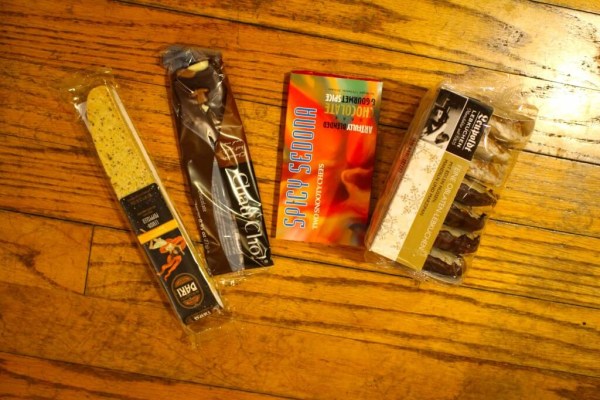 Biscotti Bari Lemon Poppyseed ($2.00) I am saving this for a snackmergency! I love lemon poppyseed!
Belfine Chau'Cho! ($2) Have to love Hot Chocolate on a stick for a snow day emergency! Wish these were easier to find in the US because they are super cute!
Leupoldt Lebkuchen ($3) My husband and I loved these gingerbread-esque treats with flavors of almonds, candied fruits, chocolate, and spice! They are like a spongey spice cookie baked right on a wafer base (invented by German monks reusing unconsecrated communion wafers). It was weird at first and now we are addicted! Looks like Taste Trunk no longer has a shop, which is a bummer, because I might have purchased more of these!
Two Snooty Chefs Spicy Sedona Chocolate Bar ($5)  Yum! Chipotle base of flavor with cilantro, lime, perhaps cinnamon too? One of my fave chocolates ever! I am going to have to hunt down more of their other flavors.
Dulcet Tangy & Peppery Moroccan Sauce ($8.00) My husband and I love cooking international cuisine and having a sauce does make it easier. I am thinking this would be great on beef strips though chicken and veggies would be yummy too. This definitely has a North African flavor to it with turmeric, cumin, and cinnamon. I may even pair it with some lentils.
Gourmet Temptations Spicy Cider Bourbon Glaze ($8.00) Darn, we just made a ham! I will probably end up glazing some meats and veggies with it or using it for a dipping sauce! I try to use every item in my Taste Trunk by the time I get the next one so we will find something fun for this rich and sweet sauce.
I really love how Taste Trunk's December box is sweet and spicy! I think it's the perfect pairing and we received tastes from all over the world. A delicious (natural & gourmet) Merry Christmas! Visit Taste Trunk to find out more and if you would like to subscribe, you can save 25 percent off your first Taste Trunk by using code and putting my name (Brandy O'Grady) into the special instructions box!  See the comments regarding the value of the box!