November WhimseyBox is perhaps my FAVORITE craft subscription box I've ever gotten! I loved it so so much! It was so fun, quick, easy, and an awesome technique! November's Whimseybox theme was "Inkodye All the Things" and I am totally taking this technique and doing it again. It was super simple: use "Inkodye" which is a type of solar dye on white fabric and lay things on top of it before you hit the sun. The color changes in a snap and produces gorgeous results! If you subscribe to WhimseyBox on a 3-month or longer subscription by December 15 and use codeELFLOVE you'll save ten bucks!
The Subscription: WhimseyBox
The Description: In each Whimseybox you will receive a new DIY craft project each month with the materials and instructions to make the craft, plus a reusable storage box and a 5×7 original art print.
The Price: $15/month
The Coupon: Save $5 off WhimseyBox with my link!
November 2013 WhimseyBox Inkodye
So pretty, love the bow!
There was a holiday gift guide (I really love the shop!) as well as the print/instructions.
Good thing I peeked before I took it on the plane! I noticed it was dye and double zippie-bagged it!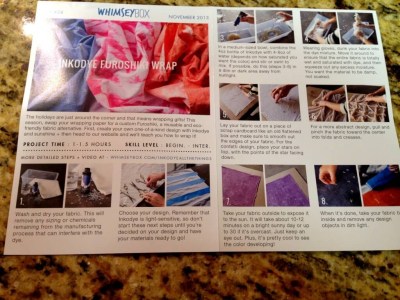 These instructions are totally complete.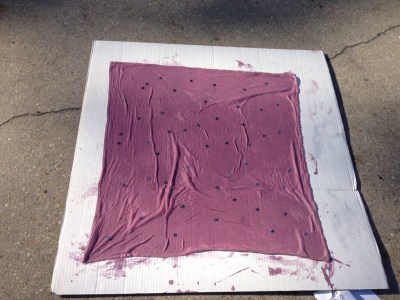 I mixed the dye & water as directed, and laid the stars on the fabric in the shade (that's important!). This was right after I took it outside – the color changes in a snap!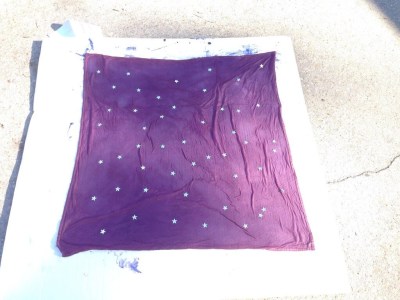 It's getting darker! I took it inside, removed the stars, and handwashed a couple times in hot water before machine-washing in hot water, then dried it.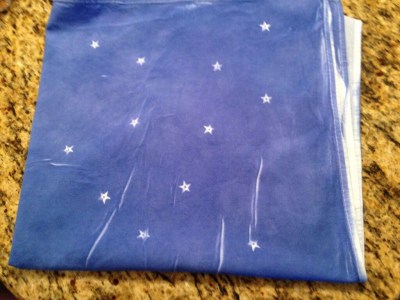 Tada! It's gorgeous!
The box also had these cute gift tags. I felt like I earned my badge this time!
I can't say enough about the November !WhimseyBox. It was quick & easy and gorgeous! Loved it!
Visit WhimseyBox

Check out all my WhimseyBox Reviews! Don't forget to take a look at other Crafts, DIY, & Hobby Subscription Boxes & Subscription Boxes Great for Teens & Tweens.