I was psyched when PoochPax offered to send Lindy a box for her review! I love getting stuff for my dog because she lives with my husband and I'm not there to spoil her, but it's tough to review because I'm not there! Lindy went absolutely wild over this box and loved every single treat and toy in it! She's actually quite a particular pup about her treats, so this dog mom was impressed with the selection! This is what I think is the November box – I gave PoochPax my travel schedule and this has been waiting for me in Vermont, so I opened it right away! Lindy was ready!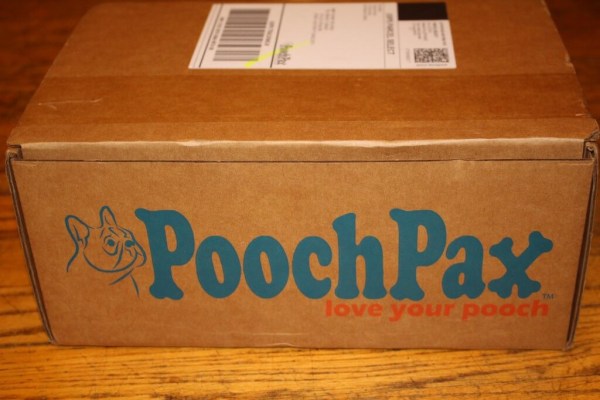 The Subscription
:
PoochPax
The Description
:Make loving your pooch fun and easy with a unique, hand-selected PoochPax of age and size specific treats and toys you'll both enjoy every month.
The Price
: $29 per month, down to $19 per month with a six-month subscription!
The Coupon
: Save $5 off a six-month subscription! Use code SPLURGE.
November 2013 PoochPax Review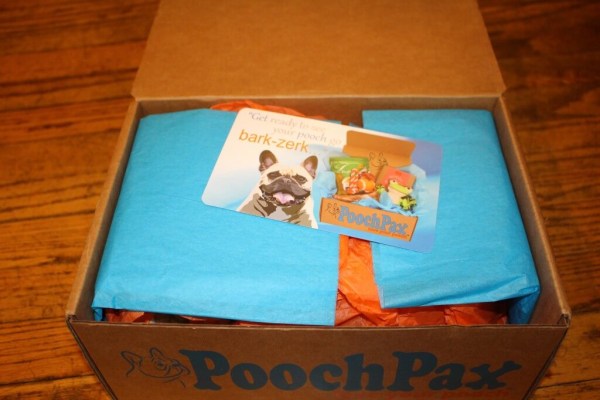 I thought PoochPax was very pretty for a dog box!
OMG I would die to win an artist's rendition of my dog. Post your dog enjoying her PoochPax treats on Facebook and/or Twitter to be entered. I would seriously hang it up in my bedroom.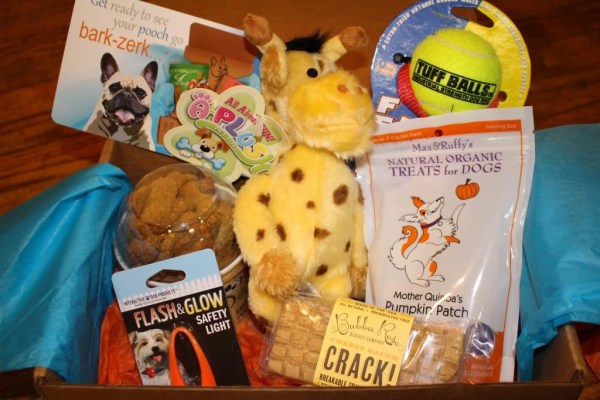 With PoochPax you'll get 4-6 age appropriate treats and toys for your doggie! We got 3 treats, 2 toys, and a safety item and I was quite happy with everything! I squeaked the giraffe toy and Lindy was on her way!
Giraffe toy ($8?) I can never find dog toys online. It had a squeaker so she was in love.
Flash & Glow Safety Light ($5) We needed this! Lindy likes to get up in the middle of the night to go outside. In the pitch black, with 2 feet of snow. We don't necessarily like to follow her around!
Fetch Me Fido Tuff Balls Tug Toy ($8) Lindy is a tennis ball freak. She approved. In the spring she'll dig a hole to bury it, but for now we can play a nice game of tug!
Bubba Rose Crack! Bar ($3) Just 2 calories, you can carry around the bar and break it up for training treats. Ingredients –  organic oat flour, organic brown rice flour, cheddar cheese, free-range antibiotic, hormone & nitrite free bacon, organic oat bran and cage-free eggs. Very nice and Lindy was nuts over them.
Max & Ruffy's Mother Quinoa's Pumpkin Patch Treats ($12) This company has so many flavors! These are only 2 calories and our dog is really nuts over pumpkin.  I loved that they are wheat-free.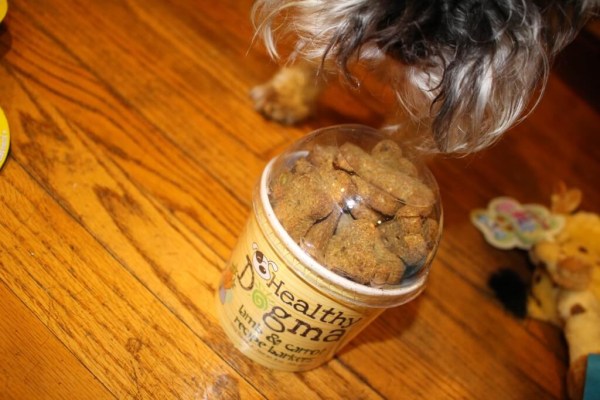 Healthy Dogma Lamb & Carrot Recipe Barkers ($8) Lindy never likes thing in a bone shape (who knows why?) and she was most interested in these! She happily got down to munching one and we were all surprised.  They have Lamb, Carrot, Cranberry, and a few other fun things like watercress.
Our box was worth around $40 and definitely dog-approved! I think the 6 month subscription to PoochPax is an amazing value (with coupon SPLURGE less than $18 per box) but getting a few months would be fun too and a really nice savings over retail. I was particularly impressed that the treats we we received were especially size-specific, as two of them were 2 calories for each treat. Though she's shaggy she's actually less than 15 pounds (we don't like to remove all her fur when it's cold out). Lindy enjoyed every item in this box and they are all mom approved 🙂
You can also check out other Pet Subscription Boxes in the directory!