Nailed Kit sent me this subscription box for my review.
Nailed Kit is so cute, I had to try it! It's a nail polish subscription box, but instead of liquid polish, you get decals made out of actual polish, decorations (like rhinestones), and fun seasonal decals! Every box comes with all the instructions and everything you need to put these puppies on! What a great way to have fun with your nails if you aren't very coordinated! I have a special holiday giveaway – Nailed Kit is giving away 3 holiday gifties to 3 readers!
The Subscription
:
Nailed Kit
The Description
: Each kit includes solid base decals, your selected design, rhinestones, nail file & shaping kit. Different kits include birthday, bachelorette, baby shower and girls night out.
The Price
: $14 per month
November 2013 Nailed Kit
Nailed Kit comes in this cute box! It helps keep all your supplies together.
There were actually quite a few supplies in here – enough strips for two full sets of nails, plus decals for loads of nails. You can have a nail party with everything that came in the kit. Plus there's a nail file and a shaping stick – you need them to help apply everything smoothly!
A closer look at the decals. Too darling.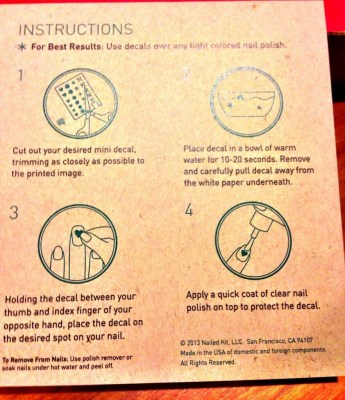 Decorative Decals This was pretty easy – cut out the decal, dip in warm water, and apply! They even stuck to my kids' nails!
On my little guy
My daughter declared it "the best day evAR!"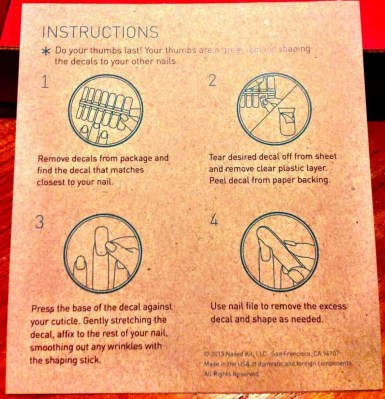 Nail Polish Strips This part was definitely trickier, but by the time I got to the end, I think it looked pretty good. It definitely takes some practice but if I can do it, you can do it (I'm so uncoordinated!).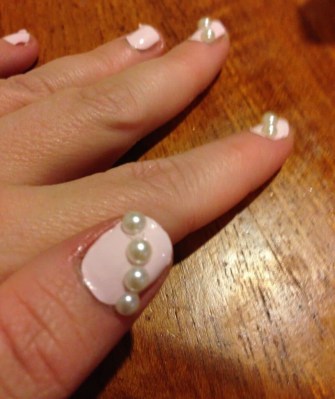 The pearls might have been a bit much, but I was experimenting! I liked how easy it was to do and I could have moved them around before applying them with clear polish.
Nailed Kit was so super easy! Here's what I liked: NO MESS! No glop all over my skin. NO SMELL! I could even do this on the airplane! Plus nail art for the unartistic! This is like level one! I can barely make decent looking dots so I loved the chance to have some nail art fun (and my kids did too). I do wish the strips were a bit smaller – I have tiny child-like hands, but overall I thought this was a great kit – You can win one! There's only 3 days left! Now I am excited to try the chevron – I promise you I will never be able to create a chevron design without something like this!