Pigment + Palette is a brand new subscription box just for artists. This is the first box, which is always exciting! Pigment + Palette sends four or five premium art products and samples plus a postcard from the featured artist for inspiration.
I was excited as soon as I saw this glossy black box! It's gorgeous and appealed to my artistic side (which doesn't get used much any more, but it's around there somewhere!)
The Subscription
:
Pigment + Palette
The Description
: A monthly art subscription box. Receive 4-5 premium art products, and a collectible postcard with artwork by their featured artist of the month.
The Price
: $15 per month
December 2013 Pigment + Palette Review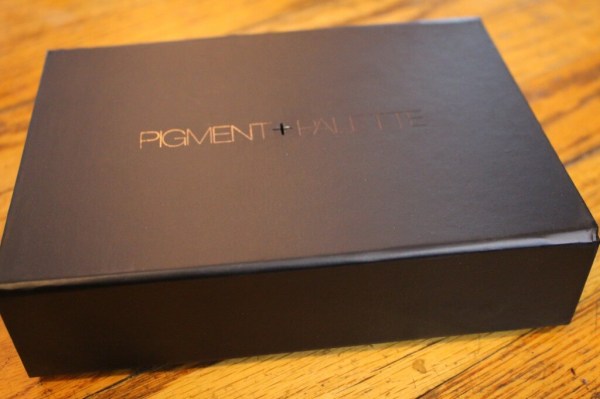 This really fantastic box closes with a magnet, so you can reuse it and toss your pencils or chalks or tubes of paint in there. I could see a studio stack with Pigment + Palette boxes with all sorts of fun findings in them.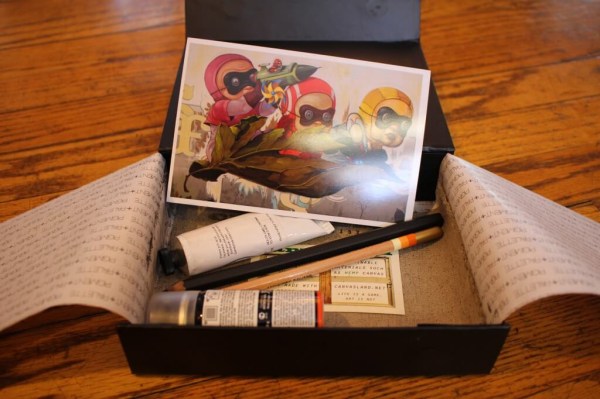 The featured artist for December is Jophen Stein, creator of a unique series of narrative character-based art. The items in the Pigment + Palette looked interesting, and that can definitely caught my eye!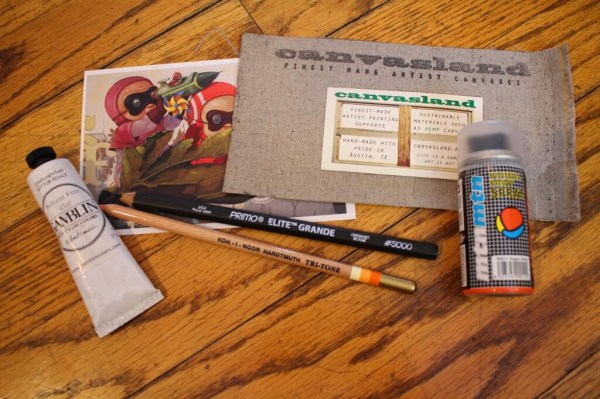 Gamblin Artists Colors Solvent Free Gel ($5) In my oil-painting days I used Gamblin. Gorgeous colors! This medium is non-toxic and solvent free and basically is a one-stop shop for oil mediums. One thing that is super cool about Gamblin is that they collect all the pigment dust and once a year turn it into "Torrit Grey" (which is of course a bit different every year). I like their focus on the environment and artist safety.
General Pencil Company Primo Elite Grande Pencil – Organic Black ($2) No shine on this one and extremely smooth.
Koh-I-Noor Tri Tone Colored Pencil– Citrus ($2) The effect is subtle but very nice. Adds tonal shading without work!
Canvasland Unprimed Hemp Artist Canvas (sample) Just enough to tell if you want to invest in this unique canvas for a bigger piece. I'm going to try some more washed out acrylics on this. I think I can make something rad!
Montana Colors Micro Paint ($4) This is so darling, and you can basically take it to tag anywhere you go. Where it's legal of course.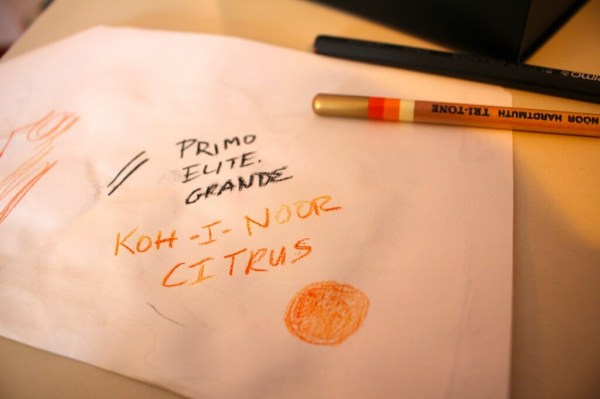 I grabbed a waterstained piece of textured letterhead so not the best swatching paper! Nice pencils!
I think Pigment + Palette is a great discovery box for artists – like a Birchbox for art supplies (would make a great gift for an artist too!).  Some of the products will be a full-size sample as is, and some will be just enough to help you decide whether you want to purchase the full size product.
The total box value was around $13 plus whatever you'd like to value the canvas sample at (it's not cheap, but as a sample, you have to get very creative to use it!). On top of that there was the awesome reusable box plus shipping was included, so I was more than happy with the value in this box! Art store prices can get pretty inflated and not all artists have access to full, quality art stores (craft stores don't count!) except online, so this is the perfect way to try out new supplies without placing an order for hundreds of dollars every month.
If you want to subscribe or get a gift, visit Pigment + Palette!