Conscious Box is a fun green and eco-friendly discovery box. You don't get full size products in this box; instead, you'll get a box full of samples (sometimes 20 or more, which can be crazy-town for review purposes) to help you find new green products to use and enjoy in your home!
The Subscription
:
Conscious Box
The Description
: Eco and green-friendly box available in regular, vegan, and gluten-free styles. Tons of samples, always packed full. Everything from cleaning supplies, supplements, snacks, and personal care. Pure, non-toxic and sustainable.
The Price
: $20/month]
The Coupon
: Get 3 months for the price of two! Use code
1MONTHOFF
. Get your first box for free – pay $7.95 shipping Use code
GETAWAYFREE
.
December 2013 Conscious Box Review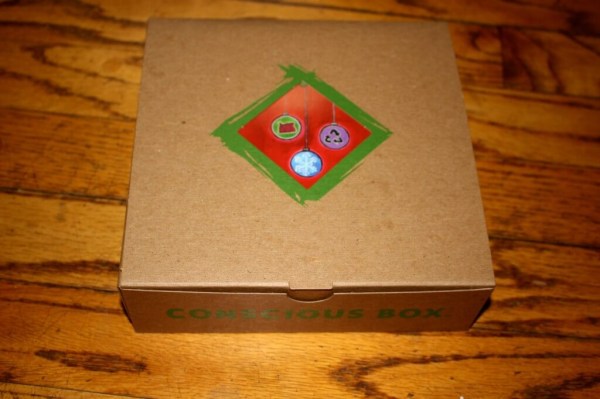 Cute ornaments – snowflake, recycling symbol, and Oregon!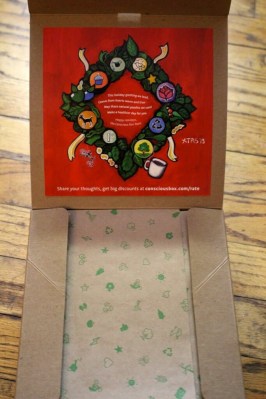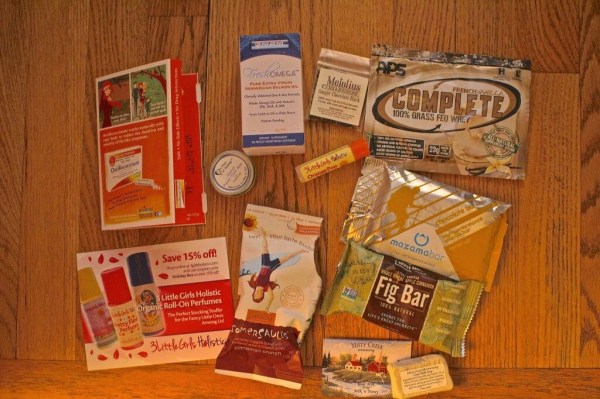 Somersaults Cinnamon Crunch I prefer the savory flavors but I love Somersaults. Fortunately they don't have a subscription. We'd have a problem. Oh man. They do. Sign up for recurring delivery and save 10% and get a free gift. Whyyyyy?  I didn't see that. But I did.  The perfect excuse to try all the flavors!
A Place of Healing Unstuff Balm This is basically the same stuff as VapoRub, except that it is Organic and Petroleum Free! Awesome.
3 Little Girls Holistic Orange Pop Lip Gloss ($3) I love this and I'm saving it for a stocking stuff. Fortunately I don't have to wait long to give it to the kids. I would repurchase from this company! There's a coupon to save 15% off – use code Holiday Box. My daughter did see the information card and she said "oooh pretty just for guuuurls!"
Metolius Ginger Chocolate Black Tea Sample I'm giving this to my husband – tea isn't my thing!
Nature's Bakery Fig Bar – Apple Cinnamon We love these! They are yummy and I don't remember if we've had this flavor.
MRM Fresh Omega Salmon Oil ($7) We can always use more fish oil!
Swiss Villa LLC Goat Milk Soap Sample – It's soap! You can only order by email. They should probably have a website before putting something in Conscious Box.
Boiron Oscillococcinum Or as I like to call it – "that unpronounceable homeopathic thing." Supposed to reduce the duration and severity of flu-like symptoms.
Mazama Bar Chocolate Banana ($3.50) This bar looks really really good – with chunks of rich dark chocolate, walnuts, and sweet banana chips. It's a man-size meal replacement. I'm tucking it away to feed the kids in the car or something. I'm sure they will not complain! I think this bar could actually feed our whole family for a meal. It weighs a ton!
All Pro Science 100% Grass Fed Whey I don't think I've ever seen grass fed whey supplements before.
Whoops! One item got left out of this photo! Nordic Naturals Omega-3 Jellies. That's because my children ate them!
This was a really nice Conscious Box with no really weird stuff! I didn't do a full breakdown on cost, just on items of note. There's enough value in there to make me happy and I enjoy discovering new green and eco-friendly items. Actually, I think this is one of the best Conscious Boxes I've ever received!  Be sure to rate the items in your Conscious Box so you can get more tailored items in your next box!