As you can see from the title, we got THREE Citrus Lane boxes this month! I forgot to cancel an extra box I had for someone so we got a bonus box. I was really excited by this though because now we have three of the main item from this month and we'll be using all three of them for grandparent gifts!   We received a box for a 2 year old boy, a 3 year old boy (36 months), and a 5 year old girl (60 months). FYI, if you're wondering about kids aging out of Citrus Lane, they will send until you cancel, you'll just be getting the oldest box.  My daughter is still enjoying this box very much (and this was one of her fave Citrus Lanes ever) so we'll continue to subscribe for her until she is actually too old for it. I think it will be a while!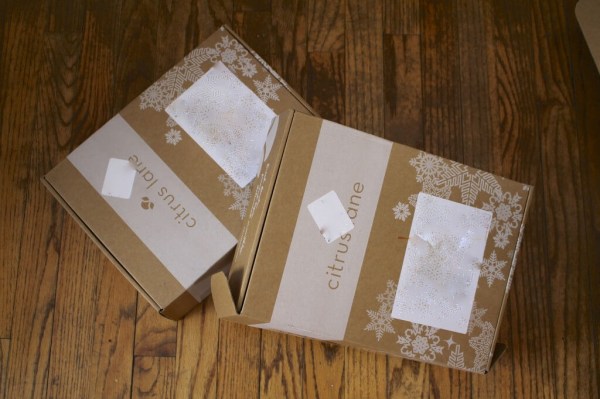 For December Citrus Lane had a special holiday box. The kids didn't really recognize it right away. They've been sitting next to the front door for almost a week without incident. However, when I pulled them to the middle of the kitchen, they went wild!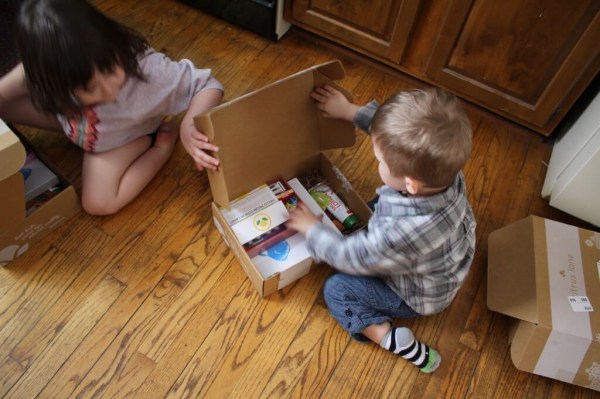 The Subscription
:
Citrus Lane
The Description
: A box of 4-5 great items per month for your child aged 0-5 years old.
The Price
: $12, 25, or 49 per month
The Coupon
:Get $10 off your first box! Use code
TAKETEN
.
December 2013 Citrus Lane Reviews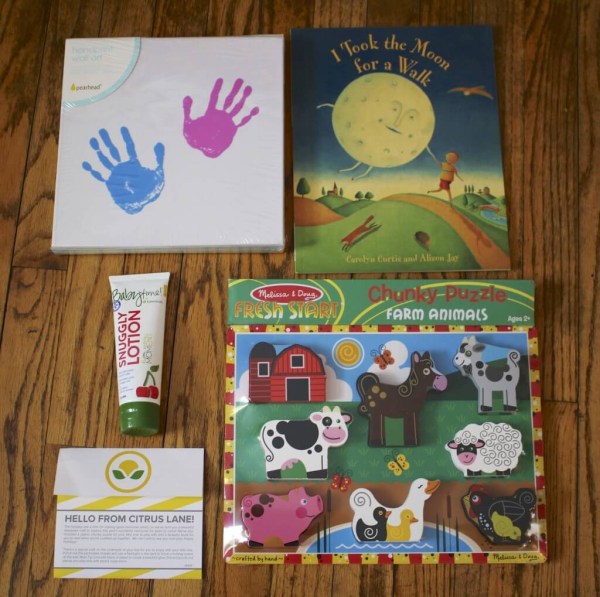 Pearhead Handprint Art Kit ($10) I am so excited to do this. I think we are doing this over the weekend, assembly line style. We'll be packaging them up with the kids' artwork & Santa pictures and shipping them off!
Barefoot Books – I Took the Moon for a Walk ($8) This is a sweet book – daddy is reading it right now!
Episencial Snuggly Lotion ($5) Yummy smell and we need as much lotion as we can get up here.
Melissa & Doug Chunky Puzzle – Farm Animals ($9) Even though this is a bit young for him, my son totally wanted to play with this!
Total value = $32. This was a nice box and I'm keeping the book, though the puzzle is going on our swap list. My little guy loves puzzles but he's more advanced than this one.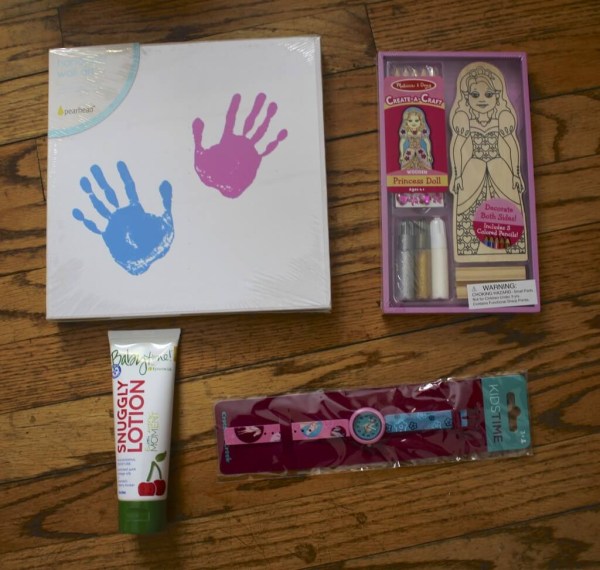 As far as I know the boxes are basically the same from around 33 months onwards. As long as your kid likes it, that's cool. I really want Citrus Lane to officially extend its ages but I'm not sure that will ever happen.
Handprint Art Kit ($10) + Lotion ($5)
Crocodile Creek Pony Watch ($13) This could not have been a better choice for my daughter. She needed a watch, and she is totally into ponies. Her reaction was basically ZOMG MOMMY I GOT A POOOOOOONEEEEEE WAAAAATCH I LOVE IT I'M CUTTING IT OFF THE TAG RIGHT NOW. This was a huge win.
Melissa & Doug Wooden Princess Doll ($5) This was perfect – we decorated one side like Elsa and the other side like Anna (from the Disney movie Frozen). I had to color one of them but that was ok, we had a great time.
Total Value = $33. This box was perfectly on target and was a huge hit. She's been annoying me all day about the handprint kits, but I'm pretty crafted out and making daddy do them tomorrow.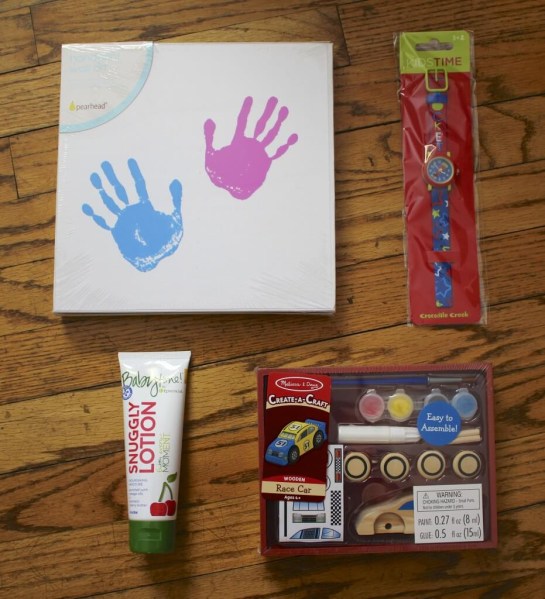 Handprint Art Kit ($10) + Lotion ($5)
Crocodile Creek Rocket Watch ($13) My guy thinks he's a big boy now wearing a watch just like his big sister! It's a little early for him to tell you the truth – we're still working on him talking, but who knows, maybe he can tell time and I don't know it yet!
Melissa & Doug Decorate-Your-Own Race Car ($5) He was totally into this. Except I had to paint it. He's not into painting or very much in the way of crafts besides stickers. He loves cars though! After it was done we put stickers all over the wooden box.
Total value = $33. My thoughts – this box was a little old for him. However, I love that he basically gets the same box as his sister. It does make things easier.
I really liked that the December Citrus Lane boxes included an item to gift, especially as we have more than enough new toys with Christmas (and both birthdays this month too).  This box unfortunately also reminded me that I'm totally not ready for my kids to grow up. I wish this box had a little something extra in it, like a fun coupon (that I don't have to spend $99 to use…).  Just a little more! However, even when I'm sort of meh (and I'm not even meh about this box, I was truly psyched for the watches), the kids seem to totally love it, and that's what is most important to me!
If you want to grab Citrus Lane for your preciouses, use the code TAKETEN to save $10 off your subscription!