Appleseed Lane came early last week and I was so excited that the theme this month was Electricity & Circuits! Really, I may have been more excited than the kids! Appleseed Lane is an activity subscription box for kids that is primarily science based, which is why I love it so much! As with all their boxes the kids recognized this one and did a huge happy dance that the Professor had visited them in Florida! FYI Right now you can get a deal on Plum District for 2 months of Appleseed Lane for just $28!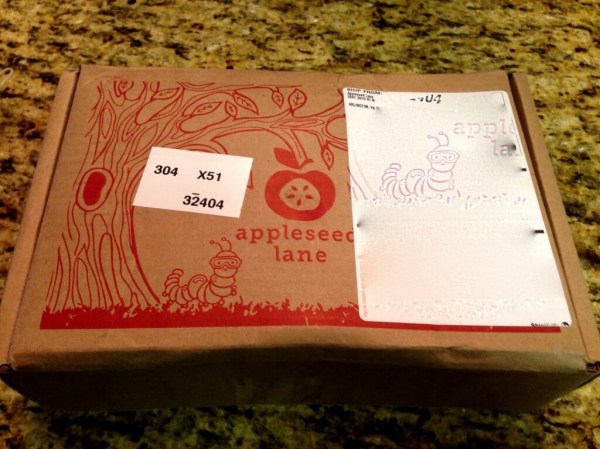 I think the box on this one is particularly cute! Apple Seed Lane had obviously packed something big inside this month.
The Subscription
:
Apple Seed Lane
The Description
: Fun and engaging educational monthly subscription boxes filled with science experiments and lesson-based crafts for ages 4-8 sent directly to your door. Sibling add-ons available.
The Price
: $23 per month
The Coupon
: Save $10 on your first box! Use code
Use code FRIEND10 and put my name (Brandy O'Grady) in the comments section during checkout.
.
December 2013 Apple Seed Lane – Electricity & Circuits
There were four projects this month – a saltwater battery, a conductivity experiment, a static electricity demonstration, and a neat way to make some art out of the materials in the box!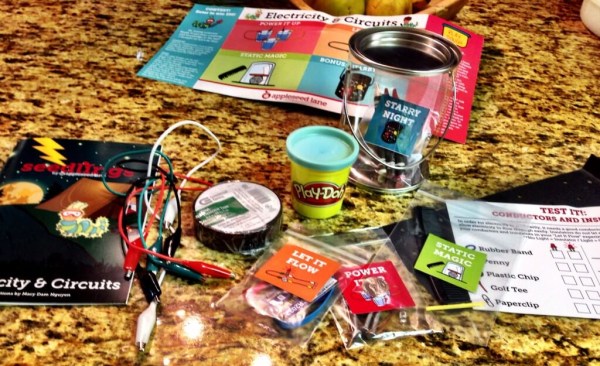 I had to work fast, I had 3 (yes one extra!) excited kids ready to get to business – this was everything in the December Apple Seed Lane. My grandpa (an airplane mechanic) and uncle (an engineer) were super dupes that we were about to play with some electrons. My grandmother remembered this box from last month when they'd visited us and knew how much fun we had.
The kids' cousin was there. A big ol' first grader, she read the booklet (with a little help) and we alternated doing the experiments and learning about electricity from the Appleseed Lane magazine "Seedlings." My kids loves the characters in the stories!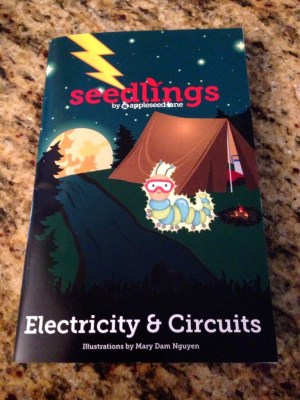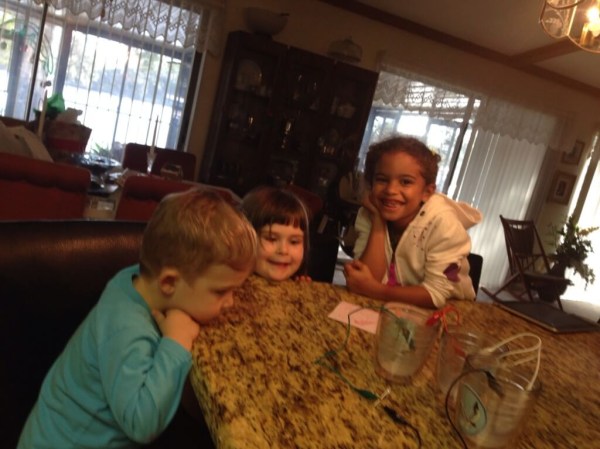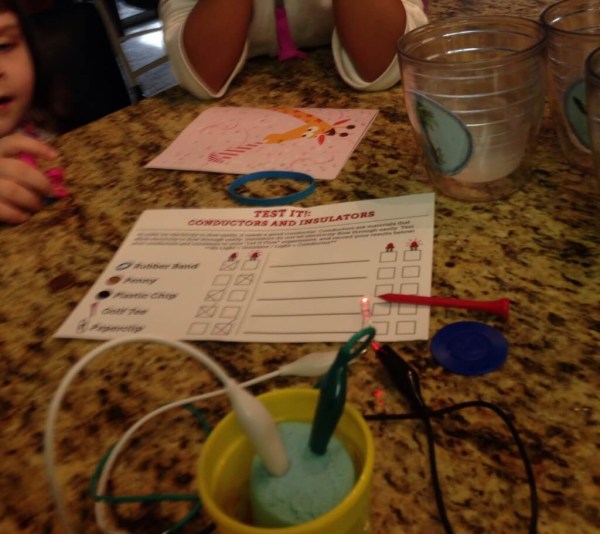 We tested the conductivity of all the items included, following the directions to hook everything up. I let the kids attach each item. My daughter concluded that only metal things made the LED glow, so it was time to test out the Play-doh.  They were totally amazed! I reminded them about the battery in the first experiment and encouraged them to taste the dough. Unbelievably my angels have never put any in their mouths! They probably didn't understand my explanation of positive and negative ions but they definitely understood that like the saltwater battery, Play-doh is salty!
This was like magic to the kids – balance a wooden stick on a nickel standing up and put it under a glass. Charge up the comb and it moves the stick around. There were genuine explosions of excitement over that, as well as the experiment using a charged comb to bend a stream of running water. We had a great time seeing what else we could do with static electricity!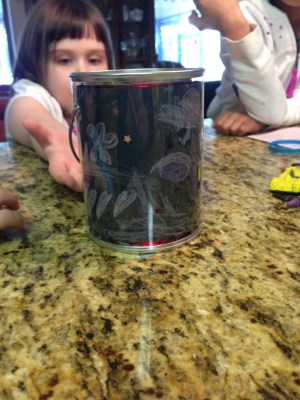 After we finished experimenting the girls colored the scene for the bucket innards and we inserted an LED circuit to make it glow. I was impressed that there were cutouts on the paper to accommodate the pail handles that stick out on the inside of the pail. Very thoughtful. We had a great and educational time with the December Apple Seed Lane and as usual, cannot wait until next month. This is definitely one of my top picks for kids!  I love the focus on experimental science.
There was also a contest for a circuit made with Play-Doh using the materials in the box! I don't think our circuit shown is a winner but we had fun lighting up the LED using different configurations of Play-doh and that's what's important.
Check out all my Appleseed Lane Reviews! Don't forget to take a look at other Subscription Boxes for Kids.