I took advantage of Beauty Army's recent full-size offer (one of 2 full-size Vidal Sassoon products) to select my first box!  Beauty Army is a completely different kind of beauty subscription. For $12 each month (and you can skip whenever you'd like) you select your own 6 beauty samples – no surprises – just samples that you'd like to try! You do fill out a profile, which you can switch at any time, to generate the samples available to you.

The Subscription
:
Beauty Army
The Description
: Get six premium beauty, grooming, and skincare samples. Choose your own samples every month based on your personal profile. Easy to skip
The Price
: $12 per month
December 2013 Beauty Army Review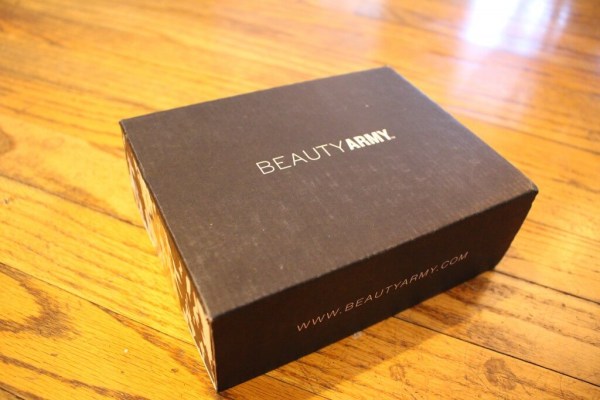 This is a gorgeous reusable box! It was impossible to get the tone-on-tone but it says BEAUTY ARMY on the top!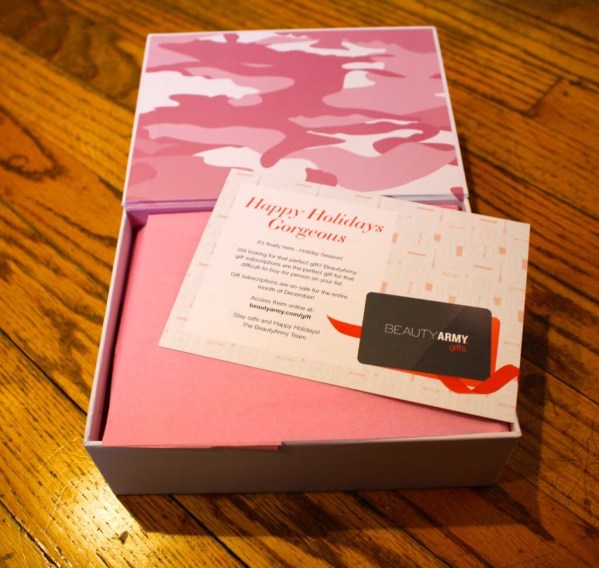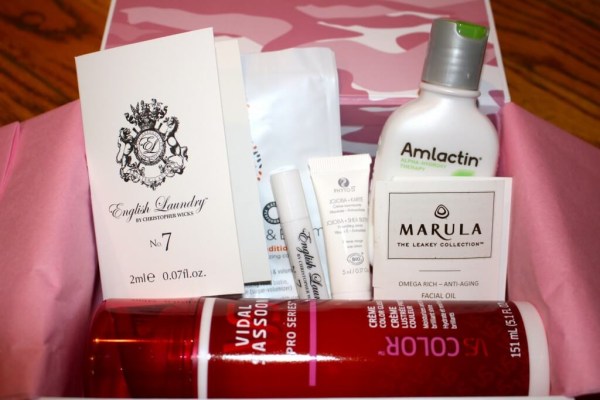 I got a great "army" of beauty! I am so glad I selected some of the samples I did for my December Beauty Army box, because I need them here! I must have had Vermont in mind when I picked them out! One of the things I absolutely love is that your Beauty Army account tells you exactly how large your sample size is. Obviously that helps with the blog but I think everyone should have easy access to the value (or be able to calculate it quickly) of a subscription!
Amlactin Moisturizing Body Lotion ($3) In a sad attempt to keep moisture in my body, I've gone through nearly all my lotion. So glad I picked this and will try out this intense moisturizer this week!
Marula Facial Serum ($1.56) More intense hydration. I used half the vial on my face today! Ok, a few drops. Worked great, but I need to reapply – I'm parched!
ENGLISH LAUNDRY No. 7 For Her ($4.50) "Top notes of sparkling pear, jasmine, melon and apricot. Gardenia, blooming jasmine and toasted almonds are composed together as the middle notes. Adding beautiful depth to this fragrance, sandalwood, vanilla créme and musk." This is yummy! Great sample.
Phyto 5 Shea Butter Jojoba Cream ($6.20) I didn't realize this was a face cream when I selected this. I did such a good job with this box because I'm enjoying and using every sample!
Briogeo Blossom & Bloom Conditioner ($1.35) I'm waiting until I get home to use this – I don't really need it here!
Vidal Sassoon Color Gloss Creme ($5.49) When I do color my hair (I will soon!) It's nice to add a little extra moisture. Usually my hair doesn't need it, unless it's colored.
My Beauty Army box had a total value of $22.10.  Although it's on the low end for this type of box, the plus is that you select every item, and like I am, hopefully using them all up!  You also get the fabulous sturdy box. I'm pretty sure I'll be subscribing to this one again sooner rather than later!  I loved being able to select my own samples. You can check out Beauty Army and see what samples are available right here!