I totally caved and picked up the Bare Minerals Glamour Now on QVC while it was the Today's Special Value! It's no longer available but QVC has tons of shopping and gifting opportunities! They have free-shipping items until 12/31 (the only thing I truly dislike about QVC is the shipping!) and you can see all the bareMinerals products QVC has too! Lots of great gift sets (many with the same or similar products contained in this box) and Alert! Tomorrow is "Beauty Gifts" Day on QVC!  QVC has a great op going – I ordered this pretty late Wednesday night and it arrived today (Monday) – with Thanksgiving thrown in between!
I just couldn't resist this season's beautiful rose gold compacts. Plus I've never used bareMinerals in a compact before!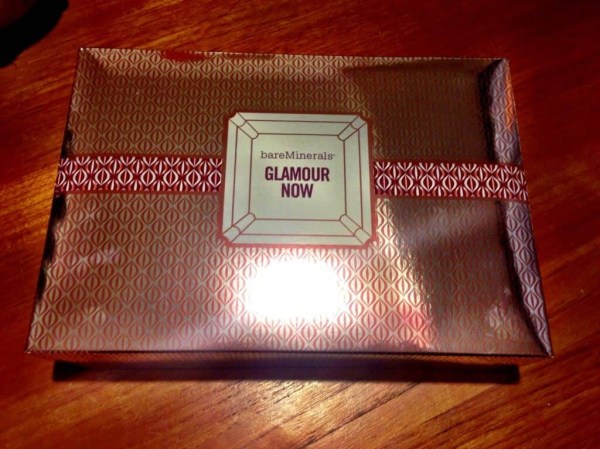 The QVC collection always comes in either a gift box or a bag. I prefer the bags but the boxes are nice for gifting! One year I got these great train cases that we now use for work toiletries – pack them all up to keep in your desk – tooth brush, tummy meds, whatever you need!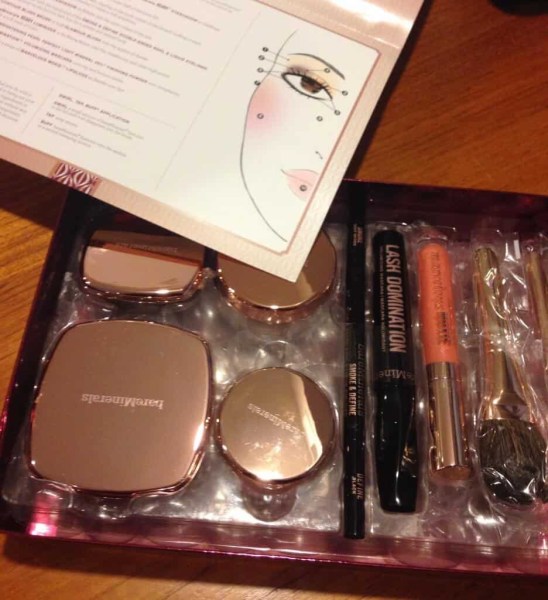 I LOVE diagrams! I was excited to see a diagram in this box! Everything is so gorgeous, it's hard to tell, but it's all rose gold. I was totally excited (and so were my kids – I could barely keep their paws off!).
As usual, this is a great presentation. I wanted this set for the precise purpose of what I did to it today – dumped it all in a bag for everything I need to do a whole face. I'm leaving for 5 weeks tomorrow (OMG seriously why am I writing this post now? It's so I don't have to do it later!)  Ipsy will get you that too at a much lower cost, this is just another option! I also needed Mineral Veil. I asked on Facebook if there were any new finishing powders to try – and all y'all said Bare Minerals, so I stuck with it (this one is the "Brightening Pearl Perfect" in light. Here's what the Glamour Now box contains!
0.23-oz Brightening Pearl Perfect Light Mineral Veil
0.17- oz Ready Eyeshadow 4.0 in The Main Event
Features Celebrate (yellow cream),Ball Gown (nude sheen), Cheers (shitake), Stiletto (plum chocolate)
0.005-oz and 0.03-fl-oz Smoke & Define Double-Ended Kohl & liquid Eyeliner
0.37-fl-oz Lash Domination Volumizing Mascara
0.03- oz Glamour Blush (warm pop of pink)
0.16-oz Ready Luminizer in The Magic Moment (warm gilded sheen)
0.15-fl-oz Marvelous Moxie Lipgloss in Dazzler(melon hue)
contour blush brush
and a tapered shadow brush
This box was  $49.99, regularly $61.00 with a total value of $175 (plus I paid about $7 shipping).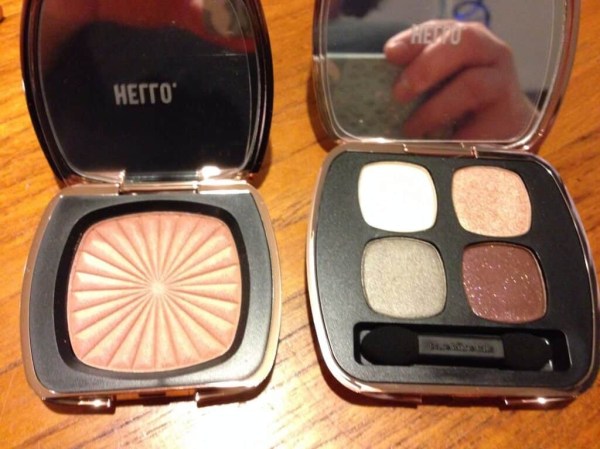 Ready Luminizer in The Magic Moment  – They're right that this is a sheen! I love it, it's perfect for not even a sparkle or a shimmer. Just a nice sheen.
Ready Eyeshadow 4.0 in The Main Event – I liked these colors and I loved that they are pressed powder. I still have fun with all my loose minerals, but these are easier for travel. I threw an ice blue eyeliner from one of my bags in – just to have something different.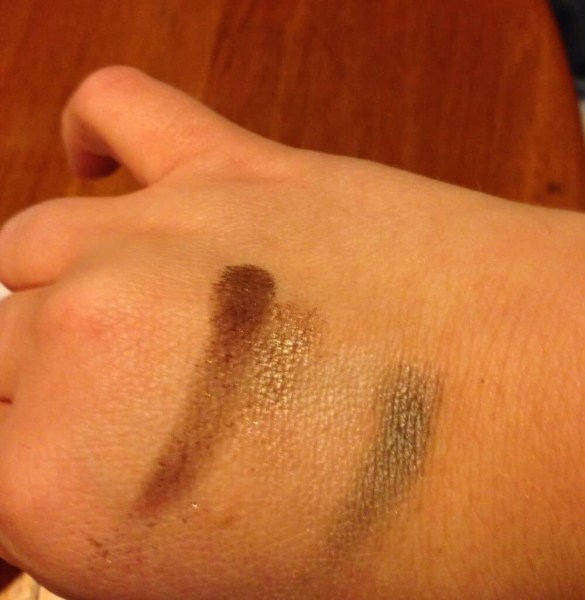 These were nice colors and I did not use primer. I just wiped & swiped! I grabbed a Chella brow pencil to throw in my kit so I wouldn't look unbalanced.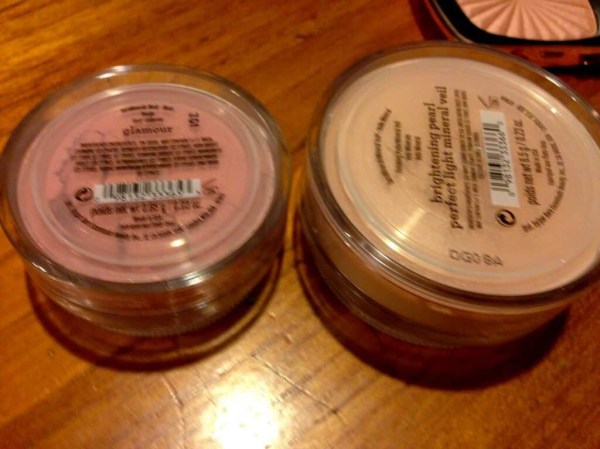 Glamour Blush (warm pop of pink) – perfect pink. I'll get a lot of use out of this one!
Mineral Veil – It's around $20 to get the mineral veil, so I just splurged on the whole box basically!
Update – Something I didn't show here and I didn't really realize it – the new tops on the loose shaker jars are awesome. They seal so your minerals don't get loose in transit. Perfection.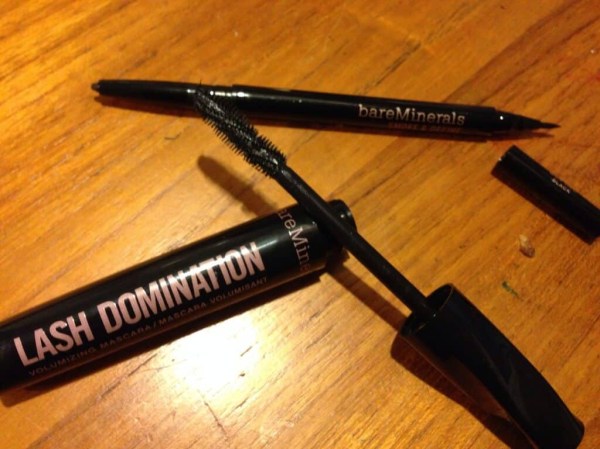 Lash Domination Volumizing Mascara
Marvelous Moxie Lipgloss in Dazzler – Love this color! For travel I also took Buxom Dolly (another bareMinerals product – in a dusky rose) and Mirenesse #2 – a crazy bold red.
Obviously I got the two brushes as well!