Time for Thursday Thoughts with Jennifer!
This week has been crazy busy. I have a zillion and one giveaways and I'd love it if you entered while you are stopping by!
I'm just waiting for my husband to get home from Vermont, I am so THANKFUL that I get to see him today! I am also thankful for Find My Friends app so I can stalk him. Whoah he's passed NYC already! I'd better shower!
I am super thankful for all the great friends I've met through my blog this year and that you came to read this post.
Happy Thanksgiving, let's EAT and SHOP!  Here's my page with today's general (non- subscription box deals). You can also see all my Black Friday Week deals – subscription box coupons and then all the deals below.  Did you get anything great yet? I helped a bunch of friends get computers last night and then I bought an iTunes gift card. Exciting!
Here's a few fun shots!
My daughter with her "Amulet of Avalor" (Project DIY).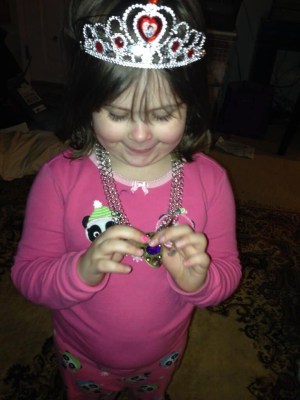 A real crooner! (Bitty Birdie Boutique – exclusive early Black Friday sale! Use code MommySplurge20 to save 20% off holiday duds)
We had so much fun this week!