Make sure you read allll the way to the bottom for information on our subscription box chat on November 5, but heres the link: https://www.facebook.com/events/549942458418798/ ! We also have new holiday specials coming up on November 4, see the bottom for details!
 Brand Rep Incentive
First off, I have a new Brand Rep incentive for Bona Clara! Any rep joining my team by November 14 that does 2 $500 parties in her first 30 days gets a bonus Night Cream. Wooo!  This offer is available exclusively from moi.  Remember the October joining special is only in October and it 100% will not not not get extended to November! You can email me at [email protected] or call me at (202) 695-2590 if you want to chat about it! I'm a direct to company rep and my job is to help spread the word about Bona Clara. Your startup package includes an entire level 3 kit set of products for you, business tools, and try me kits for all age groups, plus the bonus items just for October. Would I tell you it was awesome if it wasn't? No, no I would absolutely not, and you can read some comments/reactions from people BC sent samples to earlier this month below.
And if you're wondering, can I really do this? Yes, you can. Get the kit, try the products, love them (you will), tell your friends about them, and I'll help you with the rest.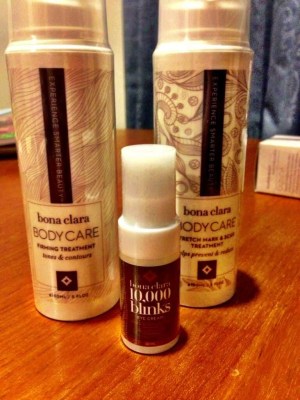 Referral Incentive
Second, anyone who refers a new consultant to me will get a full-size Bona Clara cleanser as a thank you present! It foams like crazy and your face is the cleanest ever! If you're aching for a freebie, be sure to send my site to your pals ( http://bonaclarabrandy.com ) with a note to let them know that YOU sent them my way. Direct sales is a great way for soooo many women to earn extra fun money or to boost their income period!  Plus you get to meet fun new pals and share stuff that you're crazy about! It's kind of like blogging. In person!  So maybe you know someone that would totally love it! And I totally want a dude on my team. If someone tracks down a man for me, I'll have something special for you! And if you're wondering, of course men can use the products, and they work, and they love them. But men are funny, right? I can't wait for my husband to try it, I think it's really going to help his ingrown hair issues on his beard. I digress. Cleanser! Free Cleanser!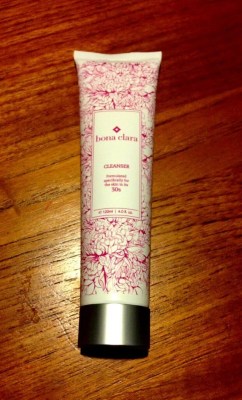 Party! And Prizes!
Okay, now the PARTY! Reader, friend from a couple of the Facebook groups I'm in AND fellow blogger Andrea (and she gets stuff I don't, so you should check her out!) approached me about the Bona Clara 10,000 Blinks eye cream, and we got all chatty like (we're sorority sisters ZOMG!) and decided to have a party! FUN!  And then we decided to offer door prizes to destash a little!
Our first prize will be the Tarte Mascara from the October Byrdie Glossybox! If the party gets large enough I'll give away crazy things like the Cynthia Rowley bag from my Popsugar Fall Style box! This is your chance to snag some Bona Clara goodies and take a shot at getting a fabulous door prize! You must place an order to be eligible for door prizes but you don't need to be in chat to win.
I was able to send out a few samples of the Bona Clara Level 3 Kit for review and the comments I received included:
Amanda: I'm really liking the system! The cleanser is amazing! I barely have to use any.  My skin hasn't felt so clean in forever

Rachel: Just tried it today!! Loving it so far 🙂

Missy – I received mine yesterday and tried them all this morning. My skin feels great!! I love the scrub!!
Find the party on Facebook!  BYOB! The chat will occur Tuesday November 5 at 9pm Eastern!
You can place your party order here and I'll do the drawing when I close out the party on the night of November 5. If you can't make the chat, be sure to place your order before then! I promise that you will love them, but if you don't, Bona Clara has a 30 day return policy.  The best way to determine if it's for you is to try it, take your before picture, and then see where you are at after a few weeks. Try the Level 3 – the full kit – you will glow. I will be updating soon with at least 3 or 4 reviews from other bloggers! (Whom I thank so very much!). If you see this post bumped back to the top, you'll know that I added something!
And here it is! Bona Clara Holiday Specials!
xoxoxox Brandy