When this month's box
box arrived, I knew it was time to get cracking on October's box! This was super cute and I loved the botanical theme, but I only found my jewelry tools maybe about 7 to 10 days ago, and it's been busy, so here we are with October! I really loved the delicate looks of the projects in this box and I had fun doing them! I didn't have any of the knotting issues I had with my last box, either!
The Subscription
:
For the Makers
The Description: Kits combine fun & easy DIY tutorials with chic materials you can't find elsewhere. Runway inspired projects plus tips & tricks to personalize your home and outfit
The Price: $29/month
ships in an outer cardboard box and this box is inside it. Every box is labeled with the month so I'll need to come up with something amazing to do with them. I guess if you get the Gilt City deal you could possibly start with one. That's neat.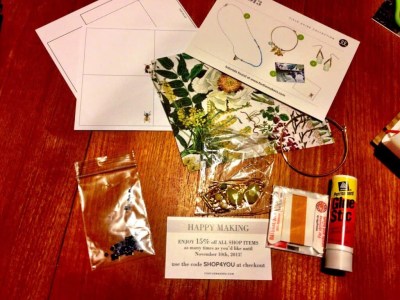 All the supplies that came in the box! The instructions are online.
Here I am all set up for some TV & crafting!
…Crafting Happens…
TADA! Okay Okay, I'll tell you about the projects. You can click on this photo for a closer view.
Flora Charm Bracelet This was super easy, though there were quite a bit of jump rings involved. I learned how to make a post jump ring and that was neat.
Trellis Drop Earrings I enjoyed this one the most I think. It was fun bending the wire to create the hoops. I wished that the ends of the earring hooks were a teeny bit smoother, but I loved the looks of these.
Botanical Mini Notes After 2 jewelry intensive boxes, this was a welcome detour! I was impressed that the box came with a glue stick. Though I have forty zillion of them, not everyone would have one!
Goldenrod Necklace I was unable to do the tassel, but my necklace still turned out cute!
I loved that there were so many projects included in the box this month! You can see all the For the Maker tutorials, including November's box, which I'm hoping to start in on tomorrow! Currently there's a great Gilt City deal for this subscription (or for DIY holiday decor), and you can check all the details out here! It's 40% off!
I completed this box over several nights/afternoons. I love being able to set it down & pick it back up, everything fits right in the box! Just an FYI, you do need jewelry tools for
!