USPS was not kind to me in October and lost several of my boxes! October Crafter's Crate was one of them, but we were excited to do it! This arrived when my grandparents were here the other week and my daughter gleefully marched around showing them HER box! Gramma questioned her – how do you know it's your box? And she retorted, "because of the pink elephant, silly!" This was an adorable fall-themed box! I do help a lot with Crafter's Crate – the crafts can be done alone for the most part by older kids, but younger children like her need a bit of help!
The Subscription
:
Crafter's Crate
The Description
: Monthly box of crafts and activities that are girl-themed, including hair accessories and jewelry, but also activities and projects that include learning in specific areas, including science.
The Price
: $20/month
The Coupon
: Get $10 off your first box! Use code
SPLURGE
.
October 2013 Crafter's Crate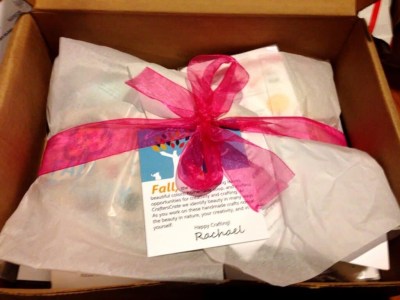 The box is neatly wrapped!
And comes with all these projects!
The cards are a bit different than they were in the past. Crafter's Crate is a little more slick looking this month and the graphic is super cute!
Pumpkin Seed Necklace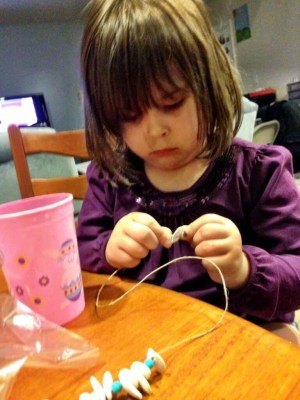 I drilled the holes in the seeds (using the included stick thingy) and she threaded them on!
This is so cute! I'm stealing it!
Sunflower
Daddy helped with this one! Fun was had by all!
Fall Leaf Sun Catcher
This was easy & cute and now it's on our back door! I expected baby E (can I call him baby anymore? sad!) to help but he was more interested in coloring!
Pumpkin Hairbow/Bracelet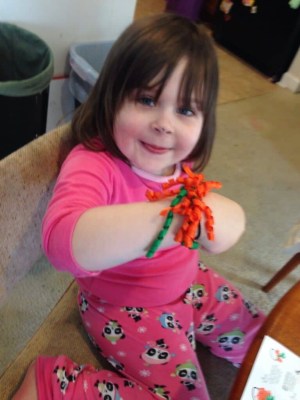 This was SO COOL! We got to make curly ribbon and I had no idea how you did it. There was a dowel and clothesline clips and you wrap wet ribbon around the dowel and bake it. I couldn't believe how well it turned out!
Fall Garland
I can't believe we turned this..
Into this! We snuck the sunflower in too! She's in love with this project!
October Crafter's Crate was so much fun and we got a lot of great fall decor out if it! Even if you subscribe to only a few boxes you'll pick up some great new techniques and ideas. For me, I can't organize myself well enough to come up with a craft, so I love having the boxes so we always have a craft to do. My daughter is obsessed with crafting and Crafter's Crate has even taught her how to sew. I love that she can so very easily follow the instructions too!