November Sample Society from Beauty Bar is here! Hooray! The theme this month is Winter Wonders, where colder temps = haute looks. Plus a little something to keep you warm & bright!
The Subscription
:
Sample Society
The Description
: Get five deluxe-sized luxury brand samples and $15 monthly gift code to redeem on a $50 purchase at BeautyBar — when any product from the brands you sampled is included in your order. Plus an Allure mini-mag.
The Price
: $15/month
November 2013 Sample Society Winter Wonders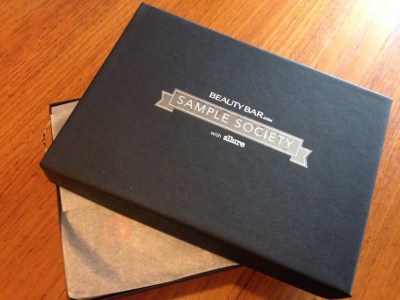 Love the packaging. Sample Society comes with plenty of gray squigglies.
Info card and Allure Mini-Mag, which I think is great for just a few pages!
Murad Pore & Line Minimizing Hydrator ($9.60) This is different than the item on the card (which is a luxe cream – Hydro-Dynamic Ultimate Moisture).
Phyto Phytonectar Hair Treatment Oil ($2.86) This is for ultra-dry hair (I have fine), so I'll use it on my son! It provides the "nectar" of egg yolk – its oil (10%) – enriched with a lipid and peptide complex of soybean and sunflower. It's also over half off on Amazon – the BeautyBar.comprice is double, but I use real prices!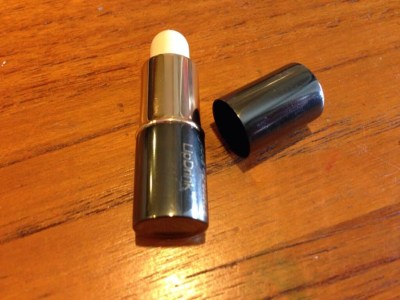 Jane Iredale Lip Drink Lip Balm ($~1) This is a great, heavy moisturizing balm, with a lovely scent. It has SPF 15 and lemon and orange oil. I love that it was scented in a non-irritating way. The full size is just $12, I think I may purchase this and finally use my $15 off $50 coupon at Beauty Bar (it comes with every monthly box!).
Borghese Splendore Brightening Makeup ($15) I thought this was foundation (I never read the card), so I was surprised when it was so thin. It's a universal skintone illuminating highlighter, and totally gorgeous! For high shimmer, put on top of foundation, for subtle mix them together, and for sheer, mix with moisturizer! I would also mix with moisturizer for arms & chest area for a fancy party. This product is on Beauty Bar too!
Illume Balsam & Cedar Metallic Tin Candle ($3) This candle's scent is amazing and non synthetic smelling. I hope I get it in ALL of my boxes this winter! I typically can't stand cedar scented candles. It's yummy. You can get the huge tin at BeautyBar.com for $36, or the mini tin at Birchbox for $9 (linked here). I don't know where Beauty Bar came up with a $23.50 value for this!
My November Sample Society had a value of over $31 (if you use Beauty Bar prices, add $20)! I was really impressed with it and we'll use everything (though I wish I'd received the Murad cream). I'll email in about it, I'm sure I'll receive a small credit
I think I'll pick up the lip balm, the huge cedar candle (70 hour burn time!), and something else fun!I also have a wee coupon for you!
20% off full order on BeautyBar.com with code AFF20BEAUTYBAR! This works for buyers old & new, includes sales, but excludes Natura Bisse, Jane Iredale, and Kate Somerville. Amazing! Have fun shopping, and sign up for Sample Society while you're there!