Project DIY sent me this subscription box for my review.
"Winter is Coming" says the December Project DIY information card! Actually it's already here and I was thrilled to see this collection that brought to mind all the mystery and suspense of the dark ages with a bit of a nod to my favorite tv show Game of Thrones. I'm also thrilled to be able to pretend I'm more than just a regular mom and infuse the edgy structural yet fluid looks into my style this winter while also getting my craft on! I found the November Project DIY subscription box projects relatively easy to do, and my kids got in on the action. My daughter designed the necklace! The second thing I loved about this box in particular was the degree of customization it allowed. The projects weren't overly complicated but you could really spend some time thinking about and playing with the elements to create your own personal look.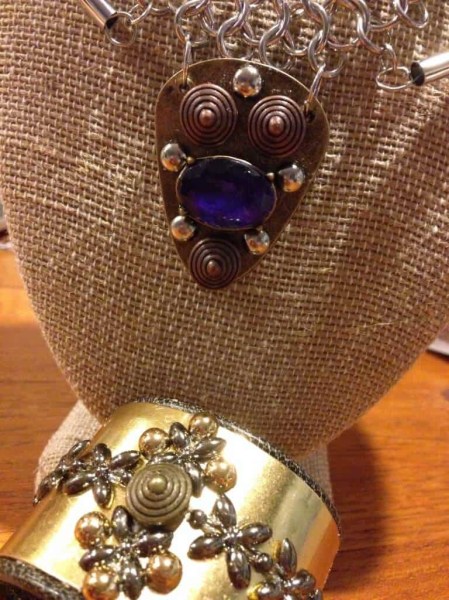 The Subscription
:
Project DIY
The Description
: Monthly subscription from M&J trimming (findings like rhinestones, ribbons, buttons). Get items for a new project every month like necklaces, bracelets, and more.
The Price
: $30 per month
November 2013 Project DIY The Joan of Arc Collection
It comes shipped in a sturdy cardboard box.
I was excited by the luxe fell of this box, especially after reading the card.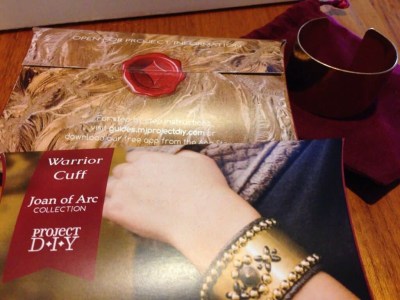 I thought the back of the envelope design was so clever I had to photograph it!
Inside the pillow packs the items are placed in bubble wrap bags and individually wrapped.
These are all the materials in the box for both projects. Because I was crafting (with glue!) with both kids, the photos are a little jumbly. Happens.
E looks on with approval at our final product. We attached faux leather liner and 2 different kinds of trim. I appreciated the applicator for the glue!
The Project DIY app noted that we could color our gemstone by applying polish to the back. A helpfully double-checked with me on my favorite color. I let her pick it out and paint it. Actually she was in charge of the design – I merely was the glue artist.
Her first design was a happy face. Even she knew that was silly and discarded it for a more sophisticated look.
The artist at work.
Shield Necklace aka Amulet of Avalor
After she completed the design, I glued it on. She's decided it's a real life "Amulet of Avalor" (Princess Sophia). I may remove some of the links to fit her neck, I have to test it out, but it is still drying.
Warrior Cuff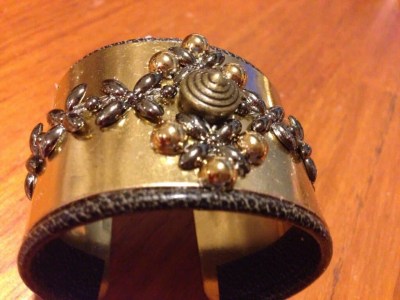 I was thrilled with the design I made – which was inspired by the multiple Project DIY suggestions on the app, but not exactly the same!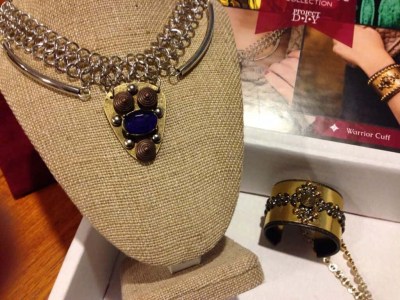 Total luxury. I love the slinky interplay of the chain mail links with the hard edges of our amulet!
This was my favorite Project DIY yet and I can't wait to see what they cook up for December!I also have a giveaway for this box! It's the same giveaway as in this post, but I'm including it here too! I did not find I really needed my jewelry tools for this box a whole lot, but you'll need a wire cutter and something to create a loop (a thin dowel would work)!