Bitty Birdie Boutique provided me a $50 credit to shop. They're also providing one lucky reader with the same! Giveaway details at the bottom of the post! Also please note that Bitty Birdie will have a Friends and Family Flash Sale Friday with an additional 20% off all Holiday Items!  Shop early for best selection. Use code FriendsFamily20! Also watch for my exclusive Thanksgiving day code – one day early!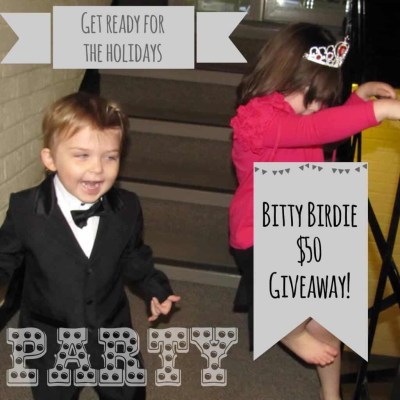 I love dressing my kids up in adorable and unique clothing, and I have a packed closet to prove it! Still, I hadn't found any great holiday wear for my little ones yet and I was thrilled to be do some boutique shopping this season.  Bitty Birdie Boutique is a marketplace for different brands and boutiques to sell their wares all in one spot! They sell small shop's overstocks and past styles in one spot, so it's like an online children's boutique clearance, except you don't have to visit multiple stores – just one! Bitty Birdie Boutique has prices up to 60% off of of brands  ranging from Trish Scully to Tea Collection to Trumpette Shoes. I found it was a really great place to snag a sweet discount on my kids' holiday clothing. Plus, items that don't sell after 120 days are donated to Baby Buggy – Jessica Seinfeld's charity!
Pixie Girl Little Blossom Top $24.99
Good Lad Tuxedo $31.99
Good Ones World Tour Jacket $28
I selected a sweet pink top with crazy poufy arms – as soon as I saw it I knew my daughter would love it! Indeed, when she saw it, she proclaimed me the best mom ever! This will be for our "casual" holiday (I always have a casual set and a dressy set!) outfits. I also found a great four piece tuxedo for my son! How cute is that?!  I'd already spent my $50, but couldn't resist selecting a jacket for my son in a larger size to stow for later. It was too cool!
Shopping at Bitty Birdie Boutique
The actual shopping part was super easy! I could sort by gender, size, and even just look at holiday clothing options. Bitty Birdie Boutique also allows you to sort by season, brands, shoes, and by clothes just for baby. I have to admit – it was way easier than shopping in a boutique and I didn't have to leave my computer to do it. Checkout was super easy and there is free shipping on clothing items (a small $5 charge if shoes or outerwear is in your order)! I loved that! International customers can also shop at Bitty Birdie with very reasonable shipping charges.
My Kids' New Holiday Clothes!
The package from Bitty Birdie arrived very quickly and I loved the wrapping!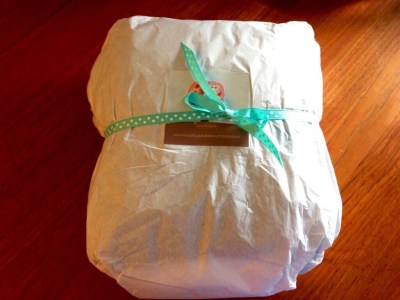 Everything was totally top notch and 100% new and in perfect condition. I packed my son's new jacket away and dressed up my kids!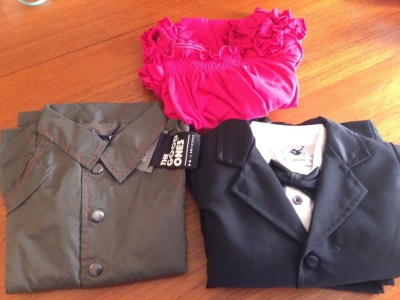 And boy did they ever ham it up! My daughter felt like a ballerina and my son refuses to take off his little tuxedo! And that's totally why you want boutique clothing for your kids' holiday photos! Get them dressed up and let them loose for some great shots – whether professional or candid like these ones!
I sent some shots to my husband and he said:  That is ridiculously adorable. Can he wear that all the time?
My answer: Maybe – he won't let me take it off! Yes, my kids love special clothes just as much I like getting them! Watch out Daniel Craig!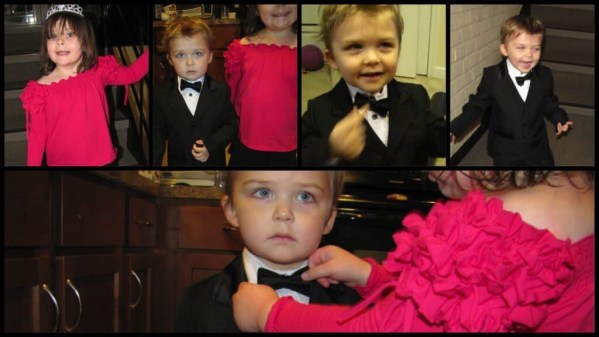 If you're wondering, the tie was extremely easy to operate!  This gorgeous poofy foofy shirt fueled my daughter's princess and ballerina fantasies for hours. I was so pleased with the quality of the clothing, the speed of the shipping, and the shopping experience at Bitty Birdie Boutique and recommend them!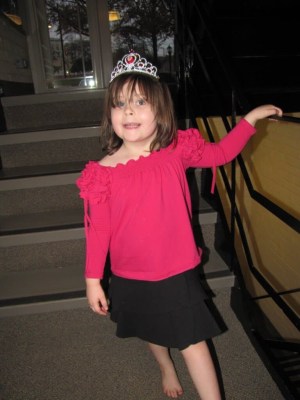 I have a giveaway from Bitty Birdie Boutique! One lucky winner will get a $50 shopping credit! And don't forget about the flash sale – an additional 20% off of all holiday items!  That's at least 60% off of retail prices for gorgeous brands.
Giveaway ends 12/17 at 3am Eastern.