Korbella sent me the Eiffel Tower necklace shown for review. Be sure to check out all the amazing pieces at Korbella!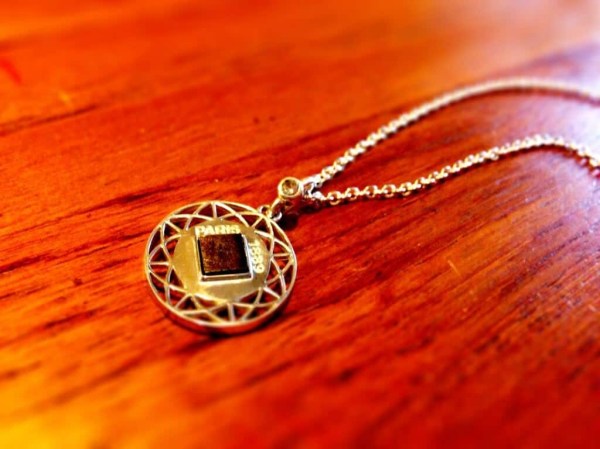 I couldn't help but say yes to reviewing the most unique piece of jewelry I've ever come across! If you're looking for a new cherishable piece of jewelry, you must take a look at Korbella's one of a kind limited edition pieces made with actual pieces of the Eiffel Tower. And men – pay attention! This is the "money gift" of the year. Korbella has a complete line available in gold vermeil, sterling silver, and rhodium with a variety of necklaces, bracelets, earrings, and even cuff links for the gentlemen.
Eiffel Tower Jewelry
Each of Korbella's pieces is inspired by the architectural design of the tower – strong, bold, with curved delicate lines. The Eiffel Tower is a landmark that tugs at so many heartstrings – the promise of a future trip, the remembrance of one past. This is all about romance and telling her how special she is. Opening this package made me feel special. I love great packaging and I just loved this box. What an amazing romantic gift!
I expected the jewelry to arrive in a standard jewelry box, but it was encased in a beautifully decorated striking red box with a pull-out drawer (my favorite sort of packaging – it really does enhance the gift).
The necklace itself is attached to a card inside a red pouch.
Korbella jewelry comes with a welcome note and a certificate of authenticity – because most of Korbella's line contains an actual piece of the Eiffel Tower, built right into the jewelry! There are a few pieces that don't, like these Eiffel tower heart earrings that I totally love.

Paris Forever Necklace
The necklace that I received is called Tojours Paris (Paris Forever). I absolutely love the size of this piece, the medallion shape with the diagonal square of your own little piece of Paris inset, the artisan-crafted lattice work, and the white sapphire on the bail.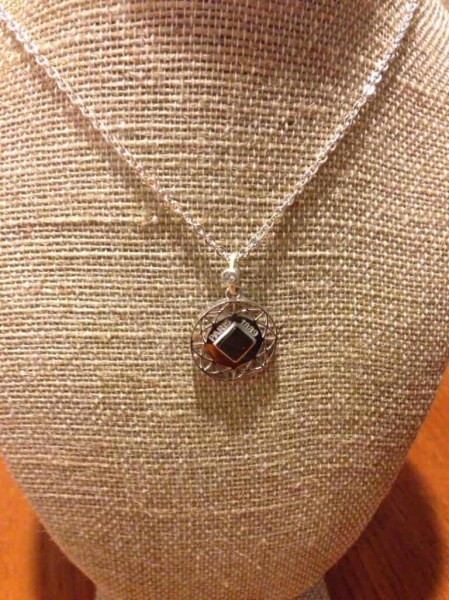 The necklace's chain was very striking – the links are faceted to be absolutely gleaming and I loved the lengthy necklace adjuster so I could wear it just right (the chain is 18″ plus 4″ extender).  This would be an every day piece for me that would go with absolutely everything. I could wear it with a suit or with a little black dress.
It's such a conversation starter too. I couldn't help pulling it out and showing my son's teacher this morning and she thought it was absolutely stunning, as do I! Just the right length and size!
Paris Jewelry
It's so amazing to own a true cultural artifact! When la Tour Eiffel was first built  – in 1889 – the only way to the top was via a spiral staircase. In 1983 the staircase was decommissioned and dissassembled. While several portions were donated to museums, the rest were auctioned internationally. Paul Bedell, Korbella's founder, snapped up a piece (a segment about a quarter of the size of the one on the right was over a million when it was sold!) and created this architectural line of statement jewelry. I think the Eiffel Tower pieces are perfect for the woman who wants a sleek and chic piece of jewelry and Korbella offers multiple styles from which to choose. I'm also particularly crazy about the gold vermeil "Charms of Paris" Necklace – in the shape of the Tower!
Visit Korbella.com to see the whole line of Eiffel Tower jewelry and get your own Paris souvenir. I just think it would make the ultimate Christmas gift to own a little piece of Paris!