I recently got a Clarisonic Aria (now Mia 3) to add to my skincare repertoire! It was very exciting for me! I'll share with you multiple stores to pick one up at – coupons and deals change, and you may have credits at one store that will make your Clarisonic purchase a little lighter on your wallet! The Clarisonic is a splurge, but a well-deserved one, and you deserve great skin! The Clarisonic will do great with the cleanser of your choice (but read my Clarisonic Review below for why I don't recommend you even try the bundled cleanser!). In this Review of the Clarisonic you'll find:
Clarisonic Deals & Coupons for Clarisonic
Clarisonic Limited Edition & Exclusive Sets
What Clarisonic Should I Buy? Plus vs. Mia 3 vs. Mia 2 vs. Mia
My opinion on which Clarisonic is best
What does a Clarisonic do & why use one?
Which Clarisonic Brush Head?
What Cleanser do I use with a Clarisonic?
Clarisonic Review
Clarisonic Deals & Coupons for Clarisonic – Updated 11/20/16
When you check out the Clarisonic deals, also please note that depending on your state, one deal may be better even though the base price is higher, as you may be charged sales tax. Be sure to visit all the sites so you can investigate which purchase is right for you. If you need help, comment on this post!
Clarisonic Deals
Birchbox – Pick Birchbox if you have rewards points to use up! Check out our directory listing for the latest Birchbox coupon codes! Don't forget a Mystery Pack and other bonus items you may be eligible for in the Bonus Shop. Birchbox offers the Mia and the Mia 2, and both the Mia 3 and the Clarisonic Smart Profile, and now has brush heads available (normal, sensitive, deep pore, and body). You won't get one of the higher value special sets, but you'll get shop points back and be able to use your rewards if you decide to get your Clarisonic at Birchbox. Definitely check them out, they've been steadily adding a selection, including the Men's Alpha Fit.
Clarisonic's own website often will have 15 or 20% off, so make sure to check. They do offer a 90 day "See & Feel" Guarantee!
Skinstore.com usually has a code right on the website for 20% off! Sometimes it's $50 off $200 and many sets are priced right under that. Find a CHEAP filler item in clearance and that's a great deal!
Nordstrom: Very frequently has fantastic gift with purchase deals, plus an amazing return policy!
Clarisonic Limited Edition & Exclusive Sets
Perhaps not the best deals, but if you're looking for a specific color or bundle, check these out!
Nordstrom – Head right to the Nordstrom 100% Exclusive Clarisonic sets! They don't seem to carry these any more.
Sephora – Multiple themed sets including the Mia 2 Starry Night Set and the Mia 3 K-Beauty Set! Sephora often offers great gifts with purchase, so check out Clarisonic at Sephora before you buy! They often have sets featuring Fresh or Boscia cleansers and carry the Pro grade Smart Profile Set.
QVC – Has a few Clarisonic sets, especially Clarisonic Plus sets, some bundled with Philosophy products.
Skinstore.com carries a nice range of Clarisonic value sets, including the Keith Haring limited edition sets!
Ulta does sell Clarisonic brushes but unless you have a particular reason for shopping there, I think the selection/deals/sets are better elsewhere.
What Clarisonic Should I Buy? Smart Profile vs. Mia Fit vs. Mia 2 vs. Mia
I went with the Clarisonic Aria (now Mia 3 [discontinued], but don't be afraid to go for the Mia Fitor the Mia 2. My choice was primarily driven by color (I wanted the purple one) and the LED charging indicator. Really, that's it! Here are the major differences between the Clarisonic Models. Most basic sets come with a sample size cleanser and a brush head – mine came with a large size cleanser (after one use I tossed it!) and two brush heads!
| Clarisonic Comparison | Smart Profile | Mia Fit | Mia 2 | Mia | Alpha Fit |
| --- | --- | --- | --- | --- | --- |
| Speeds | 4 Speeds (Delicate, Universal, Powerful, Body) | 2 Speeds (Delicate, Universal) | 2 Speeds (Delicate, Universal) | 1 Speed (Universal) | 2 (Clean-Shaven, Bearded) |
| Body Mode | Yes | No | No | No | No |
| Battery Life | 30 minutes | 20 minutes | 20 minutes | 20 minutes | 20 minutes |
| Indicator Lights | Yes | Yes | Yes | No | Yes |
| Charger | pLink Charger | Universal Voltage USB Charger | Universal Voltage Charger | Universal Voltage Charger | Universal Voltage Charger |
| Timer | 2 minutes (3 with body brush) | 2 minutes | 1 minute | 1 minute | No |
| Drying Stand | Yes | Yes | No | No | No |
| Warranty | 3 years | 2 years | 2 years | 1 Year | 2 years |
My opinion on which Clarisonic is best
You don't really need the powerful speed, most people use delicate or universal. You should not buy the plain Mia, in case the universal speed turns out to be too much for your skin (plus, it has a pretty sad one year warranty and isn't as ergonomic and has no indicator lights). I personally prefer having the visual indicator to show me if I need to charge it and what the speed is set at. I like having the drying stand for the bathroom to set my Clarisonic Aria on to charge, though I typically slide it in the shower bar if it doesn't need charging. I like having the option to have the timer set to two minutes, though it's not very necessary. Most people will choose between the Clarisonic Mia Fit and the Clarisonic Mia 2! After 3 years I really wish I had gone with the Smart Profile for the body brush! Maybe this will be my year to spring for the Smart Profile (seriously, if you think you might want it, just go for the big daddy).
What does a Clarisonic do & why use one?
Clarisonic is a sonic cleansing brush for your skin that works pretty much like an electric toothbrush, vibrating dirt right out of your skin. It oscillates 300 times per second. It's advertised as a cleansing tool, but in my opinion is also a physical exfoliating tool, lifting off dead skin. It can be overused, so don't go crazy, and if you experience dryness, first of all be sure to use a non-drying and sulfate free cleanser. Next make sure you're not overusing exfoliating products! Most users Clarisonic 3-5 times per week, less if they are also using another physical exfoliant. Most users will feel a difference within a few uses, but it could take up to a month or more to see face-clearing results if you have acne or clogged pore concerns. Some users experience a "purging" effect, which is a fancy way of saying they break out when they first start using it – all that gunk is coming out. Don't freak out! It lasts for a week or two, and you need to just deal with it.
Why use a Clarisonic
Clarisonic's sonic cleansing brush removes up to two times as much dirt and oil and up to six times as much makeup as cleansing with your hands
Makes your skin softer and smoother
Can help with deep pore cleansing and acne
Prepares your skin to absorb all those fancy skincare products you love!
Increases circulation to your skin
Reduces pore size
Allows makeup to be applied more smoothly
Which Clarisonic Brush Head?
There are too many for me to try personally!  Clarisonic offers the following brush heads:
Acne – for oily and acne prone skin
Deep Pore – for enlarged pores, flush clogged pores, for normal to oily skin
Delicate – even more gentle than the sensitive brush head, this is for dry skin
Normal
Sensitive
Body – only for use with Plus & Pro models
The Luxe brush heads feature tapered, ultra-long filaments for mature, dry complexions
Luxe: Velvet Foam Body – only Plus & Pro
Luxe: Satin Precision – for detail work around the eyes, nose, and lips
Luxe: Cashmere Cleanse – dual layered design, fancy regular version
When I do purchase more heads, I intend to try out the deep pore (though I'm sure it will be too much for my skin, I feel obligated to test it) and the Cashmere Cleanse!
What Cleanser do I use with a Clarisonic?
[pullquote] It felt like I applied an obnoxiously scented bubble bath to my face. [/pullquote]Do not use the included cleanser with your Clarisonic. I repeat, do not not not use the included cleanser with your Clarisonic. I have tested this for you, and I can assure you, it's terrible! It's so heavily fragranced that it made me ill. When I tried it, I smelled it on my hands for the entire rest of the day. The intense fragrance burned my eyes and every time I smelled it, it totally brought it back. Just toss it, it's a vile and toxic product. I know you'll try it anyways, and then you'll have to say, wish I'd listened to Brandy! The Clarisonic cleanser also contains Sodium Laureth Sulfate, which is drying. It's also not really a foaming cleanser, it's a bubbling cleanser. Do not use cleansers with
Soap – Drying
Sodium Lauryl Sulfate – this will strip your skin and irritate it. Same with Sodium Laureth Sulfate
Exfoliants/Scrubs (anything with beads or grit)
I also recommend that you do not use products containing parabens (because they can disrupt hormone function and lead to reproductive toxicity)!  I recommend instead purchasing a limited edition model with a different skincare product bundled with your Clarisonic brush – the Clarisonic brand is a waste of resources in my opinion!
Clarisonic Review
Tadaaa! Here it is! I was excited to get it! I picked out the purple Clarisonic Aria and I didn't really care what came with it, I wanted purple.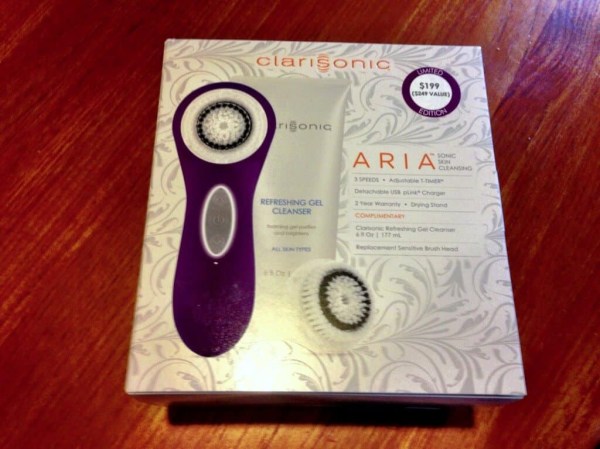 The Clarisonic came with these items.  I'm not sure if I'll ever hook up my Aria to my laptop, but I guess I have that option!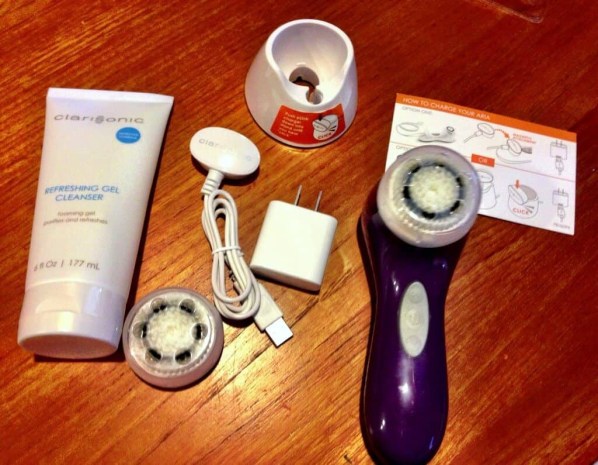 I've basically told you everything the Clarisonic does, so what's left is how to use it and how well it works!
How to use a Clarisonic
Wet your face & apply cleanser (if you're washing off your makeup, remove your eye makeup first)
Wet the Clarisonic. Then do forehead (beep), nose/chin/mouth area (beep), and each cheek (one short beep in between).
Don't mash it on your face! Move it around but don't press. Let Clarisonic do the work!
My Review!
I like it! I use it nearly every day in the shower. I did test it out with the higher setting but I wouldn't recommend using it too much. My face definitely gets cleaner with it and it helps lift off makeup, and I absolutely recommend the Clarisonic if you're a big foundation wearer. I could really see it come off on the brush even after I'd cleansed. I did experience a bit of purging so just go slow and don't overuse, but I felt that Clarisonic helped my skin get a bit firmer and brighter. It's so quick to use, just one minute, that it's worth the short addition to my daily routine. I really feel that it helps my skin absorb the products I use on my face and helps them work even better. I would purchase this product over, say, a $200 gift certificate for a facial or two, because this will last you for years. I'm not sure about fine lines & pores, but just like skin brushing that helps tighten the skin on your body, this should help. I'll update as time goes on!
If you want to check out all the different models, go back to the top of this post to browse!
It also works great on Mickey's car! Leave your questions in the comments!