Time for Thursday Thoughts with Jennifer!
This is what my mail looked like Friday night. Crazy, right? I came back from vacation last Thursday night and happy to be doing Thursday Thoughts with you again! It's taken me a week to get caught up with blogging, really. I'm spending most of this week with a sitter so I can get schoolwork done, but I didn't have her yesterday. So instead I helped plan a giveaway (and played with my kids, obvs) with some other bloggers. For that thing that sold out yesterday. Coming soon. Until then, please visit my other fab giveaways!
I'm excited that everyone affected by the shutdown can get back to work. I know it's been hard on a ton of people!
My kitchen floor is always kinda ick and this week it's been like an explosion of gross. Roger (my neato robotics vacuum) doesn't seem to like going in the kitchen. I need something to clean the floor. Maybe we'll have a floor cleaning party on Saturday. It's like the smallest kitchen, I don't know why I can't keep it clean.
I made geometric grilled cheese yesterday. That was exciting. I don't feel like I can get my you-know-what together to create elaborate lunches for my kids. They want grilled cheese and fruit. So that's what I make!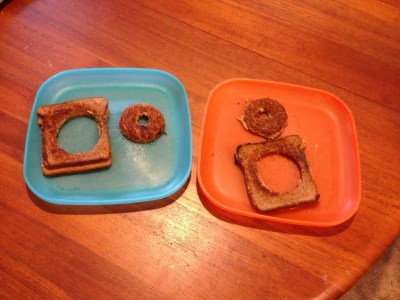 I miss my husband! This whole commuter marriage thing is getting old. But this is hilarious – I booked a vendor event to sell my South Hill Designs lockets in Vermont. Yep, my hubby is going to sell my lovely lockets to all the church ladies in Vermont. Totally awesome. He's going to sell tons!
Does anyone else have a direct sales business? As I was mentioning to Jennifer V (Mrs Ramblings) over email, I swap whenever I want to buy anything now. It's like getting my commission as a discount. Works for me! Speaking of which, as you may recall I'm also doing Bona Clara. We just launched our eye cream and I can't wait to see what it does for the huge dark circles underneath my eyes that nothing seems to help (no, not even sleep). It has actually kept me from getting LASIK. I look better with my glasses on. I'm trying to arrange a thing at a local blogging/small business conference. Which would be fun to do everything all in one go. Only problem is that it's so early in the morning I can't get there by train. What's up with that?