It's been a bit bumpy for me & SeasonsBox. September was no different. I have been following the Seasonsbox saga on their facebook page – new owners taking on the liabilities of prepaid memberships like mine, quality over quantity, and soliciting customer feedback. I have hopes for the improvement of SeasonsBox and I think October will be great. I'm trying to focus on the quality of the products in the September box, but still having a hard time getting over just 3 products in this box. This box was received Oct 2 or later while I was on vacation. Also, the items that I have been receiving no longer fit the original description of the box (the chocolate, for example, is not full-sized). So just an FYI, it's a totally different box, but I'm still hanging on to the old box. Try to ignore my opinions and examine the products for yourself. For what I paid (half off) I am completely thrilled.
The Subscription
:
SeasonsBox
The Description
: SeasonsBox focuses on sending seasonally appropriate eco-conscious luxury and boutique items. All items are full-size. The boxes come beautifully packaged inside an outer cardboard box and are great to give as a gift just by itself.
The Price
: $35/month
September 2013 SeasonsBox
Back of the information card. I had to look at to confirm, indeed, there were only three products.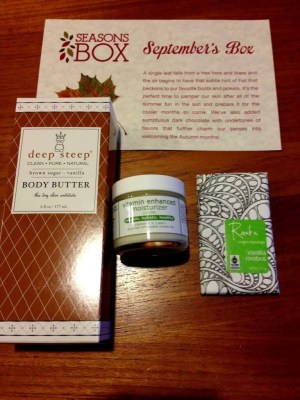 Deep Steep Body Butter in Brown Sugar Vanilla ($11) Love this! The scent is great and it's paraben free. I will be using this on my children post-bath.
Raaka Virgin Chocolate "Nibbler" in Vanilla Rooibos ($5) Not a fan. It's unroasted chocolate. Also, mine was melted in transport. See photo below.
Made from Earth Vitamin Enhanced Moisturizer ($75) This is a high-antioxidant moisturizer. The price is a bit off for just moisturizer but not for a night cream.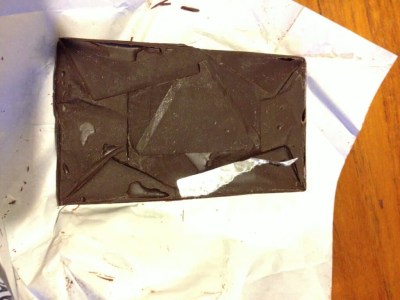 It hasn't really been hot, so I'm not sure why this was melted, unless it was old stock.
I'm excited about some of the products in next month's box, and my subscription has a little longer, so I'll continue to enjoy what I receive!