September GLOSSYBOX is an intriguing one – it's a back to basics box, but really great basics! Everyone already knew Nioxin Diamax would be in this box, and I was so excited to get it because I need thickening help! I even traded for one 2 weeks ago! Yes, really that excited! If you love this box and want to get it, September is no longer available, but be sure to check out the spoiler below!
The Subscription
:
GLOSSYBOX
The Description: 5 deluxe travel size beauty products a month. All luxury products.
The Price: $21 per month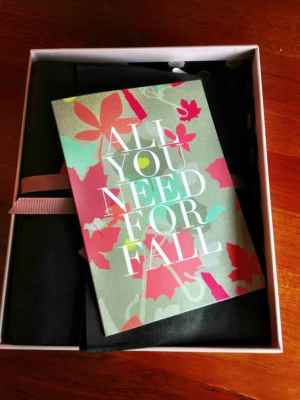 This month's theme was all you need for fall. And the products aren't fun to look at so you only get one middling quality photo tonight. xoxox.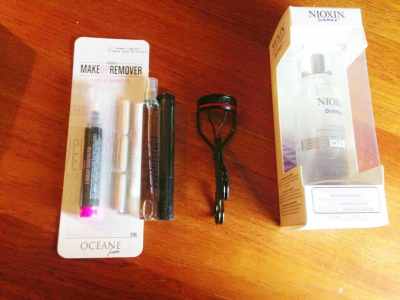 BCBGMAXAZRIA Bon Genre Eau De Parfum ($75 (full size)) This is not a weensy sample – it's a huge huge sample! Smells amazing and I love it.
Nioxin Diamax Treatment ($50) This item made the box for me (that I loved the perfume was really a bonus!). I opened it right off (um, sorry I have no pictures, I was too busy playing with my hair) and sprayed it on (after deciphering the impossible print). You can use it on dry hair and I do think it provided a fuller look! It wasn't greasy and had a nice minty smell.
Be A Bombshell Eyeliner Pen in Onyx ($14) Unfortunately, I noticed this has parabens in it, and it's for placing around your eyeballs. I'm going to pass.
Emite Eyelash Curler ($~30) This was in last month's UK GLOSSYBOX (and so was Jelly Pong Pong). I actually think it's really awesome that Glossybox is starting to include similar items in the boxes. I love trying new brands. But I would never value an eyelash curler at $30 realistically.Océane Makeup Remover Pen ($5?) Another pick from the prior UK Glossybox. I'm only sad about that because I know it will be tough to find a replacement here (it's not available there either!). This is pretty neat.
Sorry so short, I'm packing for Disney! But lucky for you, I have a spoiler ? The October box will be a collaboration with Byrdie.com and Who What Wear. Obviously anytime GLOSSYBOX does a collab box it's time to buy it, so sign thee up!