My daughter loves crafting. Loves loves loves! She often won't go to bed until she has completed some mad craft, so I was happy to see September
arrive at our door. She's just so into doing everything herself and I love
because it has awesome pictorial instructions that help her do the crafts in the box without too much involvement from me. Even on crafts that I was sure I'd really need to be involved in this month!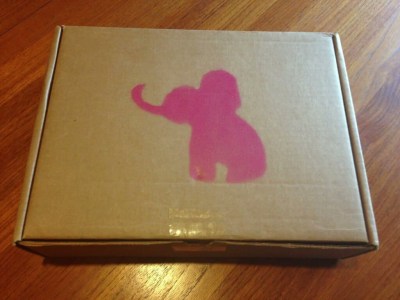 Crafters' Crate always comes in the box with the pink elephant, which my daughter loves. She knows it's just for her. The projects are advanced enough that her little brother typically doesn't get himself involved with them. September
included the following crafts:
Fruit Stamps
Recipe Holder
Felt Carrot
Family Nutrition Game
Cookie Earrings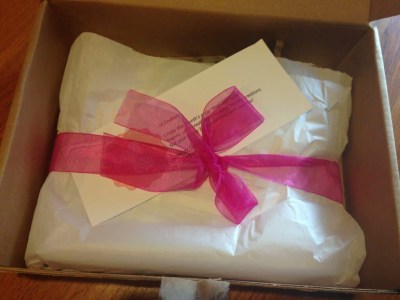 The Subscription
:
Crafter's Crate
The Description: A monthly box for kids 4-10. Each box contains a Craft-Along Book storybook, activity pack, and adventure snack! CraftersCrate helps foster imagination and inspire young dreamers.
The Price: $24 per month
The Coupon: Get $10 off your first box! Use code SPLURGE.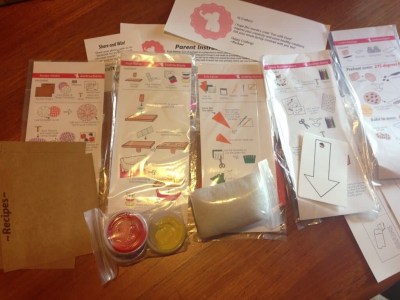 The Crafts
comes with 5 crafts, and a parent information card that gives specific things to talk about while you craft together.
Felt Carrot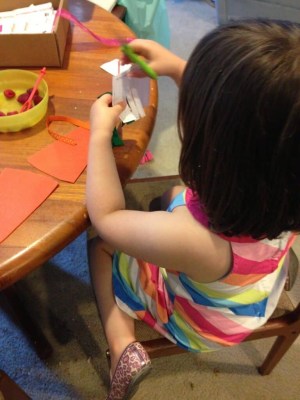 The first craft we attacked was the felt carrot. I started off doing this craft, and set it down, to find that she had sewed it up by herself. It was messy but it was hers. I didn't realize that she could do so much by herself. I was so proud.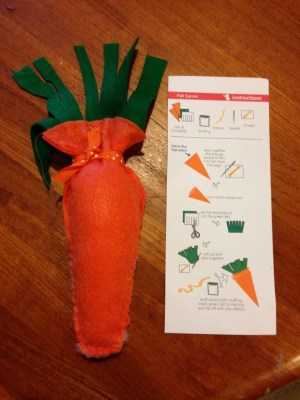 She did such a great job!! I was so surprised and so proud! Then she made her little brother pretend to be a bunny.
Fruit Stamps
We cut out the foam pieces and glued the wood parts of the stamp together. We had a bit of trouble with the glue dot so I just used glue.
Recipe Card Holder
The stamps were used to decorate the recipe card holder. My daughter beamed from ear to ear when a babysitter noticed her project.
Nutrition Game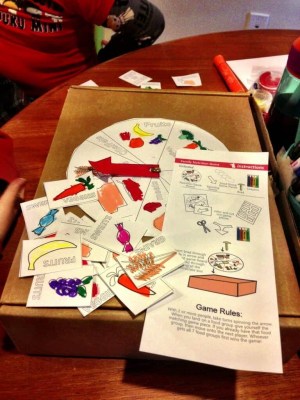 We also made the nutrition game.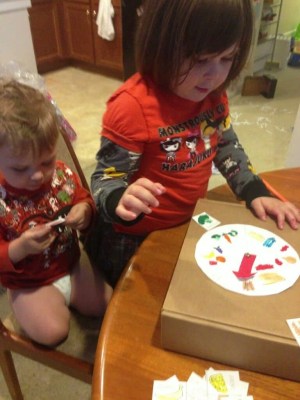 My kids had a great time with this. My daughter is mildly obsessed with nutrition, it was a big hit!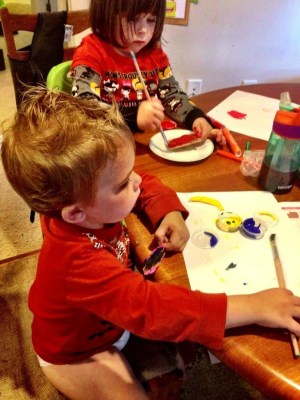 Then we stamped some more. Kids + Paint = FUN!
Cookie Earrings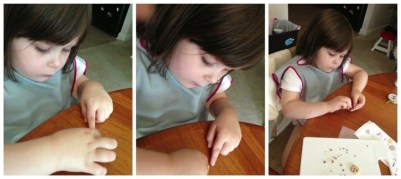 OMG She is so sweet isn't she? These cookies baked up great and I actually baked them with pins stuck through because I think we may make a bracelet instead of the earrings. Not sure, I didn't have a chance to finish before our vacation!