I was so excited when I got the October Taste Trunk and opened it up! At first I was confused, and thought they got rid of the cute old timey themeing and then realized it was a Halloween theme! Super cute! I was wondering if I'd keep this box another month, as I do like to mix it up, but I am so happy with the products in it I am definitely going for more!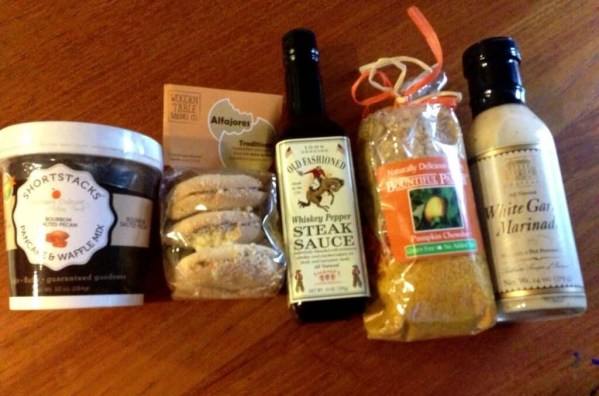 I do NOT know why my main photo is so terrible, sorry! Everything is already taken apart!
The Subscription
:
Taste Trunk
The Description
: Taste Trunk offers 4 different monthly trunks: Gourmet, Sweet, Health, and BBQ. Each trunk has 5-10 products.
The Price
: $36/month
The Coupon
: Put my name in the "special instructions" box at checkout (Brandy O'Grady) and use coupon code
Splurge25
for 25% off!
October 2013 Taste Trunk
Taste Trunk is shipped in a large flat rate priority mail box and has the trunk inside. Love the seal.
Adorable Halloween theme!
The information cards. A bit less information (no back side), which I kind of like. I love having separate cards though.
Alas, one of the products was mildly crumbly. I loved black squiggles for Halloween.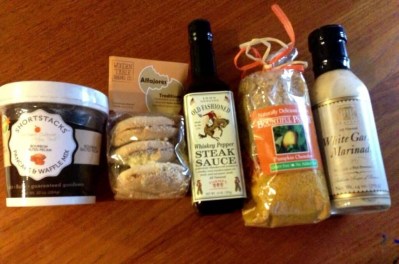 Shortstacks Bourbon Salted Pecan Pancake/Waffle Mix ($8) I should probably not tell you that you can get these on subscribe & save. OMG these are going to be delicious. They're also vegan. What a great choice. Made with Kentucky bourbon and chunky Georgia pecans.
Wooden Table Baking Co Alfajores ($5.50) These are like dulce de leche whoopie pies. Or mexican stroopwafels. Really great, slight lemony flavor. Delicious even if crumbly. Wish we had received the pumpkin ones, but then I'd have to eat them.
Shemp's Whiskey Pepper Steak Sauce ($5) This is tangy and thick and rich and delicious! I love it!
Bountiful Pantry Pumpkin Chowder ($8.50) Can't wait to make this, it looks delicious. Bestie would loooove this too!
Chateau White Garlic Marinade ($5) This is really for chicken & fish and I can't wait to try it. I never worry about anything in Taste Trunk having a funny taste because all their products are all natural.