I liked
so much when I received it for review, that I ordered a subscription. I'm extremely happy to report that although my iPhone 5 has been thrown on concrete repeatedly, it did just fine in its case! The cases are made for iPhone 4, 4s, 5, and 5s and are polycarbonate and ABS with a silicone coating (it's soft on the outside, like kinda silky, not sticky). Only 200 of each design are printed!
The Subscription
:
Phone Case of the Month
The Description: A limited edition phone case every month for only $10. Only 200 printed and all designs are exclusive to this subscription. Each package includes a one of a kind phone case as well as neat little surprises such as stickers, temporary tattoos, unicorns, and who knows what else! Now has Samsung Galaxy S3 & S4 in addition to iPhone cases.
The Price: $10 per month
The Coupon: Get your first box for just $5 – a $5 savings! No code necessary!
I love getting the microfiber bag. I always need more and I can use it to clean my phone, glasses, or computer.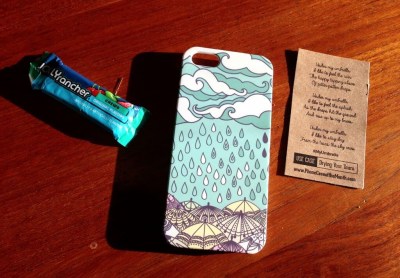 My Umbrella Isn't this gorgeous? It reminds me of Miyazaki's dreamy interpretations of woodblock prints and I really love the look of it. The printing is crisp and there are no flaws.
You also get a fun extra, and this month I got a Jolly Rancher candy chew!
I love having these fun, stylish cases on my phone. Another subscription that I didn't know I needed until I got it