Bezel Box sent me this subscription box for my review.
is a fairly new jewelry subscription box! Bezel Box ships via priority mail and does not select jewelry by weight, but by style. Many jewelry subscriptions make their picks by weight. I didn't know that! You can get a regular subscription or a mini one (2 pieces) for ten dollars less per month. All jewelry is lead and nickel free! Every box also comes with an inspirational quote that they encourage you to pin (like with a real thumbtack!). Imagine that!
does provide prices for jewelry much after the fact, so I won't be pricing them here. Bezel Box sends 4-5 pieces with a retail value over $150.
The Subscription
:
Bezel Box
The Description: Get 3-5 pieces of boutique jewelry delivered to your door each month to refresh your look without wasting time.
The Price: $35/month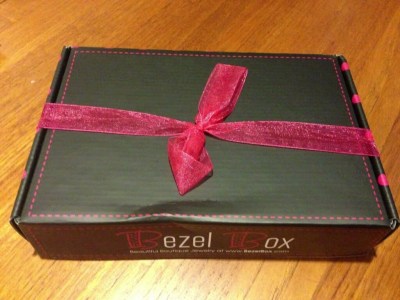 comes in an outer mailer and the actual box is inside, nicely wrapped with a bow!
I got really excited when I opened the box. I love when boxes wrap their items individually! It makes me so happy! The card says: Style is a way to say who you are without having to speak. – Rachel Zoe.
Bollywood Necklace I'm just naming everything myself, I wasn't provided with the names of the pieces. This is very similar to earrings I have that are called Bollywood Earrings, so that's what I'm calling it! It's super cute and I love the super chunky chain on it! The three primary gems are different colors: purple, hunter green, and black.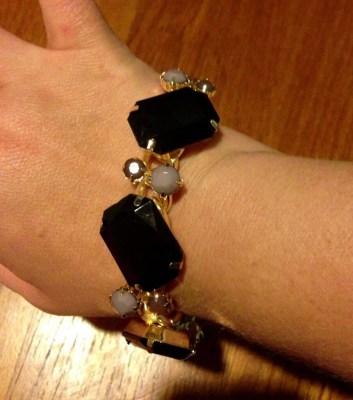 Huge gem bracelet This is a gold bracelet with huge gems mounted slanted on the bracelet with round accents.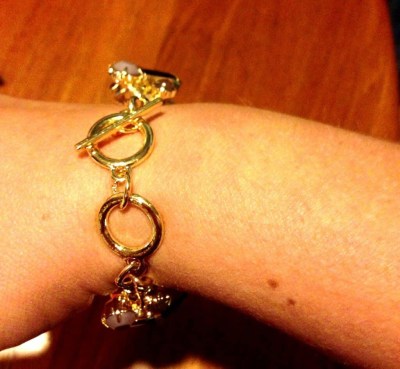 It had two size settings, I thought that was nice. Sometimes when I get these things and just look at them I think I would never wear them but then I have them on for a while and they look great. I find that wearing bold chunky jewelry is a great way to dress up my basics (and I prefer wearing basics for the most part!).
Bollywood Chunky Earrings These earrings match the necklace! I was super pleased to get a matched set in this box! I didn't expect it at all. They are a deep dark green like the necklace's center gem. I could also wear these with the bracelet!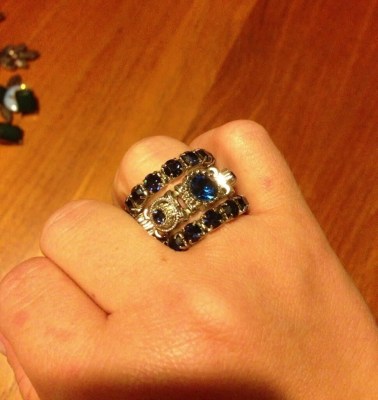 Stack Ring Set This is a blue and white stack ring set. The rings are stretchy so everyone can wear them! I love the colors on this!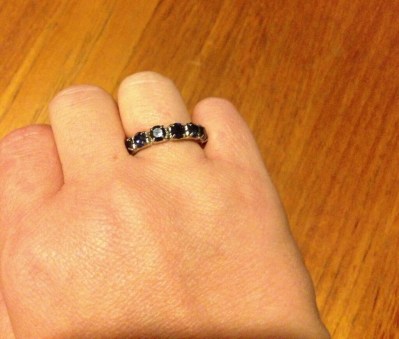 I have short and squat fingers, I felt that wearing just one would be best. I could give the others to my BFFs for a grown up version of a BFF necklace.
Bollywood Lacey Earrings I love these! I don't have anything like them (I've only recently started branching out to things besides my stud earrings) and I just think they are gorgeous!
I love having seasonal pieces of jewelry sent to me! I thought there was really quite a lot of pieces in this box and was impressed with the packaging! I wish there had been a name & retail price on each piece included in the October
. Jewelry is one of those things that I will totally skip if it's not right in front of me – I don't have the time, I don't know what to pick, I have 2 kids with more important stuff to do like riding the mall airplane – so having a jewelry subscription box is a must have in my book! You can check out
and they do sell individual extras in their shop!