Apple Seed Lane sent me this subscription box for my review.
I am sooo very excited about Apple Seed Lane! It's a new subscription box and its for kids around ages 4 to 8 and filled with science and crafts. I thought it was completely fantastic and kept my kids engaged and busy for hours. Yes, hours! Every monthly box has a theme – the October Apple Seed Lane was Halloween Science – and it comes with up to 2 science projects, additional craft projects, and a book of facts and illustrations about each month's theme.
Apple Seed Lane's November box is perfect for your kids if they like playing detective or solving mysteries! Don't forget to go to the end of the post to enter a giveaway for this box! Also, Appleseed Lane has partnered with the Arlington-Alexandria Coalition for the Homeless on a "Get 1, Give 1″ holiday gift campaign. For every subscription or gift certificate $25 or above that is purchased between now and the beginning of December, Apple Seed Lane is giving away one box to the Arlington-Alexandria Coalition for the Homeless to help provide holiday gifts for kids in need. Their goal is 500 donated boxes! Awesome!
The Subscription
:
Apple Seed Lane
The Description
: Fun and engaging educational monthly subscription boxes filled with science experiments and lesson-based crafts for ages 4-8 sent directly to your door. Sibling add-ons available.
The Price
: $23 per month
The Coupon
:Save $10 on your first box! Use code
Use code FRIEND10 and put my name (Brandy O'Grady) in the comments section during checkout.
.
October 2013 Apple Seed Lane Halloween Science
This card was NOT wrinkled in the box, it was used before I took a photo 🙂
The instructions are on the back of the what's in the box card!
All the materials in the October Apple Seed Lane.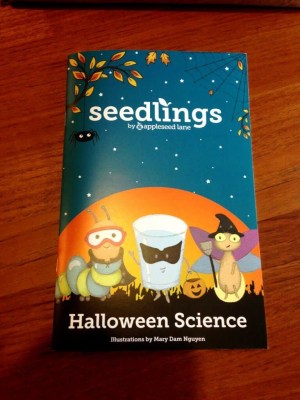 Halloween Science Book Aren't the illustrations adorable? Yes, the cutiest!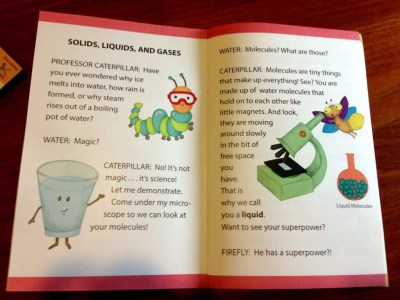 A peek on the inside. The theme was really basic physical chemistry and I loved the age-appropriate approach to science. My daughter was starting to ask questions re: physical states, and although I taught science (to middle schoolers!), I was struggling with the best way to explain it to a 4 year old. This helped a ton! The last page contains parent notes, but the book will give you all the refresher you need!
Critter Soap The first experiment was making soap with bugs inside. We melted the soap with the microwave and made the bar. The book referenced this activity, and I loved that it reinforced what we'd done. Read the book after the experiments (which is what we did!)
Tada! here's the finished product. We played with it a bit before I got a shot of it.
Slime Container We made this fun slime container out of a jar and duct tape and foam stickers!
Slime We mixed the slime up.
This totally blew her mind!
They played with it for hours. We rolled it out with a rolling pin, used cookie cutters on it, squished it in egg molds, you name it, we slimed it.
The slime is nestled in its jar along with the squishy eyeball!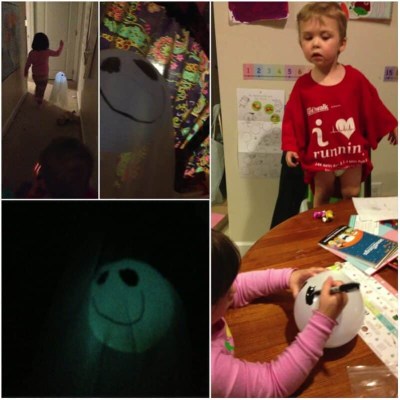 Ghost Balloon This was really a great project. We blew up a balloon with the glow stick inside, she did the face, and then we used the cheesecloth to make the ghost. It was gleefully carried away and hung inside her bed.
We really loved this box! It had age-appropriate activities and I loved the focus on science while still being 1) fun and 2) uncomplicated. The included book was very nice quality and we will be building a collection of them, because I'll totally subscribe to this one. I can't wait to see next month's box – my kids just had so much fun with the October Apple Seed Lane. FYI, there's also a sibling add-on for $9.95 a month!
I also have a giveaway! It ends 10/29 at 11:59pm Eastern and it's for the November Apple Seed Lane!