Can you believe it's November already? Neither can I, and it's not,
Le Métier de Beauté Beauty Vault VIP
just shipped this box insanely early! I love getting this box, it's always a complete surprise, and different every month. And I'm beside myself waiting for the special Le Metier/Popsugar item in the Neiman Marcus Popsugar box! (And hey, get your entries in already won't you?!)
The Subscription
:
Le Métier de Beauté Beauty Vault VIP
The Description: NOT AVAILABLE AGAIN UNTIL NEXT YEAR. Le Métier de Beauté experts will send you a carefully curated full-sized product or assortment of products shipped right to your door. One full-sized item or an assortment of items will arrive at the beginning of every month. Also available, the Monthly Kaleidoscope Program.
The Price: $348 per year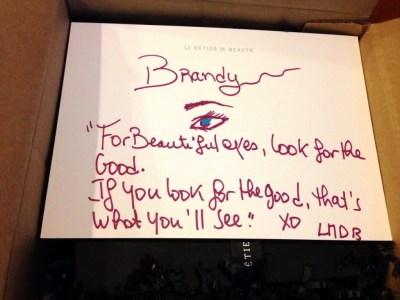 Le Métier de Beauté Beauty Vault VIP
comes with a handwritten card. Let's be real. This month mine was weird.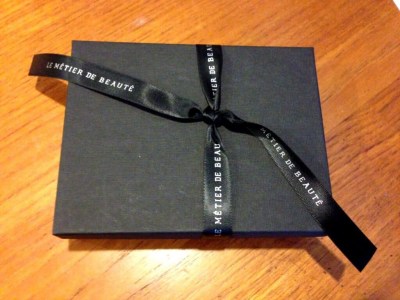 And a daintily wrapped box! The box is nestled inside black squiggles in the outer cardboard box. We got 3 full-size products this month!
Eye Lash Curler ($18) LMDB says "the custom shape and size of frame length ensures stability and control, while the curved angle suits all eye shapes." Well, it's an eyelash curler! I really do like the padded grips!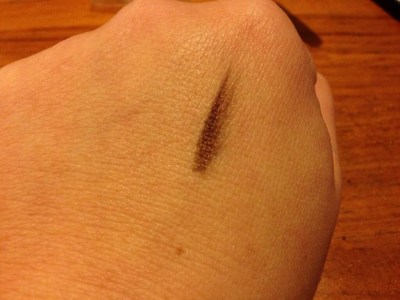 Dualistic Eye Pencil in Tamarack ($36) I love this copper color, it's one of my very favorite eyeliner colors (besides sparkly black, because I'm really a 15 year old girl). When I'm not pretending to be 15 I think this color looks best on me and is super flattering! I'm really psyched about it!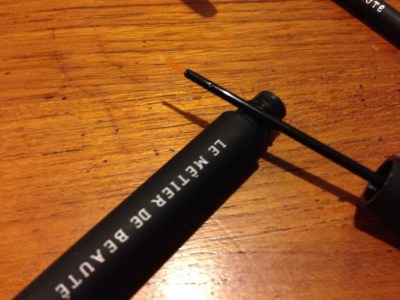 Peau Vierge Lash Growth Serum ($95) I think this is the full size! I'm crazy excited about this one because there's nothing weird in it and it applied without irritating my super-sensitive eyeballs! I am hoping by the time my December (eeeek!) box rolls around that I'll be telling you how AMAZING this serum is!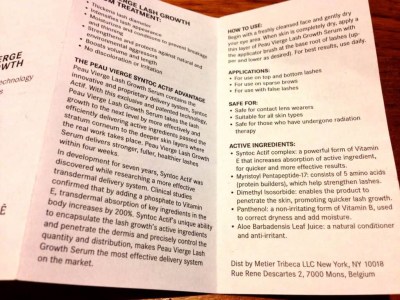 The serum uses LMDB's patented Syntoc Actif (vitamin E encapsulating the active ingredients for quick absorption) system. It has peptides, panthenol, and aloe! If you are not a subscriber and want to test it out, any of the department stores that sell Le Metier products will let you return it if it doesn't work for you. You can click on the photo to read the whole insert if you'd like!
My November
Le Métier de Beauté Beauty Vault VIP
has a value of $149. I know many subscribers may already have an eyelash curler (or perhaps received one recently in Glossybox), but that's okay with me! I will probably use my GB curler for a door prize and keep the LMDB one just for moi! It is definitelytime to pitch my well-loved Revlon. And when I say pitch, I mean save in the box for once a year metal recycling.