I was surprised to see November
in today's mail pile! I actually meant to skip Julep this month and forgot! I have plenty of polish but, whoops! Good thing I have Classic with a Twist as my base profile (so I don't get any weirdo colors in the event that I do forget to choose/skip). I probably would have selected Boho Glam (see all the colors for November here), but I'm very pleased with what I got. I really wanted to try the Posh (black honey) gloss though! Did you get it? Love it?
The Subscription
:
Julep
The Description: Nail polish box and a beauty box. Get either 3 polishes, 2 polishes and a beauty product, or 2 beauty products per month. Totally customizable
The Price: $20 per month
The Coupon: Get your first box free, just pay shipping! Use code FREEBOX.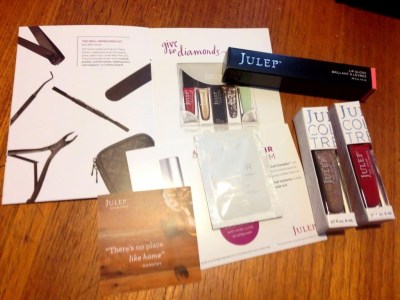 There was a nice catalog of the
holiday offerings (loving that mani set!), a sample of Luxe serum (use code LUXE for 30% off) and of course my monthly Maven items!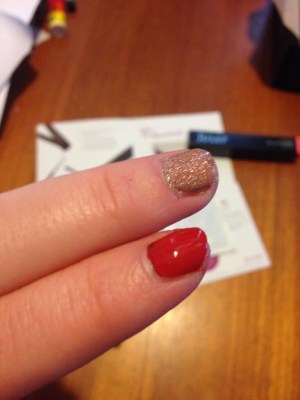 Cynthia – Desert sand microglitter ($11.20) Perfect for a holiday party!
Sheila – Cherry pie red crème ($11.20) This is the color I was sort of miffed about, but it's really a great creamy tomato red. I don't know about the cherry pie business, but sure looks like a great tomato basil bisque to me!
Julep Lip Gloss – Glowing ($17.60) This is the perfect pink color and definitely my thing. Still wish I had black honey, but I love this color too! Yes I'm being silly today. Do you notice my fabulous lack of dark circles?